Are you looking to brighten up your home with a little natural sunlight? Look no further than a modern sunroom! Not only does a sunroom add value to your home, but it's also the perfect spot to relax and soak up the sun's rays. And what's a sunroom without perfect window?
In this blog, we'll explore five modern sunroom window ideas that will take your space to the next level. Plus, we'll give you tips on where to find the perfect window for your home. So, let's get started and bring a little bit of the outdoors inside with these stunning sunroom window ideas!
Bright Meets Monochromatic
Enjoy some downtime in a bright, black-and-white space. Adding some planters will give the room a more stylish vibe. The flower vase and other ornaments can be placed on a movable table. A wicker trunk or box with wheels attached can serve as a coffee table that can be easily relocated to the best spot in the sun.
A daybed-style window seat is a great place to relax with a nice book and a cup of coffee in the morning, and it can be incorporated into many different types of room designs. Your porch is a great inspiration for using mid-century string lights to illuminate the space after dark. If you really love the monochromatic decor idea, then you can get customized sunroom windows from LivingSpace Sunrooms!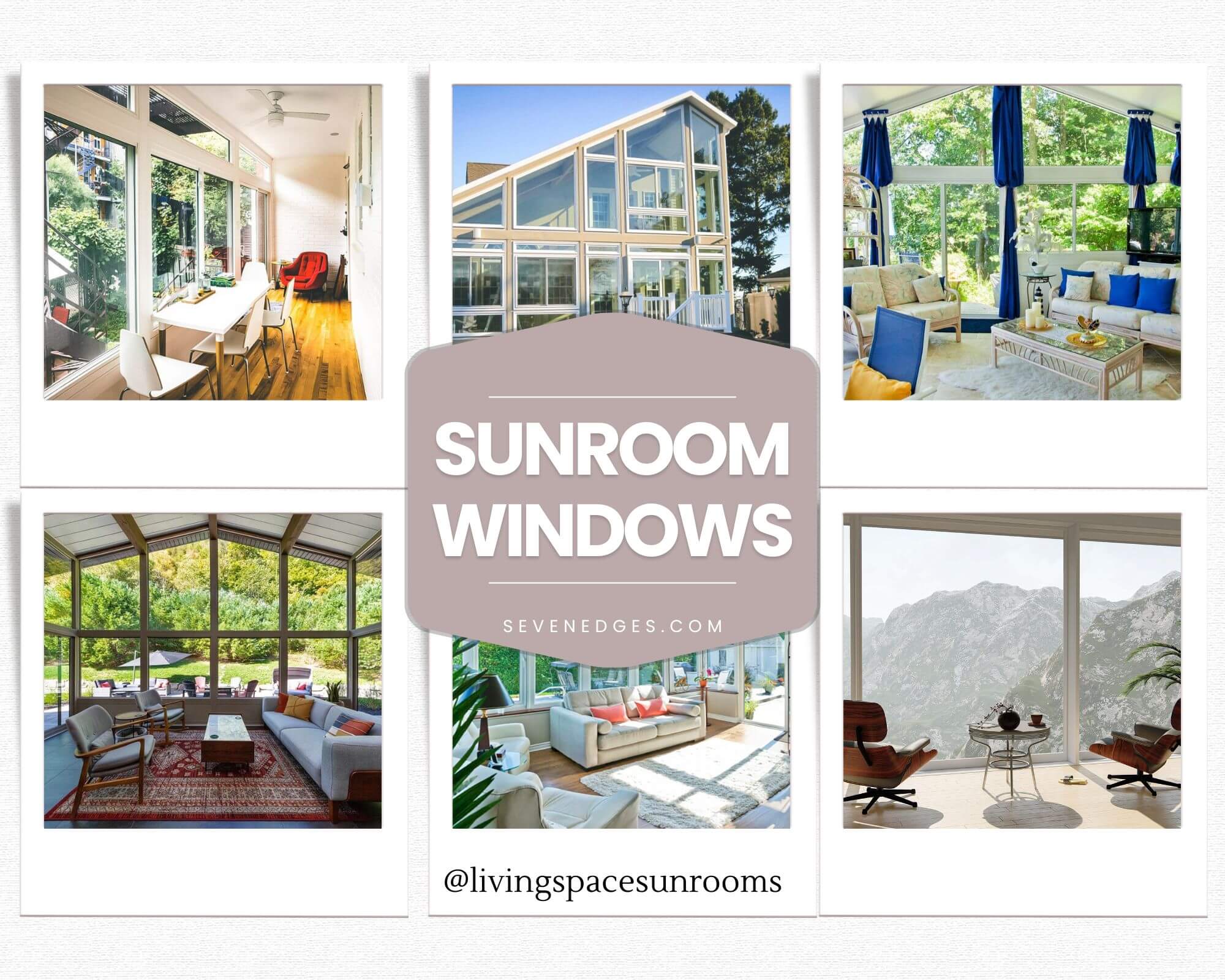 Strategically Placed Splashes of Color
Some people find that the most appealing aesthetic is a clean, minimalist one, while others find it boring. It's possible that you've found a design whose structure and features you like, but that you'd like to spice up with some bolder hues. As they can be easily updated with the seasons, decorative items like throw pillows and blankets are the ideal way to broadcast your style. Here are some color suggestions for your sunroom:
Build a patio door or feature wall.
Add some color with a bold rug or ottoman.
Swap out your bedding seasonally, including your pillows and blankets.
Put a Mirror in a Small Space
A mirror's ability to reflect light and create the optical illusion of a larger space is one of its most useful properties. Once the light is reflected from your mirrors, shadows are no longer a problem!
Sunrooms indeed get their name because of the natural light they let in, but in the evening or during a storm, those gloomy nooks might be difficult to see into. The room will be noticeably brighter after being painted white. Add some visual appeal to your sunroom with a mirror and console table decorated with beautiful photographs. To implement this incredible sunroom window idea, you can go ahead and invest in some good quality sunroom curtains and blinds from Wayfair!
Aim for Sustainability in your Décor
Contemporary sunrooms of the modern variety allow their inhabitants to reestablish a connection with nature, and this is represented in the space's architectural details. If you're starting from scratch, eco-friendly materials like bamboo, wood, clay, stone, and sand are great options for the addition's framework. Sustainable materials like wool, linens, and coconut can be found and used as decorative accents in sunrooms. Here are some options to consider if you're concerned about the environment:
Get used furniture and refinish it yourself.
To save money and energy, use LED bulbs.
You can save money on energy costs by hanging thermal curtains.
Bring White Windows to the Theme
If you're a fan of classic and elegant design, you might want to consider white-framed sunroom windows with a sparkling crystal chandelier. This combination creates a stunning visual effect, as the crystal chandelier reflects and refracts sunlight streaming in from the windows, casting beautiful patterns throughout the space.
But the real star of the show is the white-framed sunroom windows. Their clean and simple design allows for maximum natural light to flood the room, bringing the beauty of nature indoors. The glass ceiling of the sunroom adds to the effect, creating a space that feels like a seamless extension of the outdoors. If you're looking to buy shades and coverings for sunroom windows that are white, then look no further than Lowes, your one-stop source for all your interior sunroom window ideas!
In conclusion, modern sunroom windows can transform any living space into a bright, comfortable, and inviting area that provides a connection to the outdoors. By exploring the different sunroom window decor ideas and where to purchase them, you can find the perfect fit for your home and create an idyllic sunroom that you'll love to spend time in!
This post contains affiliate links, which means we may receive a small commission, at no additional cost to you, if you make a purchase through these links.