For a splendid experience in shopping, food, and an incredible chance to walk the halls of ancient royalty, you must visit the Golden City of Jaisalmer. Located in the Thar desert, India, Jaisalmer is a one-of-a-kind experience waiting for you.
You can find rich history, food, adventure, stories and all sorts of shopping opportunities in the city, so make sure you have plenty of time during your trip. India is already globally known as a hub of culture, historic adventures, and scrumptious food, and Jaisalmer is proof of it.
To make the most of it, book your stay at
The Golden House
to enjoy the best extravagance and luxury this city has to offer. Some of the things that Jaisalmer is known for are discussed below, so let this blog be your guide to an unforgettable trip to Jaisalmer city.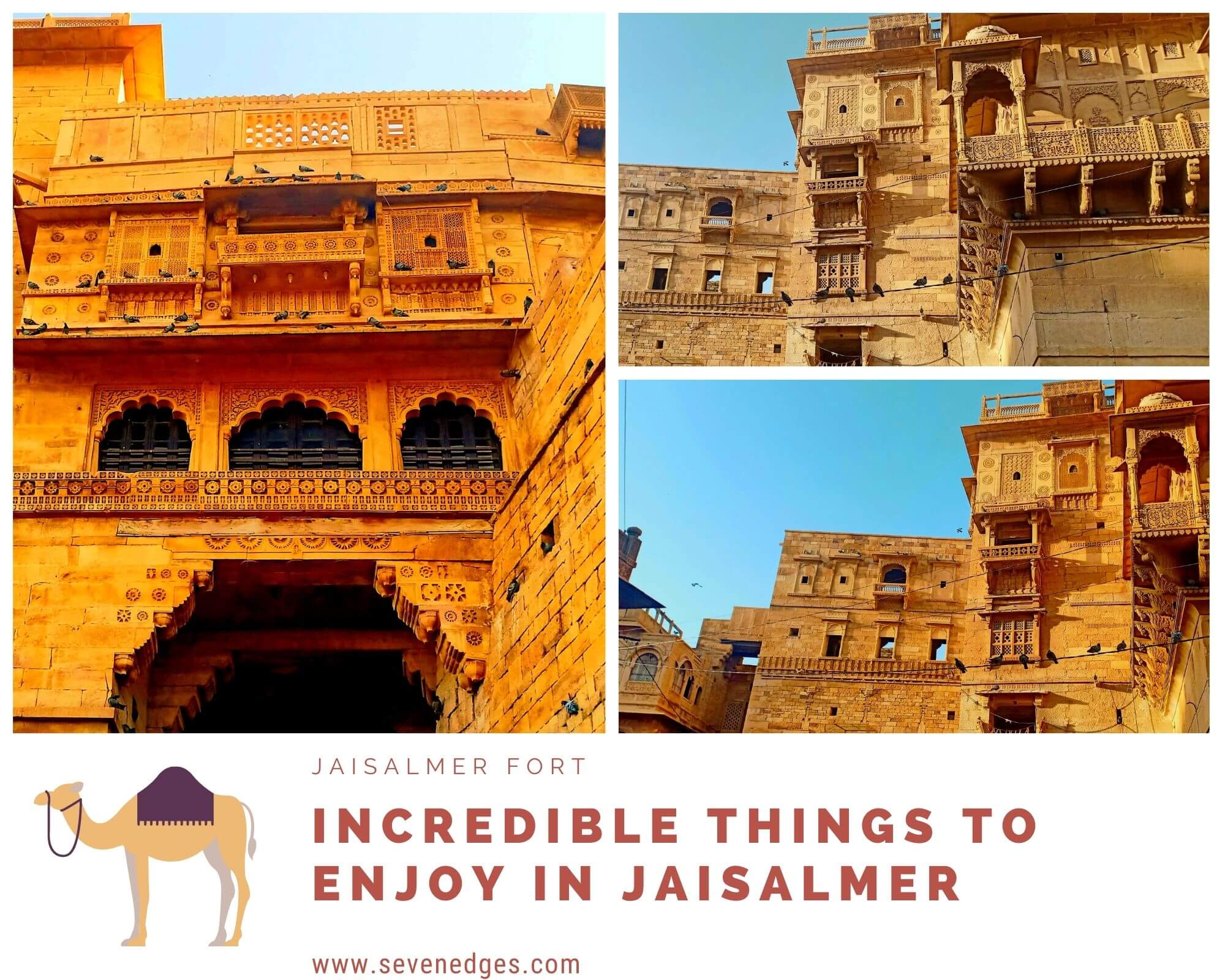 As the second oldest fort in Rajasthan, Jaisalmer Fort is also the second largest. The Jaisalmer Fort is constructed from yellow sandstone and rises almost three hundred feet high. It stands behind massive hills and is the only fort in the country which is still occupied by people, and is therefore still a 'living' fort. One thousand families, whose ancestors lived within the walls of the fort ages ago, reside in the fortress even today.
Though this fort is also used as a hotel during the tourist season, the residents are the only ones permitted to live in it. It also houses a museum where visitors can get a look at the different artifacts, furniture, currency, and other historic attractions preserved there. The Jaisalmer Fort timings are limited from 6 am to 5 pm window, so you can plan your visit accordingly and spend hours exploring this national heritage site. It is the best place in Jaisalmer to have an incredible view of the city and snap Instagram-worthy pictures.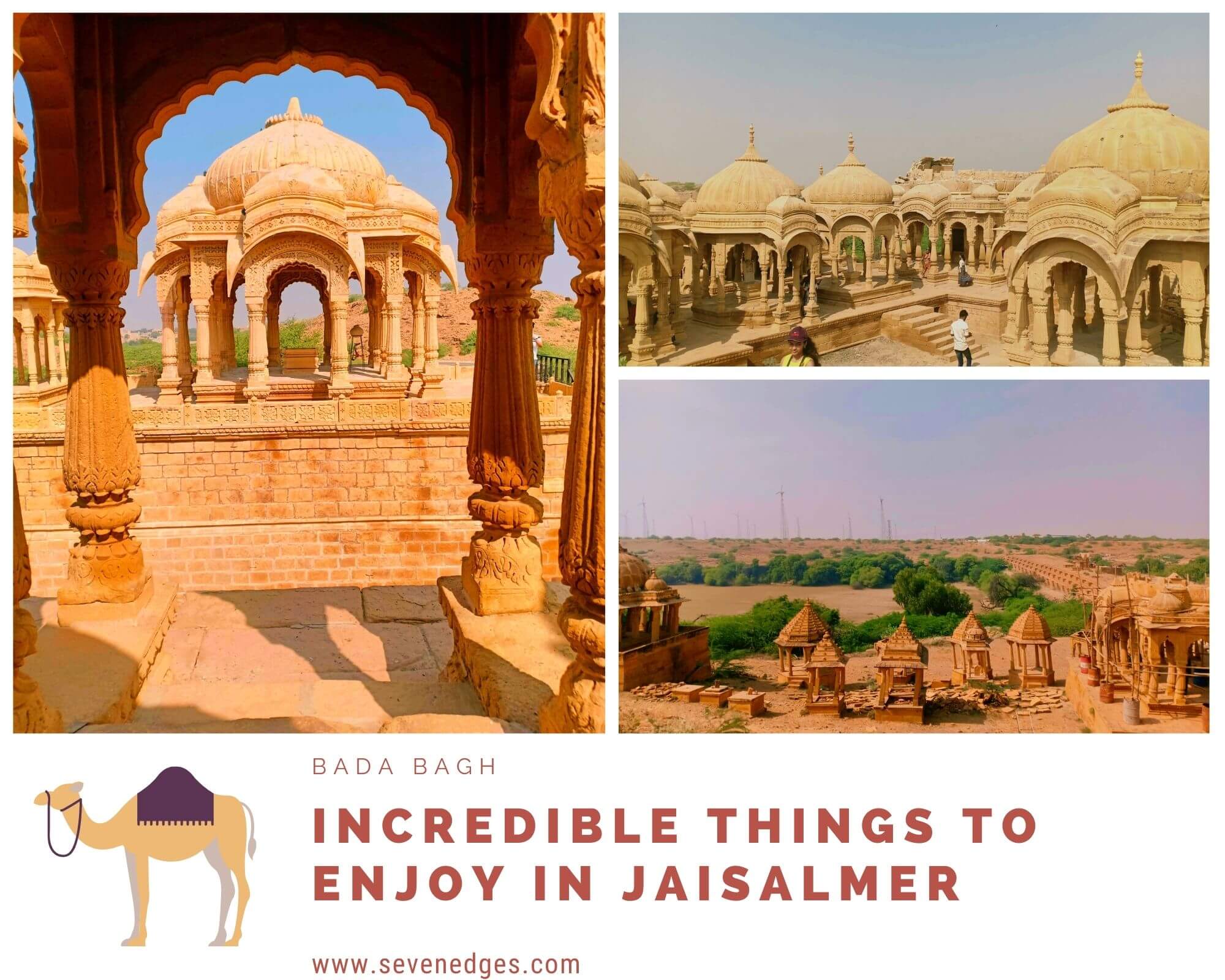 Bada Bagh, translating to 'Large Garden', is one of the most famous tourist attractions in Jaisalmer. The entire garden is constructed as a way to honor the Maharajas of Jaisalmer. The temples house statues of famous rulers and carved shrines offer a stunning vista at sunset. It is not too far from the Jaisalmer Fort, so you can get to both tourist hubs in one day.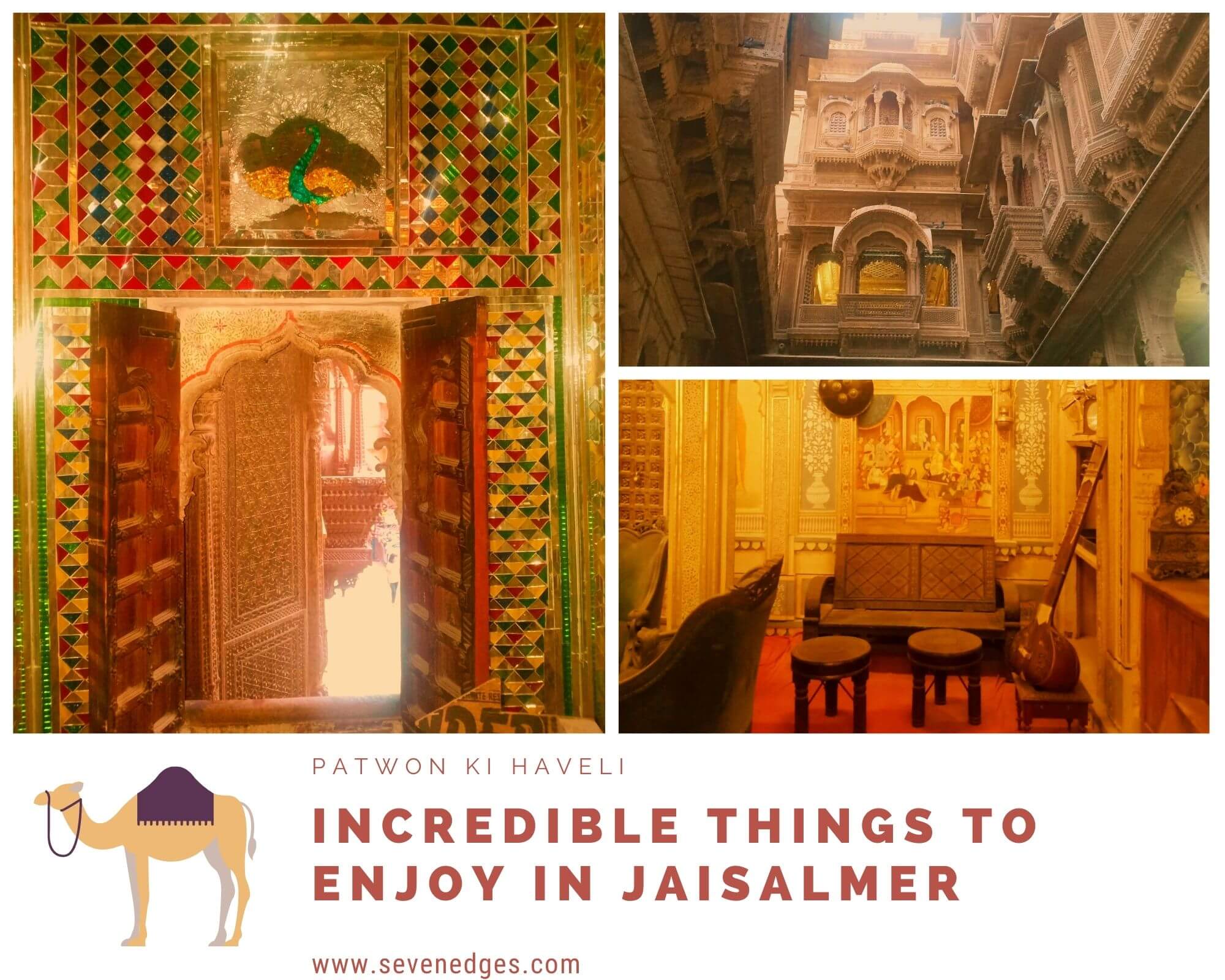 Haveli, meaning mansion, is an integral part of Jaisalmer architecture. There are many within the city but Patwon ki Haveli is a highlight among them. This is mostly because it is not just one but five interconnected mansions that have stood in Jaisalmer over hundreds of years.
The story connected to it narrates that it was named so as a reference to silver and gold threads that the owner traded in. Other stories claim that it was called so because of the fortune the owners made by smuggling opium.
Prince Desert Camp Jaisalmer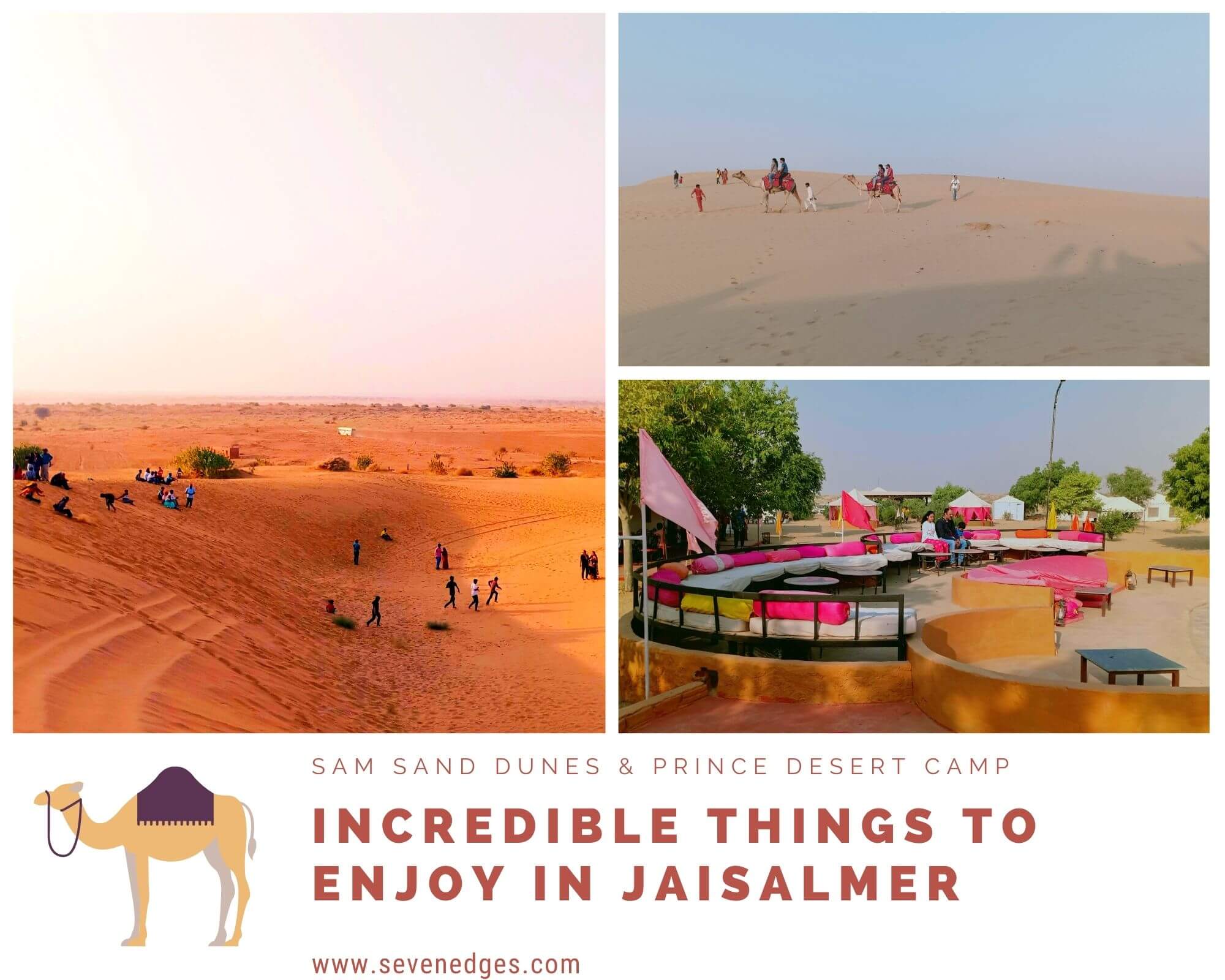 Nestled in the dunes of the Thar desert, the Prince Desert Camp in Jaisalmer is known for providing an amazing stay for anyone who decides to spend a few nights camping in the desert. These camps blend luxury and the authenticity of living in the desert together for a memorable experience.
Enjoy free WiFi, breakfast, room services, spacious parking, and housekeeping in a clean and safe environment. Additionally, the camp offers guided tours to the neighboring ghost town, for added excitement.
Shop Rajasthan trip Essentials:
The Ghost Town of Kuldhara
To add to the mystique and supernatural aura your trip needs, head on over to Kuldhara, an abandoned village not far from Prince Desert Camp. It is said that after levying heavy taxes and tormenting the village, a greedy ruler set his sights on the village chief's daughter.
Already tired of the corrupt ruler, the citizens of Kuldhara village and the surrounding eighty villages vanished overnight. It is commonly believed that they packed and left during the night but locals believe that they cast a spell on the villages in the wake of their departure, destined to bring death to anyone who tried to settle on the lands.
India has a mystical charm that attracts people from different parts of the world regularly. Jaisalmer brings the rustic and unique touch to your vacation shopping binge, captured in beautiful handicrafts, mirrorwork fabrics, various textiles, tapestries, jewelry, and countless decoration items.
With narrow streets and merchant stalls lined on either side, you can get a full experience of shopping in the ancient, Golden City.
Book
a stay at an eco-friendly hotel, like the
Pleasant Haveli
, which is part of a massive green movement India is leading today. Even the desert tours minimize the use of vehicles, which prevents carbon emissions as well as adds to the ancient practice of using camels to travel.
The
Nomad Desert Retreat
, for example, uses eco-friendly practices such as utilizing solar power and preserving water. Whether you stay in a hotel or the beautiful desert camps, Jaisalmer must be on your list of places to visit during your vacation to India.
Things to Carry for Rajasthan Tour

This post contains affiliate links, which means we may receive a small commission, at no additional cost to you, if you make a purchase through these links.