Nowadays, if you're looking to travel, you have the option of planning the trip online. With the progress of the modern age, online travel agencies serve as the ideal alternative for many tourists looking for a quick and easy way to efficiently map out their holidays, starting from booking the cheapest flight.
When it comes to current online travel agencies, Google Flights is arguably one of the best. Each one of its searches includes an index of detailed flight options with an array of appropriate information, such as pricing, duration, and carbon emissions. Therefore, if you're looking to learn more about the efficient organizational interface of Google Flights, you've come to the right place. Continue reading to learn the steps, to productively map your travel plan.
How to Utilize Google Flights
Step 1- Indicate Destination

To begin with, you should indicate your preferred departure and arrival airport. If you don't have a specific airport in mind, you can simply add the city for different airport options. Similarly, if your plans are flexible, you can simply mention your intended country or continent of visit. Google Flights' search then chooses the best routes accordingly and ranks them, suited to your preference.
Additionally, upon the initial search, you'd be provided with crucial details you'd need for your flight, such as pricing, type of trip, and duration. So, if you find a flight you can agree with immediately, you can simply click on it and start finalizing details. However, Google Flights does offer ways to extensively search for cheaper flights through its features such as Price Graph, Date Grid, and other options.
Memory foam pillow is covered with breathable and super soft magnetic therapy cloth, millions of tiny premium microbeads inside, a self-developed sweat-resistant fabric, provides the maximum comfort on your trip.
Step 2- Referring to the Date Grid and Price Graph
Google Flights has various features that make it exceptionally easy to map out travel details before booking. Through Google Flights' booking, you can use the Date Grid to view an index of airfares with their respective google flights flexible dates.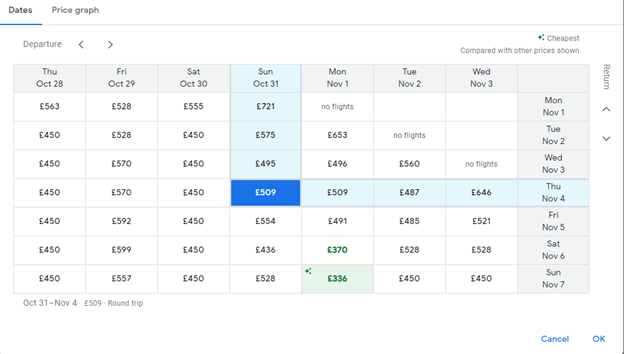 Likewise, right next to the Date Grid feature is Google Flights' Price Graph feature. Where instead of simply presenting dates, you'd be provided with an itinerary indicating the numerous predicted google flights tracked prices, months into the future. This data is displayed diagrammatically, in the form of bar graphs, to indicate visible differences and make it easier for you to understand.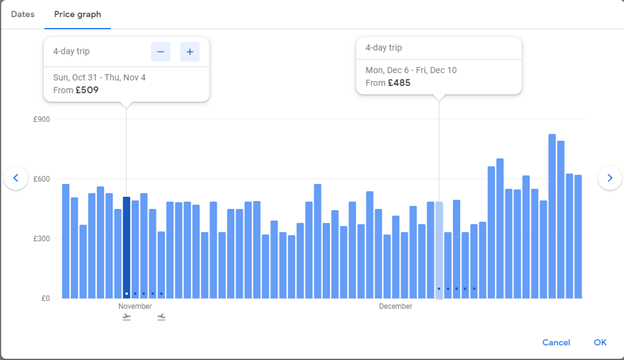 However, if you're looking to utilize this data more efficiently, we recommend checking out our article, "How to use Google Flights to fly cheaper," for more budget-friendly flight alternatives.
Though this may seem obvious, you must think about the data you get from Google Flights. This is especially true when you are planning a vacation for the distant future, with flexible dates and timings.
When you aren't restricted by deadlines, Google Flights' brilliant AI can predict the most affordable costs, months in advance. Using their Lowest Fares feature, you can check the cheapest fares for each day of a month. You can find these prices conveniently underneath the date in Google Flights' calendar, and they're marked in green when they're affordable as a straightforward visual indicator.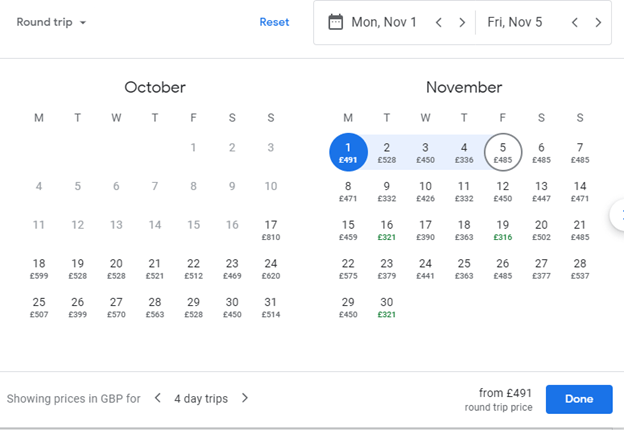 Similarly, if you're looking to know which part of a country to plan your visit to, Google Flight maps offer an efficient solution for this.
The map allows you to make note of all available airports within a country, with prices specified according to your defined duration. In our professional opinion, this feature carries this out more effectively than any other online travel agency. With Google Flights, you are granted the most ease when it comes to planning. If you don't specify a city, you could mention a country or even a continent instead. Accordingly, the AI utilizes its google flights search anywhere tools to provide you with the perfect flight.
Along with these features, the data is always adjusted to your requirements. For example, if you want to set a maximum price range, the map would instantly be updated to meet your required criteria. This makes it a great way to chart your travel ideas in a budget-friendly manner.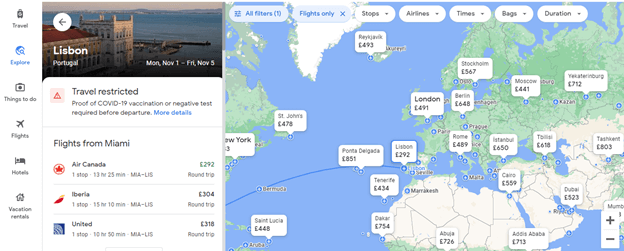 Though most information is based on prior planning, it doesn't mean that last-minute planning is impossible. Google Flights would serve as the perfect online travel agency for such urgent cases.
As briefly stated earlier, if you're looking to travel and don't have a place in mind, you can opt for Google Flights' Explore Destinations link to look for cheap flights from all over the world. You can use it to move throughout the world map, reading flight prices of each location, as Google Flights constantly updates them for your convenience. Upon selecting a destination, Google Flights would then guide you to the designated airline, where you can pick your flights accordingly.
Specifically, this is a powerful tool that allows you to have control over planning. It does so by revealing relevant information for numerous destinations that usually go unnoticed.
However, though this feature may sound convenient, it's worth noting that it's still far from perfect. For example, some results aren't indicated by rates or always emphasized on the map. Google Flights' search may miss out on particular flights that you would find conventionally through the Google Flights app directly.
Consequently, if you want to be more precise with your plans, we recommend double-checking features from the Explore Map. Therefore, scan through results indicated from the map for accuracy and to ensure that you are not missing out on any valuable google flight ticket booking opportunity.
Though not everyone's first choice, Google Flights can serve as a convenient and ideal online travel agency for mapping all of your travel plans. It's filled with various features that make it exceptional at tasks relating to online booking. Through Google Flight maps and similar features, users can utilize Google's efficient AI to look for and book the cheapest flights for them.
Similarly, features like the Price Graph or Date Grid allow users to choose dates at the most affordable rates within their time frame. The UI offers exceedingly easy ways to differentiate lower prices. It also indexes each cost to indicate how relatively more expensive or affordable a flight is, according to past data.
So, if you're looking for an easy yet effective way to plan your flight, check out Google Flights today for all of your travel necessities!

Please let us know if you found this post useful and what you are looking for through comments, we would love to help you out in that..
This post contains affiliate links, which means we may receive a small commission, at no additional cost to you, if you make a purchase through these links.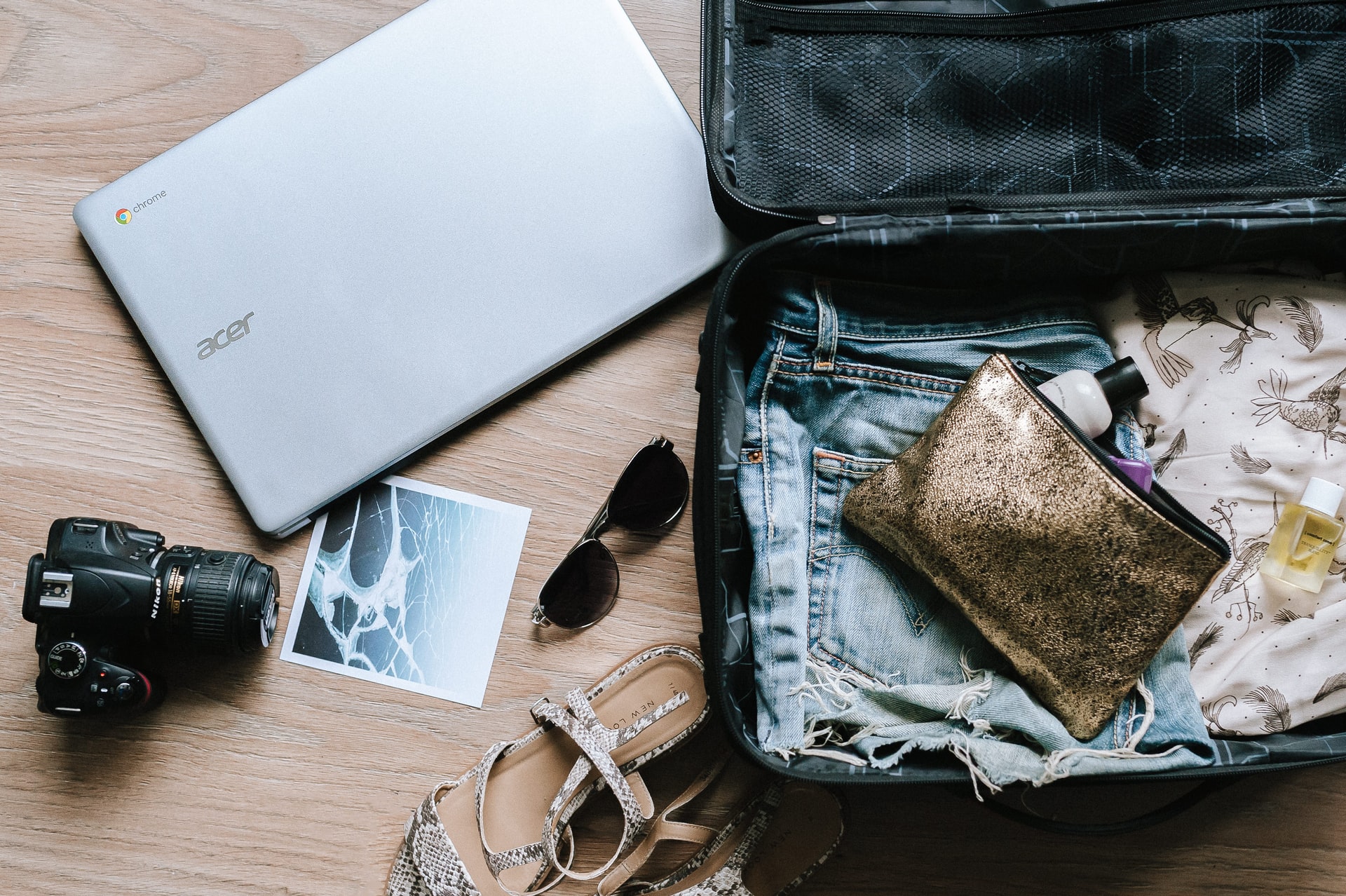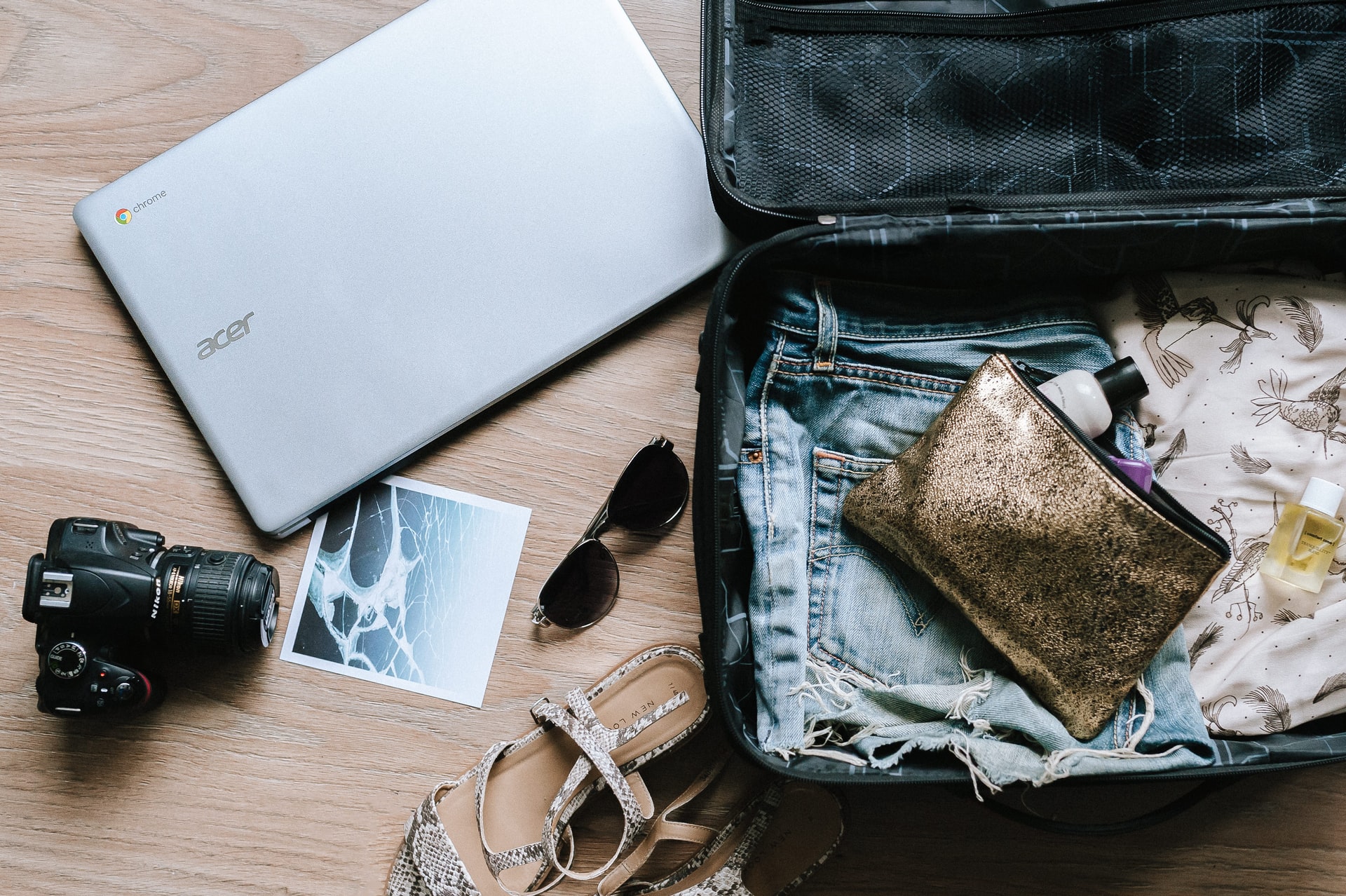 We are with you, here are the essential gadgets to get you covered before you start one. Globetrot untroubled!