With the progress of the modern age, it's not hard to find a flight through an online travel agency. There may be a couple of options to pick from, but Google Flights is undoubtedly one of the best. It's filled with various cheap flight alternatives, with numerous filters to narrow your searches to be as specific as possible.
However, it's hard to book a flight on an online travel agency that not many people know about. So, if you're looking to utilize the efficient tool that Google Flights is, you've come to the right place. Throughout this guide, we'll help you learn how to make the most out of it and its multitude of features.
Google Flights serves as a search tool and flight aggregator. You can use it to assess fares from practically any airline across the globe, because it is one of the most convenient tools for finding cheap flights.
Though not often everyone's first choice for an online travel agency, Google Flights is certainly ideal for flexibility and functionality. For example, with Google Flights' Calendar, you can go through numerous months of data and find the most optimal fares for your route.
Along with that, Google Flights' booking data often comes directly from their requested airlines.
Therefore, the fares are relatively accurate for the most part. Though the prices aren't always precise, for an industry where prices vary immensely, Google Flights does a pretty good job of providing estimated fares.
Step-by-Step Guide on How to Find the Cheapest Travel Dates
Step 1: The Calendar Tool
If you're currently looking at the Google Flights homepage, you may notice a search bar with a section to mark your arrival and departure airport. Just below that, you'd find a calendar that marks the time of your arrival and departure.
After filling in details relating to the visit, you can check the calendar and wait up to twenty-thirty seconds to receive in-depth analysis on predictive pricing for each day of the visit.
To further aid in your decision, the UI clearly defines the relatively cheaper departure dates in green. Whereas, typical costs are in gray, and pricier options are red.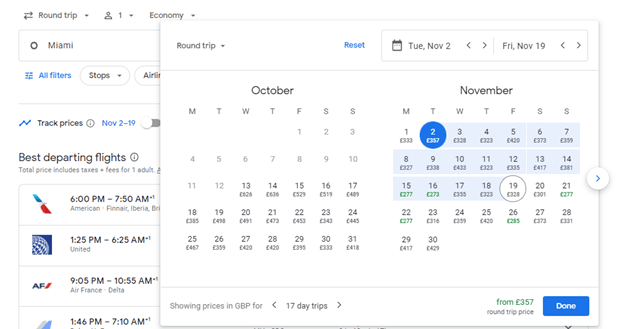 You also have the option of changing the duration of your trip using the tool at the bottom of the calendar:

If your dates are more versatile, you can use the arrows to find the most affordable flights instantly.
Upon finding the most ideal timings, the UI would then the page refresh to show the total expenses based on the dates of your choosing.  You'd be provided with a series of flights, with the most advantageous listed on the top (as seen below).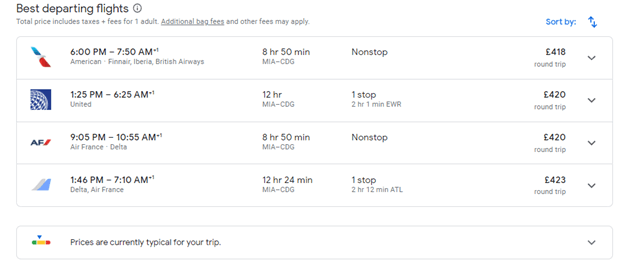 Step 2: Filtering Your Searches
Additionally, Google Flights can optimize searches using a series of filters. As shown below, these filters can specify baggage, stops, airlines, timings, pricing, durations, and even your connecting airports.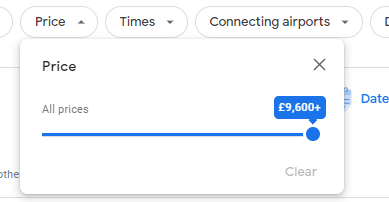 These filters can be easily adjusted to fit your requirements and once done, you can go back to the Calendar Tool to view your improved results. 
Upon choosing your departure flight, you would be given an index of arrival flights to choose from as well. These prices would be compiled to provide the total estimated cost of the journey. You can then weigh your choices and pick your preferred flight from Google Flights' best options.
These kind of flight ticket booking would usually be offered by the airline or sometimes by sizeable travel agencies.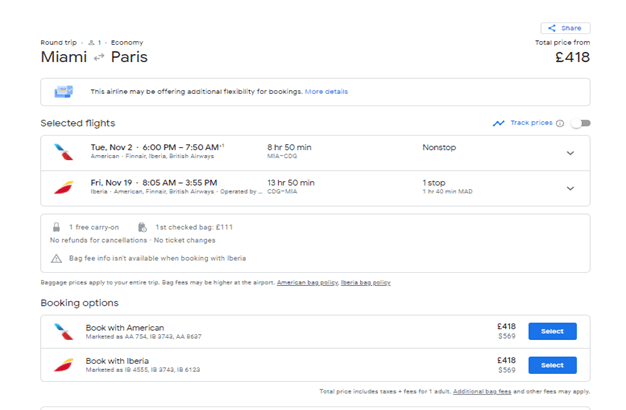 What is Google Flights Exceptional At?
The following are a few specific advantages that Google Flights provides:
Google Flights' search covers a sizeable index of flights from a variety of airlines. With its simplistic and intuitive design, you can find the most affordable fare for a total of seven departure and arrival airports.
It is a competitively fast flight search engine. It can display weeks and even months' worth of fares in less than a second.
If you're using Google Flights to search tickets, the Google Flights' Maps is the best feature for finding the cheapest available option. It covers a vast area of the designated country as a map, to easily compare prices according to state, city, or region.
Google Flights Calendar-based View
Google Flights Calendar provides a periodic view of all fares. By efficiently looking for the most affordable prices, you can find fares for up to the next twelve months.
How Google Flights Saves You Money?
As stated earlier, though Google Flights may not be everyone's first choice as an online travel portal, it is still an exceptional search engine. Through the Google Flights app, you can add up to seven arrival and departure destinations in your search box that can help you plan your trip with a variety of options in mind.
For example, let's assume that you want to travel from Miami to Canada.  If you have no specific city in mind, you can enter various cities within Canada for your destination. And, you can simply input Miami for your departure box for flights from every possible airport within Miami.
By doing this, your results would include every possible option from the cities in your search. This would add flexibility and ease to your travel plans, and it generally saves a lot of time and resources.
Similarly, Google Flights has undergone a recent update involving a Flight Insights section. Generally found to the right of your flight search results, these insights have a price section that indicates whether the fare is typical, pricier, or cheaper than usual. However, it's worth noting that this feature is only available, when searching between only two cities i.e., it does not work while planning for multiple destinations.
If you were to indulge deeper, you could also open a Date Grid. It provides a grid of the cheapest and most expensive days, according to Google Flights.
Finally, we would also like to mention that Google Flights includes a Price graph for all your data. This entails two months' worth of prices, visualized within day-to-day variations in the trend. You can even scroll months into the future and witness predictive trends for each date using google flights tracked prices.
Memory foam pillow is covered with breathable and super soft magnetic therapy cloth, millions of tiny premium microbeads inside, a self-developed sweat-resistant fabric, provides the maximum comfort on your trip.
Tips on How to Find Cheap Tickets
Moreover, there is a dedicated Tips section on Google Flights that provides crucial information. So, if you're looking for a good deal, here are a few tips you should be aware of:
"Prices are less than usual."
If you're looking through Google Flights and find this tip written for a trip, it indicates that the ticket is substantially less than usual. Google Flights provides this information based on an in-depth analysis of past expenses for previous trips. And, if you were to click on this, you'd receive a breakdown of factors that Google Flights used to establish its affordability.
"Prices are likely to increase."
Another familiar tip that you may witness is "prices are likely to increase." This shows that, though it may not be the cheapest alternative, it is the most affordable one currently. Google Flights predicts this data with a high degree of accuracy and can confidently highlight the approximate variation of prices.
Similar to the previous advice, the prediction is based on an analysis of the trends in prior flights, but this doesn't mean it's necessarily accurate. Future prices don't always act based on expectation, but they are "likely" to change according to patterns.
"Prices are unlikely to drop before you book."
When Google Flights states that "prices are unlikely to drop before you book," it indicates a high degree of certainty that prices would not lower before your trip. Once again, this prediction is based on sizeable periods of processed data and trends. Though this does not provide a guaranteed estimate, the values are highly probable.

Additionally, it's worth noting that, with the ongoing climate crisis in mind, Google Flights has also recently taken up more eco-friendly steps towards its planning. Upon their most recent update, they released a feature that indicates the environmental impact of flights, allowing users to factor in how environmentally conscious they'd be when choosing flights.
They indicate the carbon emissions each flight contributes, and this option is available next to the pricing and duration details.
If you want to learn about how to find cheap tickets online, then the Google Flights app is the most ideal alternative. It features a variety of airlines, with predictive pricing based on accurate records.
However, you should note an exception to this index; Google Flights does not list any prices from the flights for Southwest Airlines. If Southwest has a route to your destination, you need to visit the official site to see prices yourself.
But, other than that minute exception, Google Flights is a great online flight agency; you just have to utilize it correctly. With skilled efficiency, it can be applied for both planned and spontaneous bookings. So, what are you waiting for? Save money on a flight today by Google flight ticket booking!

Please let us know if you found this post useful and what you are looking for through comments, we would love to help you out in that..
This post contains affiliate links, which means we may receive a small commission, at no additional cost to you, if you make a purchase through these links.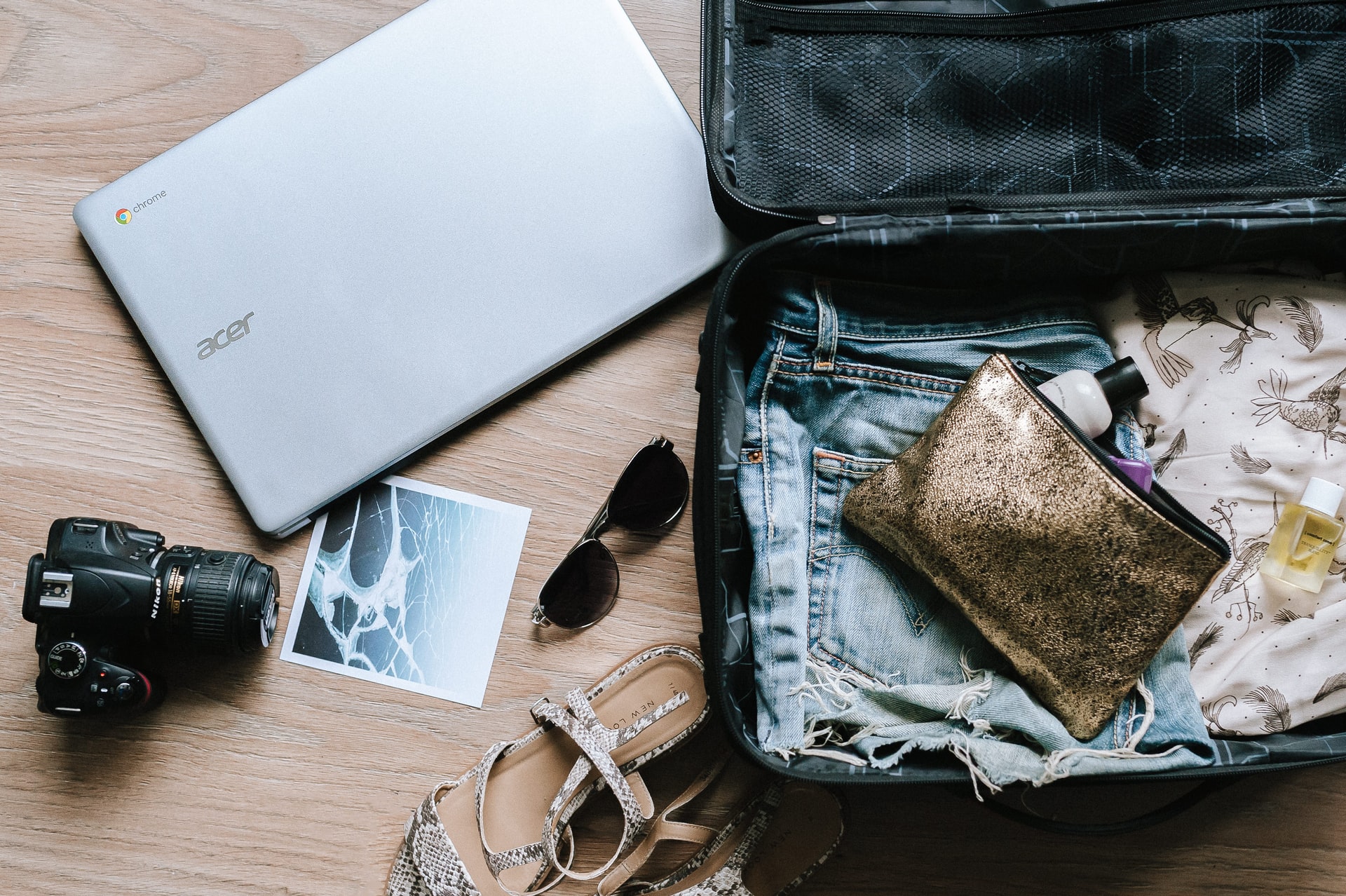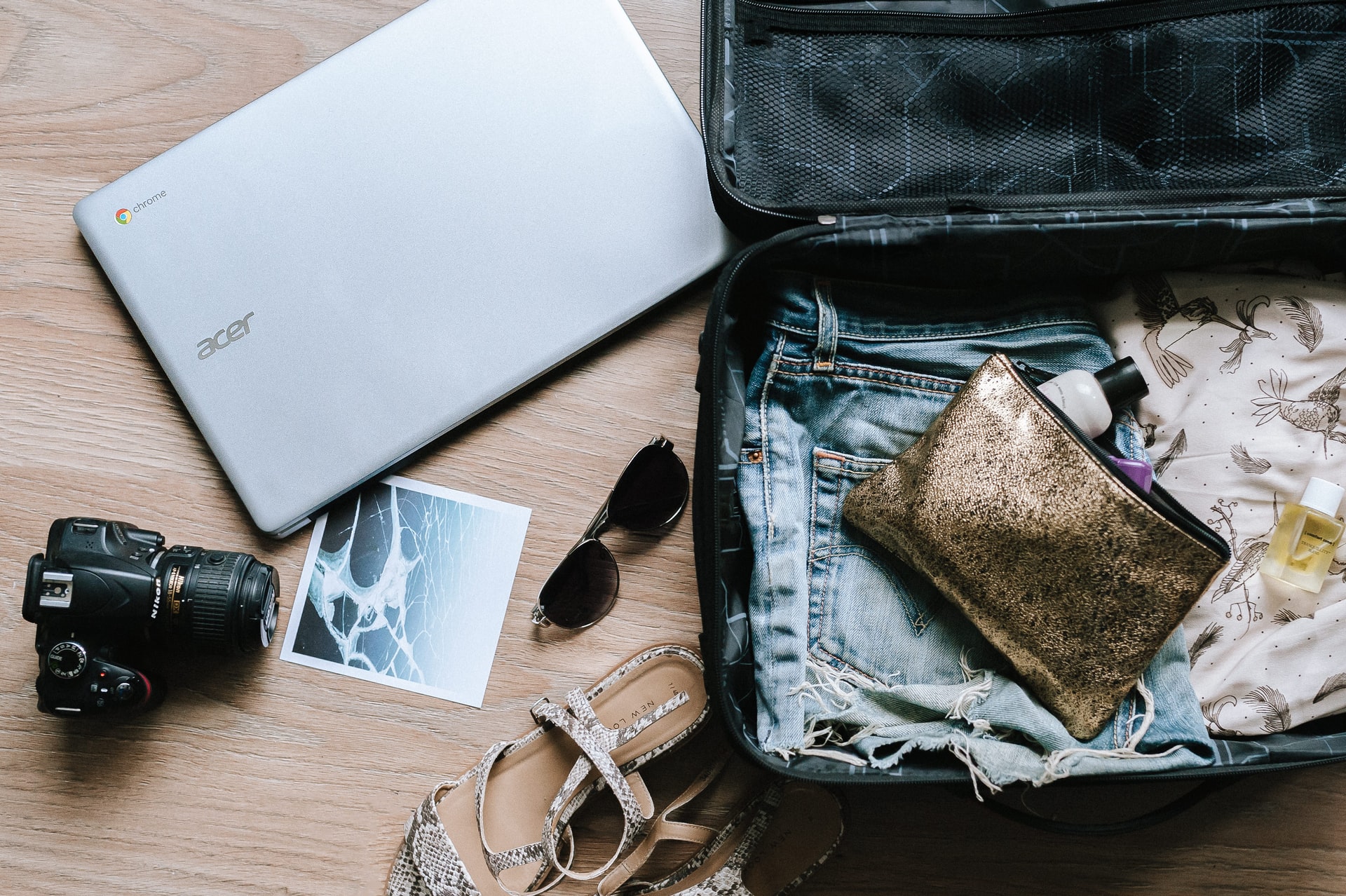 We are with you, here are the essential gadgets to get you covered before you start one. Globetrot untroubled!