Goa is the smallest state of India, located on the west coast which is known for its numerous beautiful beaches, Portuguese heritage, stunning forts, ancient churches, authentic food, colourful market, breathtaking waterfalls, wildlife sanctuaries and vibrant nightlife. It attracts nature lovers, trekkers and heritage lovers for its distinct sightseeing places. You can get numerous souvenirs from the vibrant markets. Below listed are few best souvenirs to buy from Goa.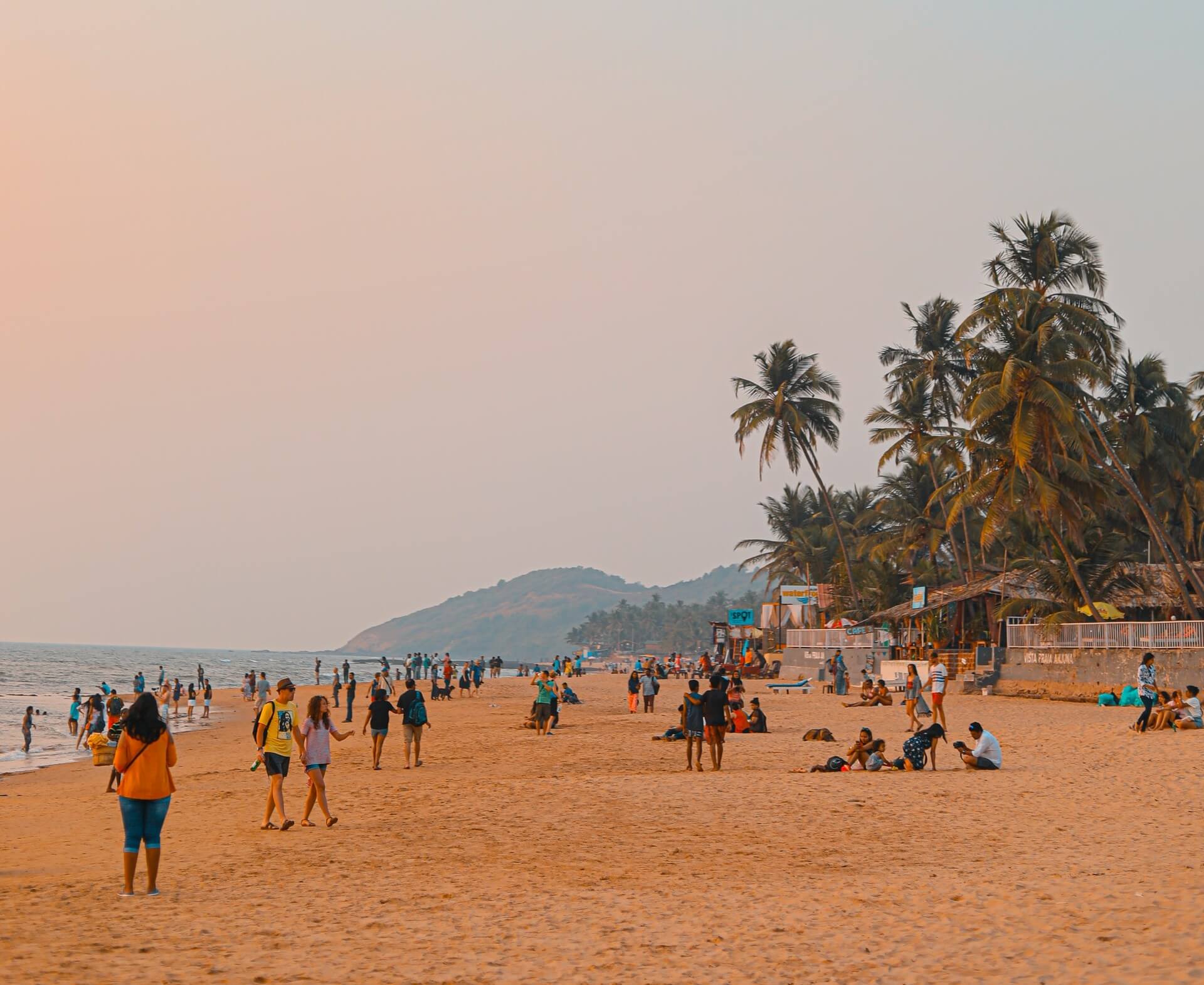 Goa is one of the largest producers of cashews in the world. Cashew tree was originally planted in Goa by Portuguese. Cashews are grown abundantly in Goa and you can find the best quality cashews. You can find wide variety of cashew flavors such as, salted, pepper, roasted, masala, chocolate and plain cashews. Markets of Goa have fresh cashews. If you know the bargaining skills, then you will get the fresh cashews for discounted price. Panaji market has many big shops selling variety of cashews for cheaper prices. They are the best nutritious souvenir that you should never miss to buy and make a perfect gift for family and friends.  
Feni is Goa's popular natural and handmade alcoholic drink. Feni has long history and was produced about 400 years ago during Portuguese rule in North Goa and is now produced widely throughout Goa. About 4,000 distilleries are engaged in feni production. There are two types of feni available such as, coconut feni and cashew feni. These are used in cocktails, lemonades, or mixed with cola. You can get feni in all the liquor shops of Goa. It is a perfect souvenir for alcohol lovers.    
Buy it online from Wine Globe or Tom's Wine Goa.
Azulejos are the colourful tiles that you can find everywhere in Goa. They were originated from Portugal. They are beautifully handcrafted and each tile has a story. You can get these tiles at Azulejos De Goa at Panaji, Turi Azulejos at Bicholim, Mario Miranda Gallery at Panaji and almost all the souvenir shops in Goa. You can even get it customized according to your needs. These tiles showcase the best craftsmanship and is the perfect souvenir to enhance your home décor.
Buy it online from Azulejos de Goa. Choose your products from wide range for spaces, Gifting or Panels.
Goa is one of the leading producers of spices in India. Wide variety of spices such as, nutmeg, black pepper, cinnamon, cardamom, clove and lot more are grown here. Goan cuisines are delicious because of these spices. The aromatic spices in the markets of Goa will take you to the other world. To get the fresh spices, you can visit spice farms. You can even buy some spices and spice masalas at local markets throughout Goa. Spices are the best reasonable souvenir that you can buy from Goa.
If you are still craving for Goan food and already finished your stock then order it online from GoanaFoods.
Coconut shell and coir artifacts are the popular souvenirs of Goa. These shells are beautifully carved and have intricate designs. You can find variety of coconut shell products such as, vases, cups, bowls, lamps, purses, ash trays and coir products such as, mats, coasters, wall hangings, rugs, baskets, bags and many more. These beautiful products are sold in all the souvenir shops and flea markets. They make a best unique souvenir to gift your loved ones or to enhance your home décor.
Wooden crafts are the must buy souvenirs from Goa. You can find colourful wooden lacquerware to beautiful wooden carvings. These wooden crafts have intricate design and are the best example of the complex craftsmanship. Wooden furniture, corner shelves, baby cradles are some of the must mention wooden crafts of Goa. Every wooden item is unique and handmade. You can find these wooden artifacts in showrooms, souvenir shops, flea markets and roadside or beachside vendors. They are the best decorative souvenir that you can gift your loved ones or can be bought to enhance your home décor.      
Bags are the best fashionable souvenirs that you can buy from Goa. You can find variety of bags from hand bags to backpacks with vibrant colours in the local markets and souvenir shops in Goa. Button art and katha stitched bags are the popular ones. They are the trendy souvenirs that you can gift your loved ones.
Kunbi sarees are the traditional sarees worn by Kunbi tribal people in Goa. These nine yard sarees are woven using pure cotton fabric. It has larger checks mostly in red and white colour. Wendell Rodricks gets the credit for reviewing these sarees which has colourful geometric pattern on the white background. You can find the designer Kunbi sarees at Wendell Rodricks Design Space in Panaji and cheaper ones in all the local handloom stores. They are the elegant souvenir to gift your beloved woman. 
You cantry it online from Ithyadee 
Goa has numerous beautiful beaches. You can find vibrant beachwear from bikinis, sarongs to shorts. The shops in Goa has huge collection of beachwear with various designs and patterns. You can find rows of shops near the beaches who sell beachwear at reasonable price. You should be knowing the bargaining skills to buy these beachwear at low price. They are the best trendy souvenir to gift your loved one.
Goa is known as hippie's land. You can get variety of funky T-shirts in all the local shops throughout Goa. They are the popular souvenirs that you should never miss to buy. Vibrant t-shirts with different prints are seen in all the shops. The best place to shop t-shirts is flea markets. They are the cheapest and fashionable souvenir to buy from Goa.
Goa is famous for its music. The catchy beats makes you to sing and dance. Goan's love music and you can witness beach side music parties and cruise music which has Portuguese and local Konkani influence. Annual music festival in December should never be missed to witness in Goa. Techno and Trans music are famous in Goa and you can find them in flea markets.   
Hats are one of the most popular souvenirs of Goa. As the state experience hot climate, hat is highly recommended to wear to hide from harmful sunrays. Varieties of beautiful hats are sold in flea markets and local shops throughout Goa. For women, hats comes in various colours with beautiful ribbon. For men, hats comes in shades of brown or beige with black outline. Palm leaf hats are popular which resembles Panama hats. These hats are the perfect trendy souvenirs to gift your loved ones.   
As Goa has many beaches, seashell art pieces are the popular souvenir items. They showcase the extraordinary and creative talent of artisans. You can find varieties of sea shell items such as, garland, necklace, bracelet, earrings, key chains, curtain strings, lamp shades, mirror frames and more in the flea markets throughout Goa. They are also available at Aparant Goan Handicrafts Emporium (opposite Institute Menezes Braganza Hall).
Local artisans also craft them. They are the classic souvenir to gift your loved one or to enhance your home décor.
Bread is the staple food of Goa. There are numerous bakeries in Goa which are worth a visit. You will get variety of breads in bakeries. Goan's love bread so much that, bread festivals are held annually. They are the cheapest tasty souvenir for foodies. 
The natural salt is produced by local seas in its purest form. Southern end of Mandovi in Goa has extensive salt pans. The sea salt is harvested by hand using old traditional methods. Mapusa market is the best place to buy local sea salt. Goan sea salt is the best souvenir to gift your family or friends.
Kokum is the signature fruit of Goa. Kokum is grown widely and they are used as souring agent in food. You can even find kokum juice which can be mixed with water and becomes a great refreshing drink. Fresh kokum fruits are available during summer and dried ones are available throughout the year in all the local markets. Kokum products are the best souvenir for foodies to buy in Goa.
Bebinca is the popular dessert of Goa which is made from flour, sugar, eggs and coconut milk. They are baked layer by layer and is ready to eat dessert. They are beautifully packed and you can find them in all the bakeries and supermarkets. They are the tasty sweet souvenir for foodies. As they have short shelf life, it should be packed on the day of your departure.
Please leave a comment below, if you enjoyed or find the information helpful. 
This post contains affiliate links, which means we may receive a small commission, at no additional cost to you, if you make a purchase through these links.