Biophilic design seeks to restore our connection with nature by incorporating natural aspects such as nature-inspired patterns, earthy colors, textures, and materials into interiors.
Biophilic design, which means "love of nature," focuses on reuniting humans with their natural surroundings. The usage of wallpapers with floral themes and natural wall murals are examples of this functional health approach to design; read on to find out more.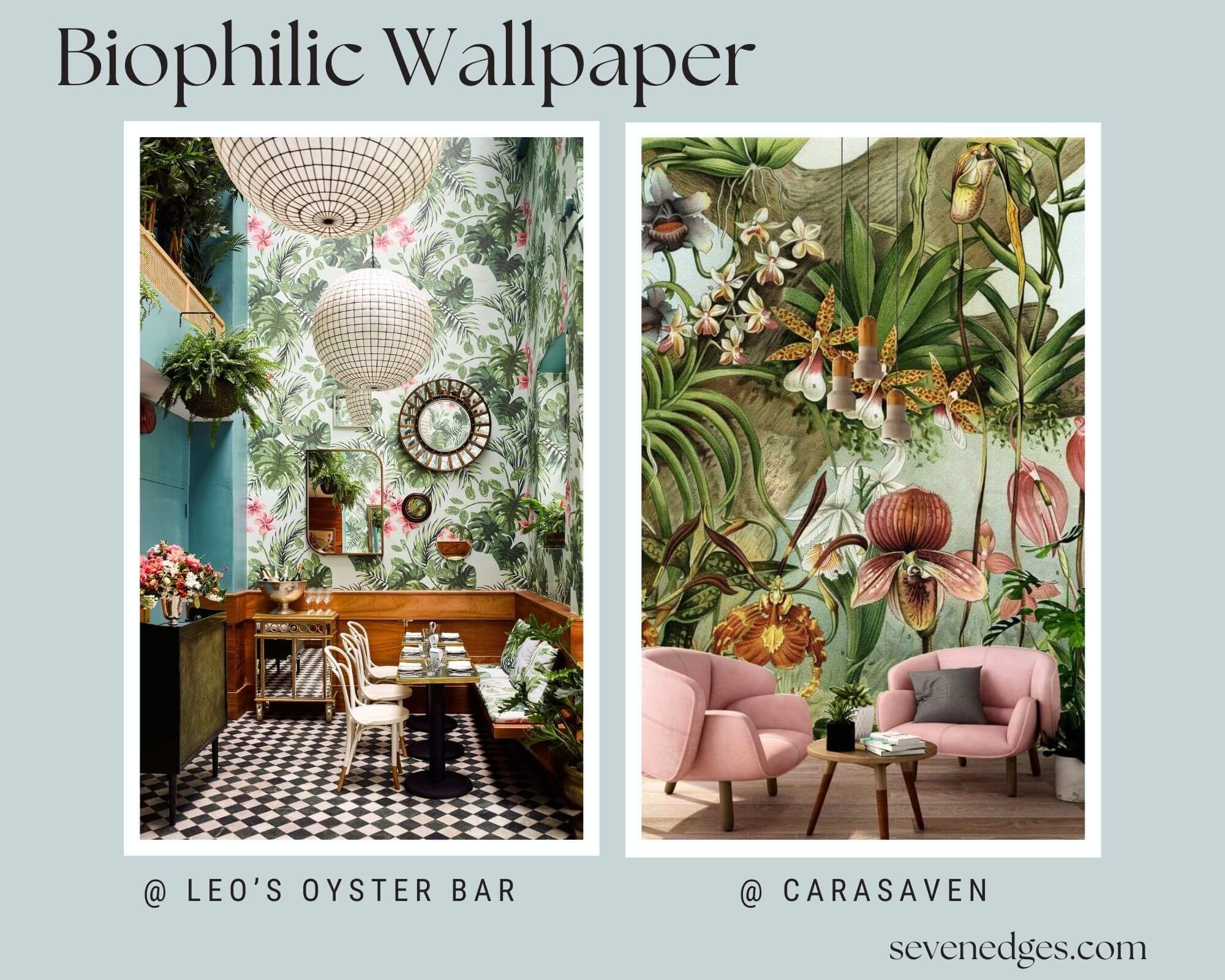 What are the Benefits of a Biophilic Wallpaper?  
Wallpapers and murals may be a terrific way to add color to a space, create a focal point, or change the atmosphere of a room, but did you know that this simple wall covering can also improve your mood and enhance your productivity?
 Yes! According to research, sensory contact with nature not only helps you stay calm, but having Biophilic interior design in our homes, businesses, and public spaces offers significant health and economic advantages. Biophilic design components in our houses provide us with a fantastic sense of tranquility and security, as well as mental rejuvenation.
Secondly, if you live or work in an area where you don't have many options for redesigning and adding permanent biophilic structural alterations and architectural additions, you may simply choose biophilic wallpaper.
 It is not only simple to install, but it is also simple to uninstall if your landlord or boss has any objections.
Vertical wall planter holds 6 plants of your choice to bring your own living picture to life. It is ideal for indoor use and includes anti-drip tray to catch any excess water
Minimal maintenance required with just plant, water and enjoy your live hanging garden
What's a Better Pick? Biophilic Wallpapers or Murals?
Biophilic Wallpapers and Biophilic Murals are both appropriate for the house and business, but if you're confused about which one would be more suitable for you, you should look into these factors!
Wallpapers are less expensive, whereas Wall murals are costly and it can be tedious finding the right artist who understands your vision for the mural.
 Wallpapers are more commonly accessible and offer a wider range of designs to pick from. Wall murals, on the other hand, can either be too basic or help show nature in a purposefully lifelike manner.
Last, as we previously mentioned, wallpapers are easier to install and remove than having a wall mural painted on.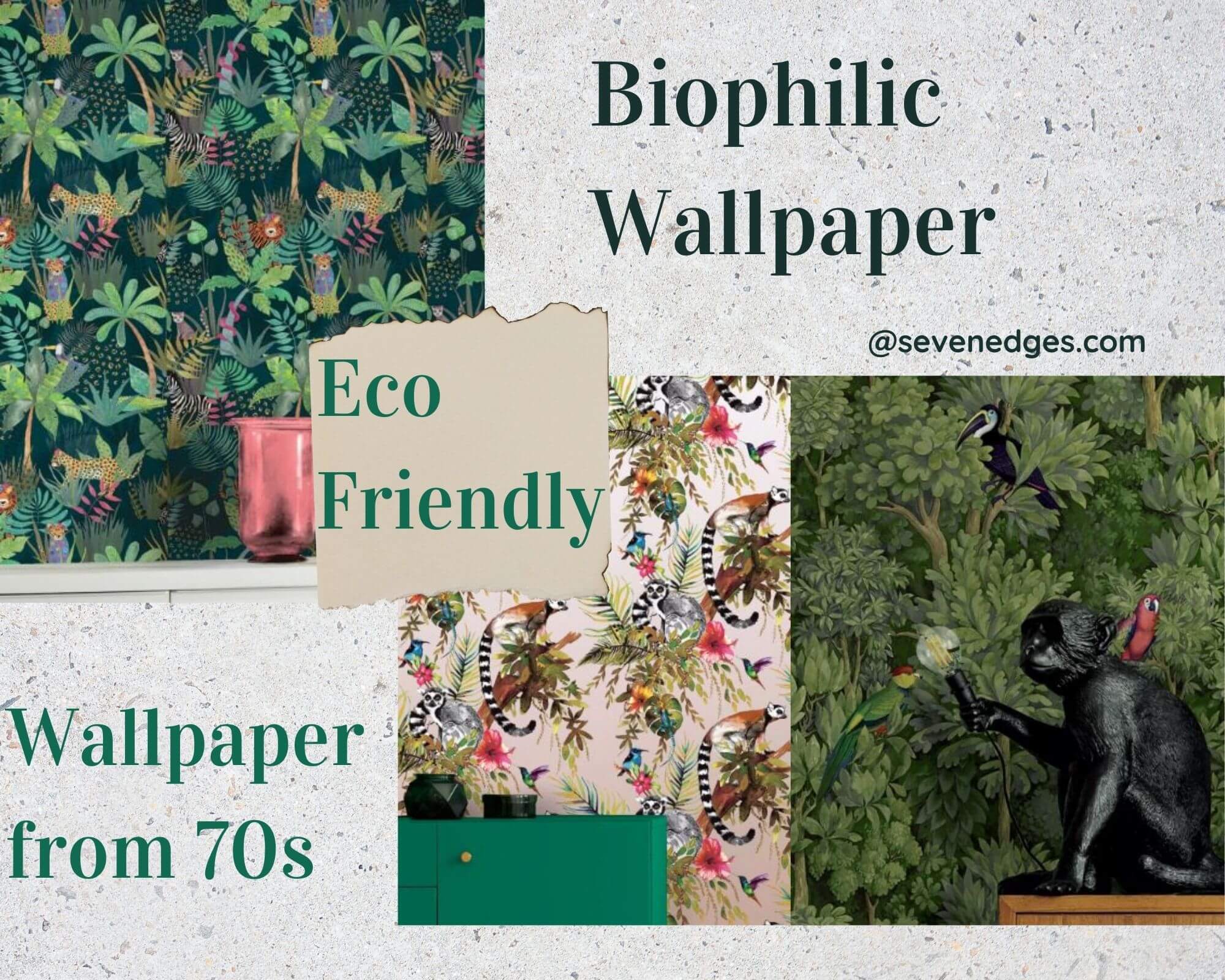 Own these Palmaria blue green, Madagascar rosewood shimmer and Amadori shades of green wallpaper from Wallpaper from 70s. It's worth the buy. They have quite a lot beautiful collection of sustainable botanical and floral wallpaper.
Regardless of your choice, both these options are certain to bring a regular dose of nature back into your modern lifestyle.
2022 – The Year of Biophilic Wallpapers
According to some of the leading interior designers and brands, if there's one word to sum up the wallpaper ideas and general interior design trends for 2022, it's Biophilia.
 The wallpaper business was quick to understand and adopt "biophilia", using patterns, colors, and textures to produce tranquil designs inspired by nature. You can quickly revitalize your house and spirit with a calming wallpaper of flora or landscapes, or you can give it a somewhat modern touch. Biophilic wallpaper does not always have to be about waterfalls and big green leaves. Why not try something more modern like combining the soft, organic curves of leaves with harsh, angular geometric shapes which creates a dynamic take on flora and fauna!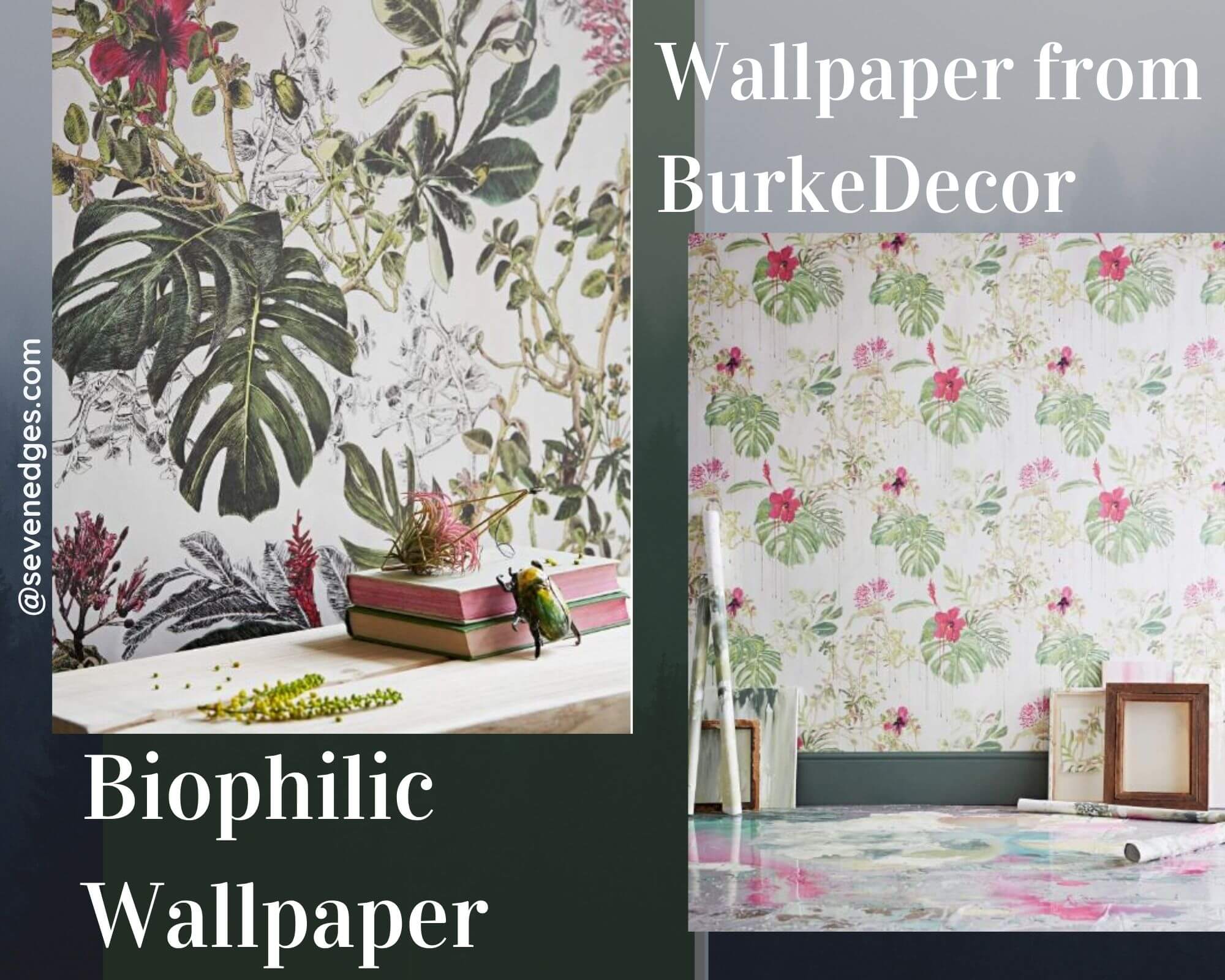 Own these Classic Summer Tropical Bloom Wallpaper by Sian Zeng and Classic Spring Wild Rain Wallpaper by Sian Zeng wallpaper from Burkedecor. You will love all the floral theme wallpaper by Sian Zeng. It quite a good catch for anyone who is looking for Biophilia theme wallpaper.
Botanical and jungle prints are all the rage in 2022, and they are converting ordinary walls into beautiful works of art.
Now that you know everything there is to know about Biophilic wallpapers and its advantages, you might be thinking if adding one into your surroundings is a good idea or not and more importantly, whether or not it will have such an impact? Here's an example.
The biophilic gym at the "Karolinska Institutet", a medical institution in Stockholm, designed by Biofit, is a good example of such a concept being realized. It only goes to show that these projects do not have to be large-scale! By incorporating wallpapers, muraled walls, air-purifying plants, circadian lighting, and 100% sustainable materials, they have created an environment with optimum health advantages.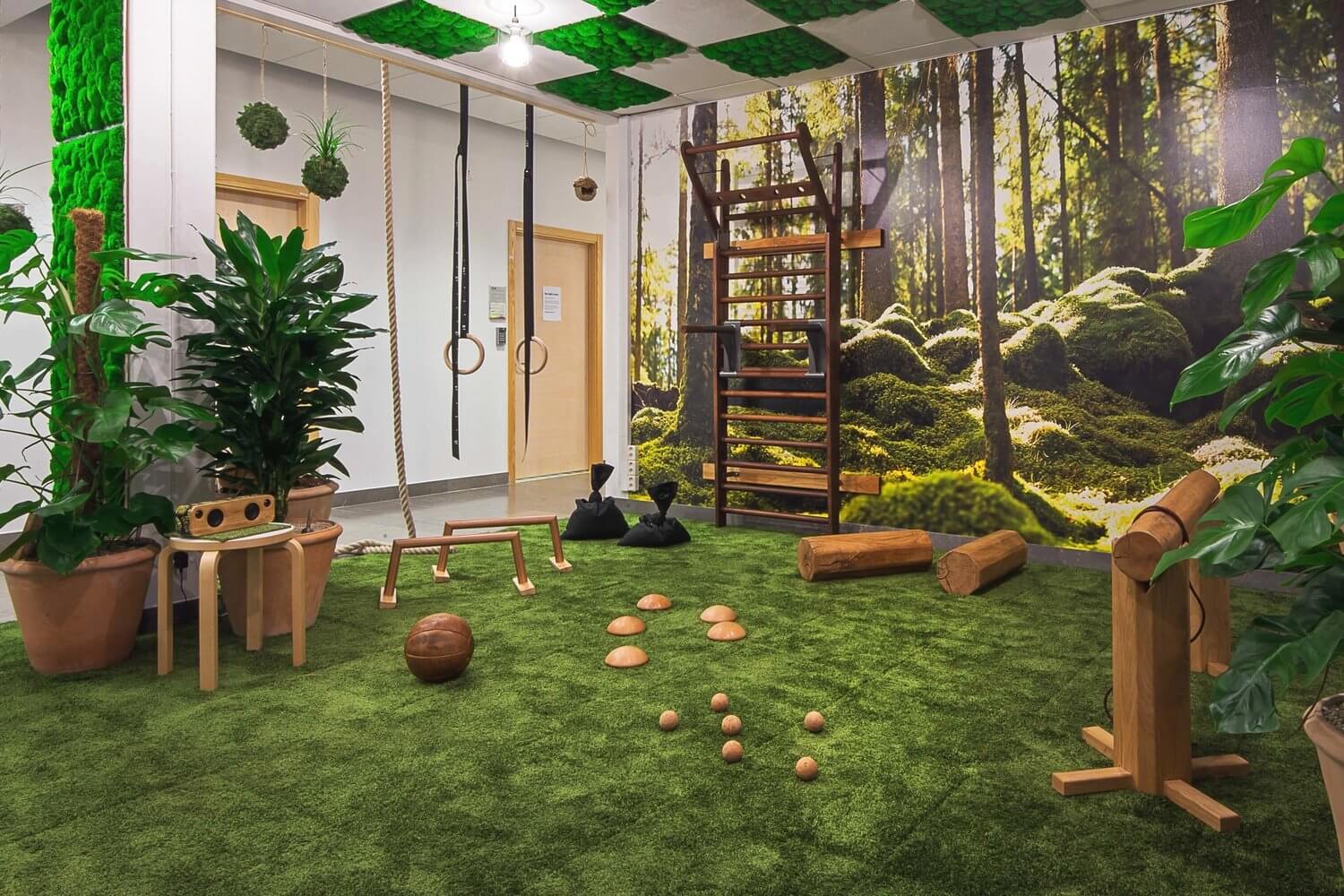 If you struggle to keep tropical home plants alive, nature-inspired wallpaper is a great way to incorporate biophilia into your life.
We hope that now you understand the foundations of Biophilic wallpaper and its use, you will adopt this design approach since it enhances not just the area but also human health and well-being in more ways than one can count.
This post contains affiliate links, which means we may receive a small commission, at no additional cost to you, if you make a purchase through these links.