Arugam Bay is a Surf Beach, located in the Ampara district of Sri Lanka. Located in the Southeast or Eastern Province of Sri Lanka Ampara district has a lot to give you from a surfing destination to the national Park.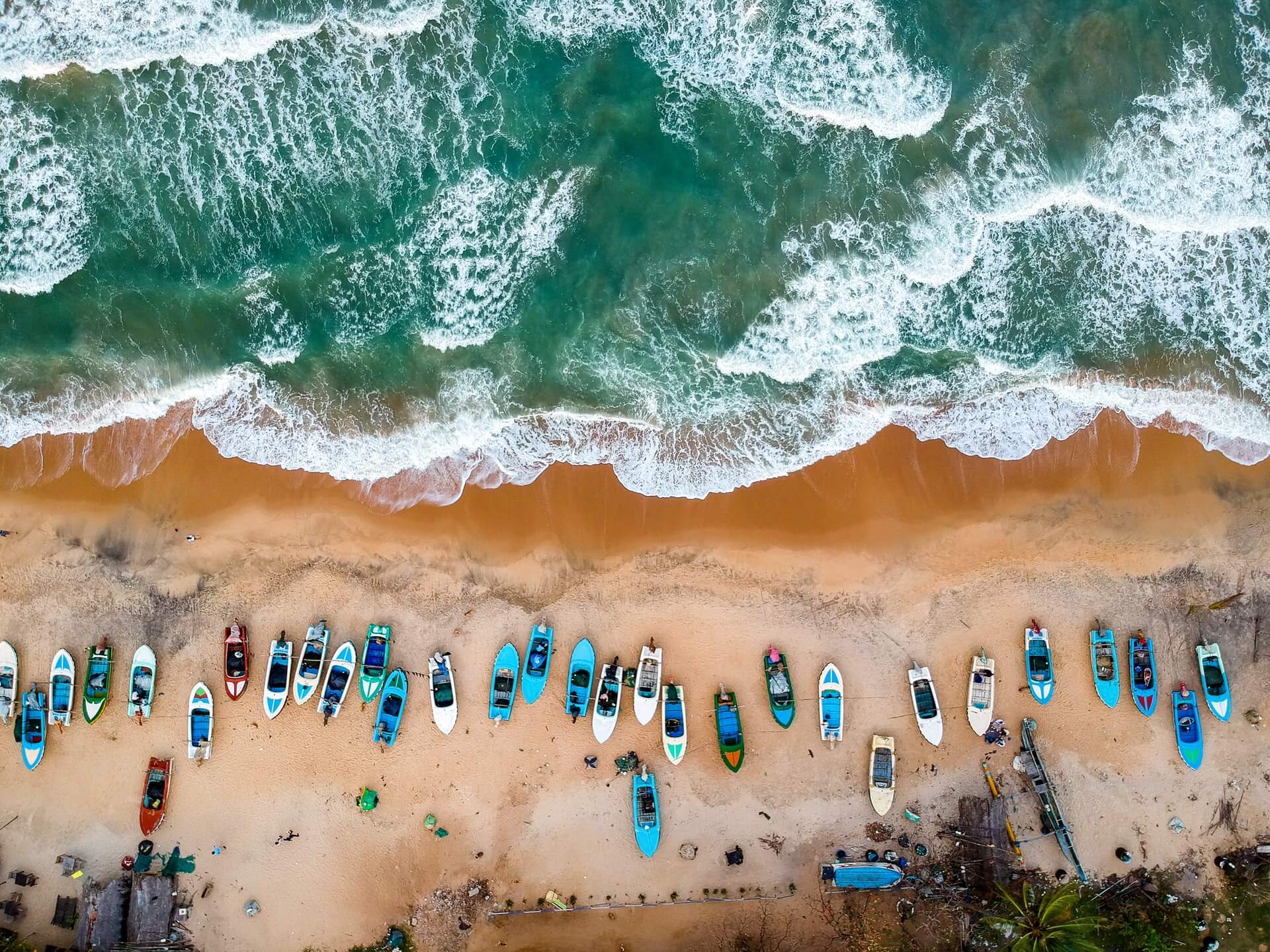 Arugam Bay is famous for its waves in high season and is a better place for Surfers and is called Surfers Paradise. July, August, and September are the best season to surf. For Non-Surfers, April to June would be best so that you can also avoid the rush of Surfers. November to March is considered as the offseason, so avoid that. Avoid midday on the beach as it is super-hot.
Check rome2rio to find the transport to reach Arugam Bay from Colombo.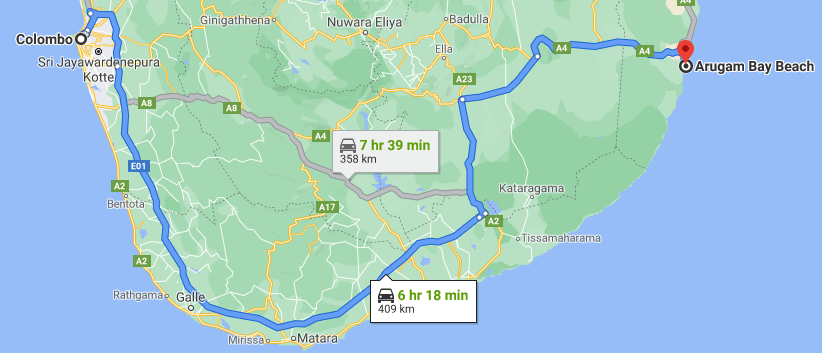 Arugam Bay apart from Surfing
Arugam is not only best known for its beautiful place to surf, the fishing coast and to watch a magical sunset. It is a bit more than that.
One of the main natural Park in Sri Lanka with a highlight is Boat Safari in the Senanayaka Samudra, where you got a chance to see elephant swimming.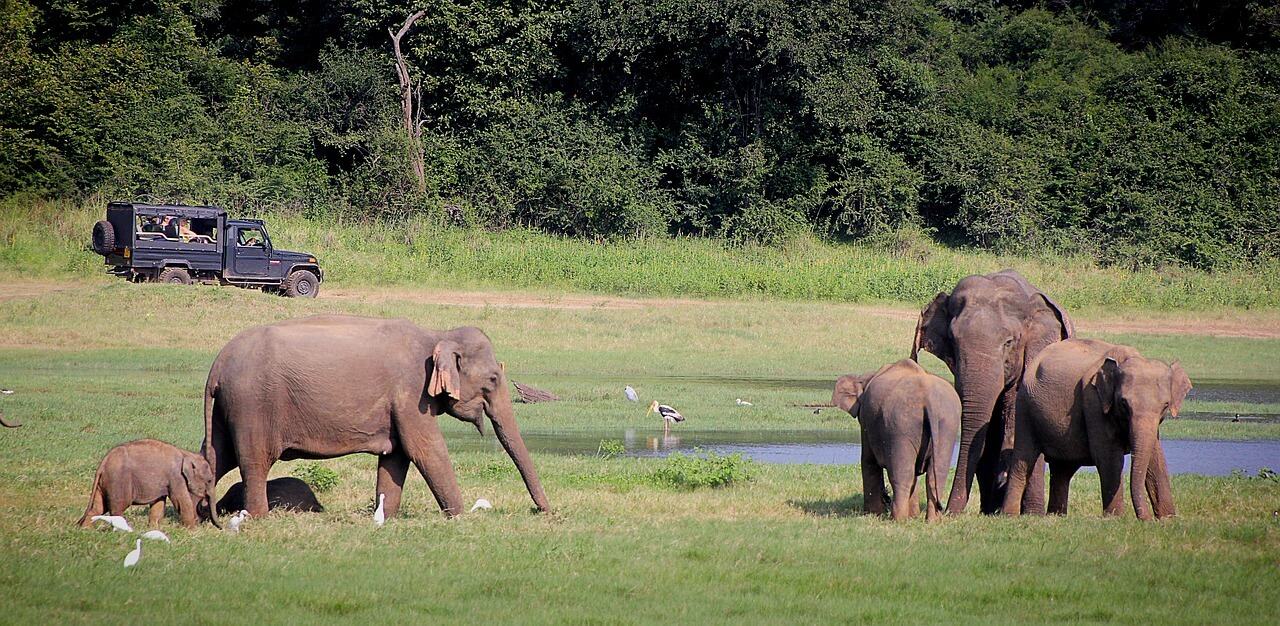 Considered one of the largest Birds National Park in Sri Lanka, even though you can spot Crocodiles, Elephants, Leopards, and wild bears. Visit during monsoon season and start your day as early as possible in the morning. This can be your favorite place for camping, as you reserve campsites in the park.
With ruins in the middle of the jungle, a lovely place for Safari as well as for researchers. Can spot plenty of deer and Elephant on the way.
Lahugala Kitulana National Park
Smallest Park in Sri Lanka with less crowd. An important habitat for Sri Lankan elephants.
A Hidden 2500-year-old temple complex in Lahugala. The major attraction here is the ruins of the Magul Maha Vihara. One of the most valuable archeological sites which are not very popular among tourists. You can find information boards throughout the premises by the archeological department. Here you can see the ruins of the Shrine, Bodhi Tree Protector, Stupa, Main Gate, Moonstone, Palace, Ponds, etc.  A temple is close to this place called Neelagiri Saaya. This ruin is on the way to Arugam Bay with no entrance charges.
The ruins and remains of ancient stupas, Seema Malaka, Avasa Geya, and statues can be seen at the site. Temple premises include stone statues of Lord Buddha and two statues of old kings or gods. This temple is located by the sea and is spread across a large area. It is partly into the jungle and the sandy beach which gives you a great view from the top. A great place for photographers, you get the white stupa with the blue sky and white sand in the frame.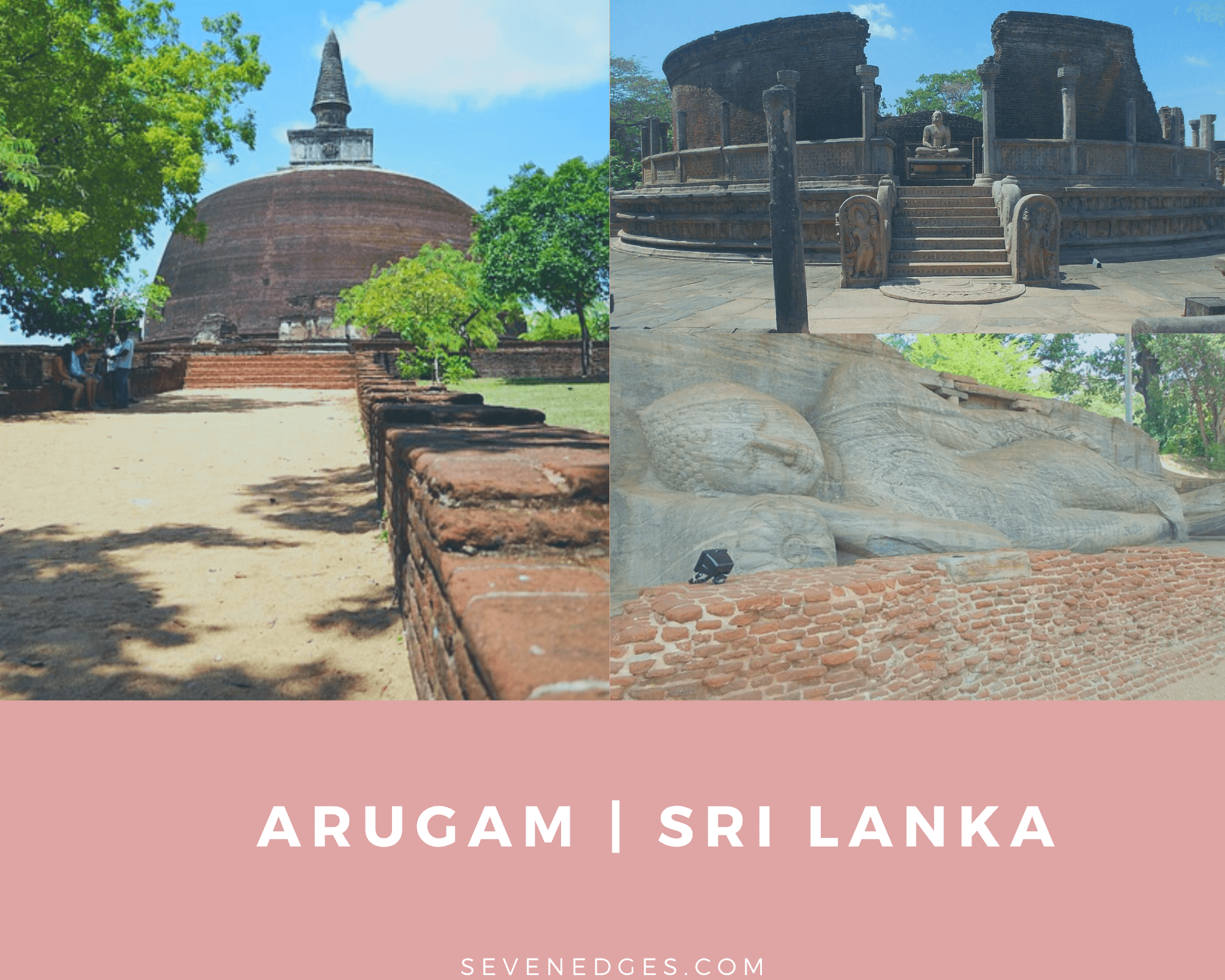 Situated in a heavily forested mountain, hundreds of dwarf caves can be found scattered and buildings such as dagobas, statue houses, alms halls, Bodhi trees, dwelling houses, ponds, and pathways can be seen all around the site. If you are at the top of the mountain you can get a breathtaking view of the forest. Best place for researchers as there are more than 600 prehistoric ruins, monuments, and artifacts and nearly 100 of them are ancient stupas.
Deeghavaapi Raja Maha Viharaya
Here you can find a modern temple surrounded by ancient stupas, a monastery complex, and a paddy field around the temple complete the scenic view. Take only the main road to the location, as you will get many short roads as a diversion and those are not in a good condition to ride.
As all these places are in a rural area or in the middle of a forest, preferably you can choose early morning to visit as there are chances the elephant passes these places in the evening time.
Buddhangala Raja Maha Viharaya
A quiet, beautiful, and calm place to meditate. Surrounded by natural rock and deep forest and you can enjoy a very nice view on the buddhangala rock. A huge Buddha statue lying down with two elephants standing on either side made completely with stone is the highlight. There is also a water dam in between the rocky mountain. You can probably spend an hour checking the entire area. Just do not get down of the vehicle before reaching the temple. You have to travel in the dense forest, deep in the jungle for 7 km to reach the temple parking area. And there are wild elephants and animals all around.
These are some of the must-visit places for wildlife and history lovers to visit if you are in and around Arugam Bay which is famous for surfing. It is also one of the best places for hiking and hot water Springs. There are 7 hot spring well located 2 – 3 Kilometers away from Maha Oya town. Some of the wells are too hot for bathing. Tourists are attracted here as people believe that the spring water has got mythical healing powers. Kudumbigala Sanctuary is one of the easiest hikes and try one at Rassagala too.
Safety Measures & Tips:
Drive the vehicle slowly and away from the animals.
Better have a trained Guide
Hats, scarfs, and water are must due to the hot climate.
Need to dress appropriately for a temple.
Stick to the main road as the diverted routes road my not be in a good condition.
Please leave a comment below, if you enjoyed or find the information helpful. If you are looking for a beautiful stay in any other location, please let us know in the comments below. We would be happy to help you out in that, by listing few after reviewing.
Image by  Tomáš Malík from Unsplash & Thanuja Sandaruwan, Mohamed Nuzrath  from Pixabay