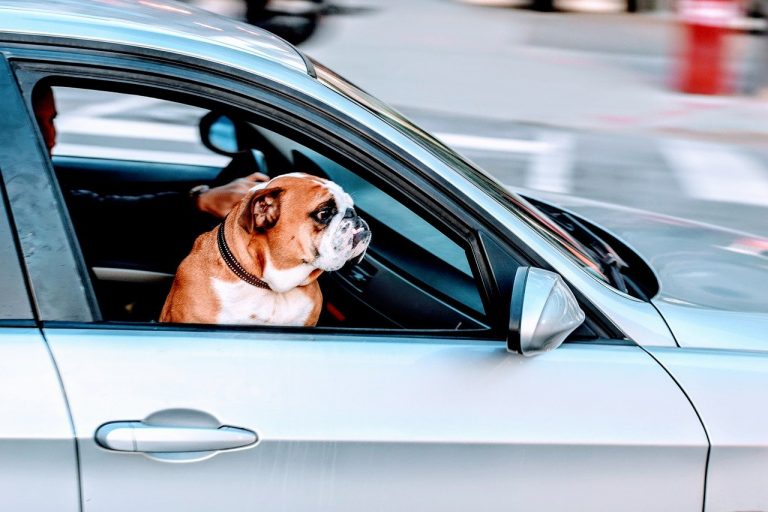 Traveling is fun for all, but leaving behind our loved ones at home make the journey difficult. Some of us are very much close to our pet that we wish to take them along with us wherever we go. But it is very much necessary to look after your pet during travelling. Comfortable and safety of your pet will be the first priority.
There are many travel pet gadgets which are must during your travel. Now, make your trip hassle free with these mentioned pet travel gear items and enjoy the vacation with your pet
All-In-One Dog Travel Bag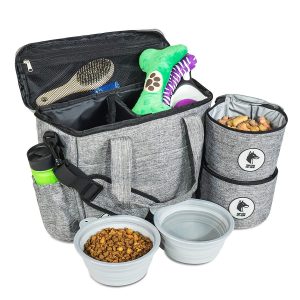 This bag satisfies all your dog needs during travel. You can keep your dog food, water, toys and many more all organised in one place. This bag is easy to carry and comes with 2 containers that can hold 13 cups of dog's food and 2 silicone bowls that can hold 8 cups of dog's food or water. This bag is ideal for travelling and hiking with your pet.
Features:
It has front magnetic sleeve pocket.
Separate compartment to keep water bottle.
Extra side zipper pocket is provided.
Shoulder strap can be adjusted and is also removable.
Contains mesh storage pocket.
The containers are airtight and insulated to keep the food fresh.
The silicone bowls are collapsible and dishwasher safe.
The middle divider is removable for more storage space.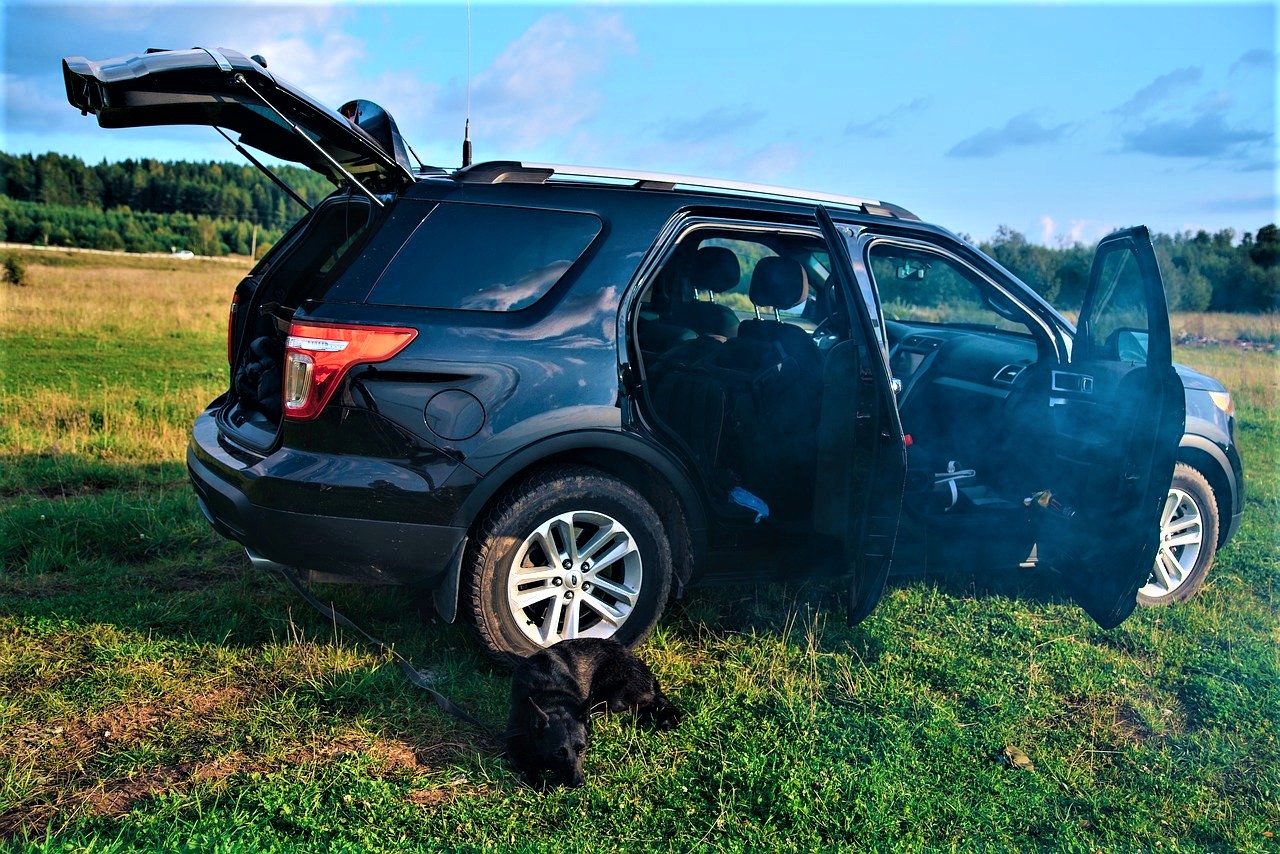 How exactly do you manage a road trip with your dog? Here are a few pieces of advice from animal care professionals and veterinarians.
Pet Ramp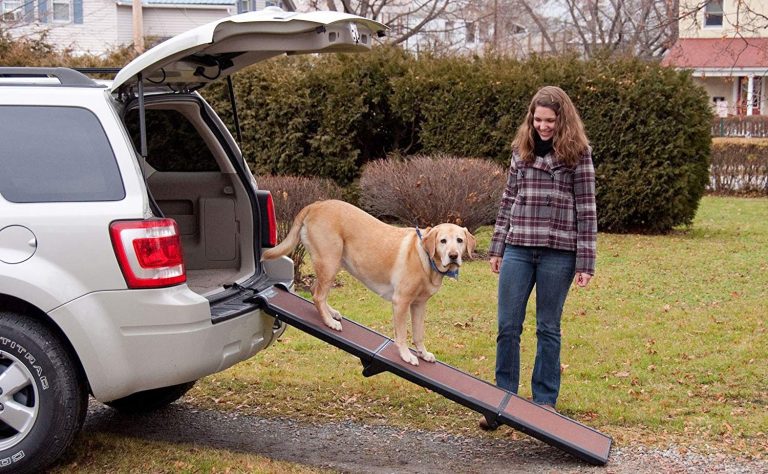 This ramp provides safety and easy to load and unload pet into your car while travelling. It has rubber grippers which is safe and gentle on pet paws. The edges are raised to prevent slipping and falling. The tri-fold design helps to keep the ramp in the car easily. This ramp can easily fit to standard cars, SUV's and trucks.
Features:
Safety tether provides traction.
It is sturdy.
It is space saver and can be easily transported.
It is portable.
Pet Window Seat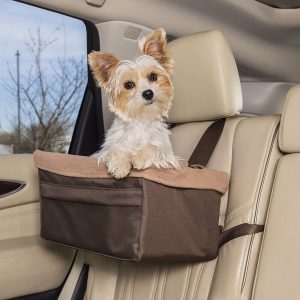 Now, your pet can enjoy the car ride by seeing the world through the window with this elevated seat. The seat can be adjusted and elevated to desired height. Three attachment points are provided to keep the pet calm. The soft liner makes your pet comfortable during travelling. It can be installed to front or rear seat as required. It also has a pocket to store pet gear items. It comes in various sizes and can be selected as per the size and weight of your pet. It is ideal for cars, trucks and SUV's.
Features:
It is made of polyester.
The safety tether ensures complete safety of your pet.
It is easy to install.
The inner liner can be removed and is machine washable.
Pet Seat Cover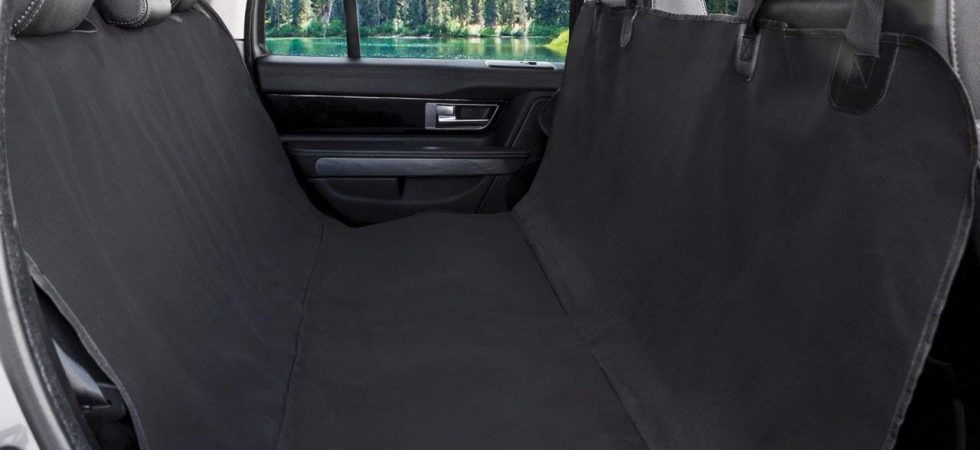 Now, it is easy to travel with your pet in cars. No need to worry about the scratches, fur, dirt, spill and other messes. Just put this seat cover to the back seat of your car. It can also be easily convertible to hammock. It has Velcro openings for seat belt and seat anchors are provided to prevent the seat cover from sliding. Two pockets are provided for easy storage. It has adjustable reinforced straps. It is durable and easy to install and easy to remove whenever required. It can easily fit to standard cars, SUVs and trucks. Make your trip comfortable and fun with your pet by having this seat cover in your car.
Features:
It is made of heavy duty polyester.
It is waterproof and can be machine washed.
Tested to withstand extreme temperatures.
It is free of azo dyes and heavy metals.
Pet Seat belt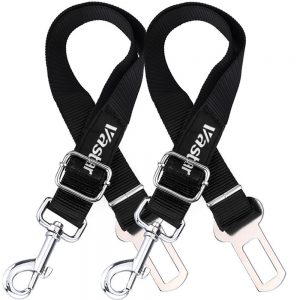 Now, safely travel with your dog in the car with this seatbelt. It protects and secures your dog and allows it to sit comfortably during travelling. It ensures complete safety of your pet with its durable quality fabric.
Important Information:
As the tab on the seatbelt clip is 2 mm, your buckle size and compatibility to be checked before purchase.
Features:
It is made of nylon.
The buckle is made of aluminium which is rust and wear resistant.
It is easy to use.
The belt is sturdy and wear resistant.
The buckle is adjustable to the required size.
Cons:
The seat belts are not suitable to the cars such as, Ford F150, 1989 Ford Ranger, 2016 Honda CR-V, 2013/2014 Honda Pilot, 2012 Kia Forte and 2015 Aura RDX.
Not suitable for front seat of 2012 Toyota Tundra.
Not suitable for rear seat of 2012/2013/2014 Honda CR-V, 2016 Aura RDX and 2014 Honda Odyssey.
Pet First Aid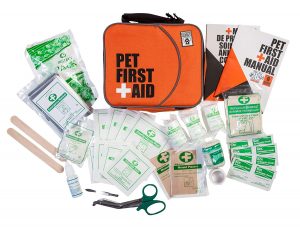 To have a safe journey with your pet, carry this first aid kit along with you during your travel. Pets can encounter accidents and injuries. This first aid kit helps you to assist your pet during accidents until you visit veterinarian. It has many pockets to keep things such as, gauze pads, bandages, antiseptic, gloves, scissors and many more. It is compact and can be easily carried with you during travelling. It also includes Instruction Manual for easy instructions to follow during pet injury. This pet first aid kit is most recommended during travel.
Features:
It is made of vinyl.
Zipper extenders provide easy opening of the kit while wearing gloves.
Dog Calming Jacket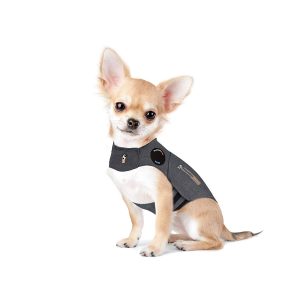 This jacket helps to calm down your dog during anxiety and fear. It should be tucked around the dog. It applies gentle and constant pressure on the dog. The fabric is soft and breathable. If you are on a long trip with your dog, then this jacket is highly recommended to soothe your dog during travelling. It is ideal during thunderstorms, fireworks, fear, anxiety, travel, veterinarian visits and many more.
Pros:
It is easy to put and remove.
Holds firm on dog.
Various sizes ranging from XXS to XXL are available.
It is recommended by trainers and veterinarians.
It is washable.
Stress Buster Soft Chews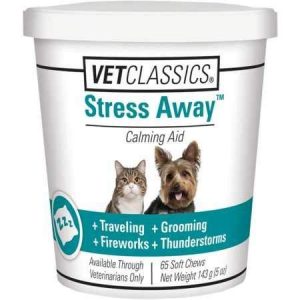 This amazing stress and anxiety relive soft chews works great for your cats and dogs while travelling, thunderstorms and fireworks. It is recommended and approved by veterinarians. The chews are tasty and are liked by cats and dogs. It acts as a calming aid by supporting the nervous system and thus reduces stress, anxiety and tension of your pet. Directions to use the chews are given on the container.
Disposable Travel Pads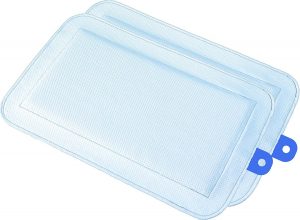 These pads are absorbent and dry instantly. It absorbs all the wetness from the pet and gives better insulation against heat and cold. The cushion surface provides best comfort and soft for pets. It has a rigid core which keeps steady and fits in the carrier bag. It is disposable. Now, get rid from the mess created by your pet during travel. It is ideal during travelling, shipping and transporting pets.
Never miss these mentioned pet travel gear items to make your travel most remembering and enjoyable with your pampered pet.
Get the travel accessories according to your needs, and select the gear items suitable for the location you visit.
Did we miss anything, Please let us know through comments below. Let us know your needs, we would be happy to review and list it for you.
Credit: Image by StockSnap from Pixabay
This post contains affiliate links, which means we may receive a small commission, at no additional cost to you, if you make a purchase through these links.