It doesn't matter how small your apartment is, your home deserves a grand entrance! It's a surefire method to keep your keys, handbag, and scarf organized when you have a designated spot for them. To design a small entryway or brighten up your current doorway, you'll need some apartment foyer design ideas.
If you're hunting for small apartment entryway ideas, consider going large. These apartment entryway design ideas show you how to take your design to the next level, no matter how big or little your space is. Ultimately, it's the area that greets you and makes your guests feel at home when they walk in the door.
Spice Up Your Flat Foyer with Some Texture
Textures are a good addition to your list of apartment foyer design ideas since they bring character to the room as well as appeal, depth, and color. From the walls, artwork, and decor to the floor, rug, and console, your apartment's entryway can never have enough.
Sunlight brings out the best in a room's textures and architecture. Textures pique your curiosity by engaging your senses. Making use of texture is an excellent technique for making your apartment's doorway stand out and draw your guests toward its decor.
Go Bigger and Brighter with Large Mirrors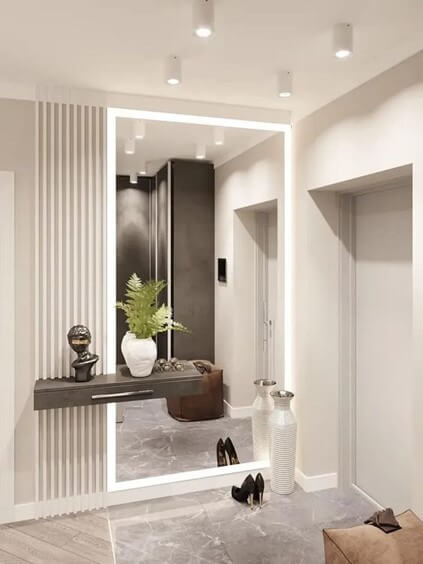 Using an open floor layout and a large mirror, even the tiniest apartment doorway can appear spacious and airy. What you can put in your apartment's foyer depends on its dimensions. If you're working with limited space, you'll want to incorporate a full-length mirror to help elongate the entryway.
Using giant mirrors is a great apartment foyer design idea for creating the illusion of more space and light. Mirrors can make a big (pun intended) difference in an otherwise plain room, as seen in the example above. This is particularly true if the foyer is tucked away in a dark corner yet is open to the rest of the apartment's living space.
Consider a Console for Convenience
You might think it's impossible, but with some savvy purchasing or craftsmanship, you can include a console in a small entryway. It's also a cost-effective apartment foyer design hack to inject individuality into a room without adding a lot of stuff.
A simple console or side table may turn a corridor into a proper foyer while also providing storage. When you're working with a small entryway, you have to get nifty with utilizing your furniture. A console provides additional functionality by providing a spot to put your purse or keys as soon as you enter your home.
Plants Bring Any Space to Life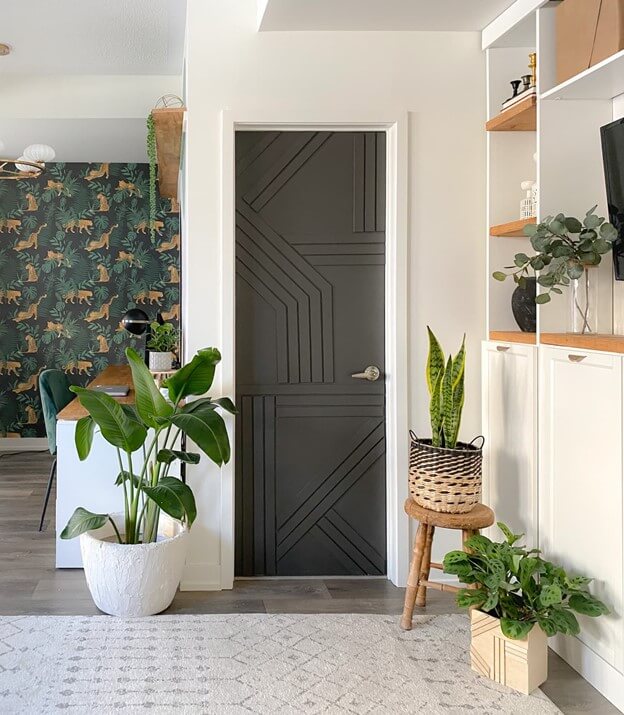 The popularity of plants and earthy hues in home decor is on the rise, and this trend is expected to last for some time. Leafy green plants in elegant pots may make a room feel more inviting. It's always wonderful to be greeted by a welcoming entryway, like the one shown below. There is a lot of storage space in this room, which adds to its aesthetic appeal.
Be Effortlessly Chic with a Monochromatic Palette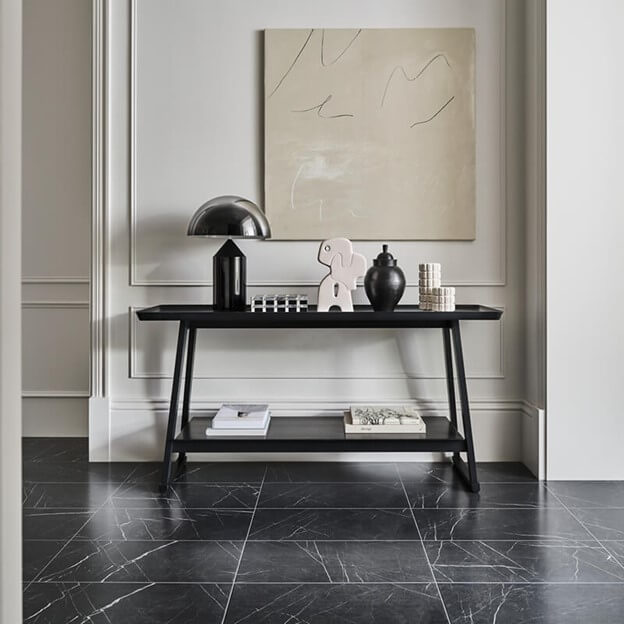 A monochromatic color palette may be edgy and stylish in any room, and it's a good idea to keep your apartment foyer design basic. Marble floor tiles contrast beautifully with the black furniture in the image below. It helps the decorative details of this chic foyer stand out.
An entryway that is simple and elegant is the best way to show off your style. With black-and-white adhesive wallpaper, you can add a graphic element to a tiny space and define the theme for your home. Furniture items are simple and easy to style if you go with monochromatic color palettes. Choose unique shapes and avoid overcrowding.
Utilize Your Foyer with Storage Options
A well-designed entryway, complete with designated areas for the storage of keys, mail, shoes, and coats, is a valuable addition to any house. Even if your space lacks a large formal greeting area, you can still create a transition room that provides modest storage and an aesthetically beautiful (and possibly vibrantly decorated) entrance.
Using brass or wooden hooks, benches, and baskets, as well as wall-mounted shelves, is an excellent way to maximize a small space. They provide a convenient place to put your shoes on and hang your jackets and other accessories.
Colorful furnishings and well-designed pieces of furniture can help make an apartment's foyer welcoming, even if they are just a basic console, large mirror, and light fixture. We hope that these apartment foyer design ideas have given you some inspiration for your grand entrance!
This post contains affiliate links, which means we may receive a small commission, at no additional cost to you, if you make a purchase through these links.