Christmas is just around the corner, and it's time to find that perfect organic
Christmas tree
! The holidays are a time when people must make a lot of hard decisions, like how to find the best Christmas tree. The most important thing to look for in a tree isn't its size or shape but rather how safe it is for your family, your pets, and the environment.
Therefore, if you want to make sure that you and your loved ones are safe this Christmas season, an organic Christmas tree is the best option. These trees are free of harmful chemicals, pesticides, and artificial additives, so your Christmas celebration is as eco-friendly as possible! Here are a few spots to find the perfect organic Christmas tree near you!
Why Choose an Organic Christmas tree?
Just like with any other product (food, plant, or otherwise) we bring into our homes; we have to think about how the tree was produced and whether or not any chemicals were utilized. Most commercially produced Christmas trees have a whole variety of pesticides sprayed on them, so if you don't want to bring harmful chemicals into your home, you should look for fresh Christmas tree farms that sell organic trees or employ Integrated Pest Management practices, which use very few pesticides and only when other remedies fail.
Best Organic Christmas tree Farms near Me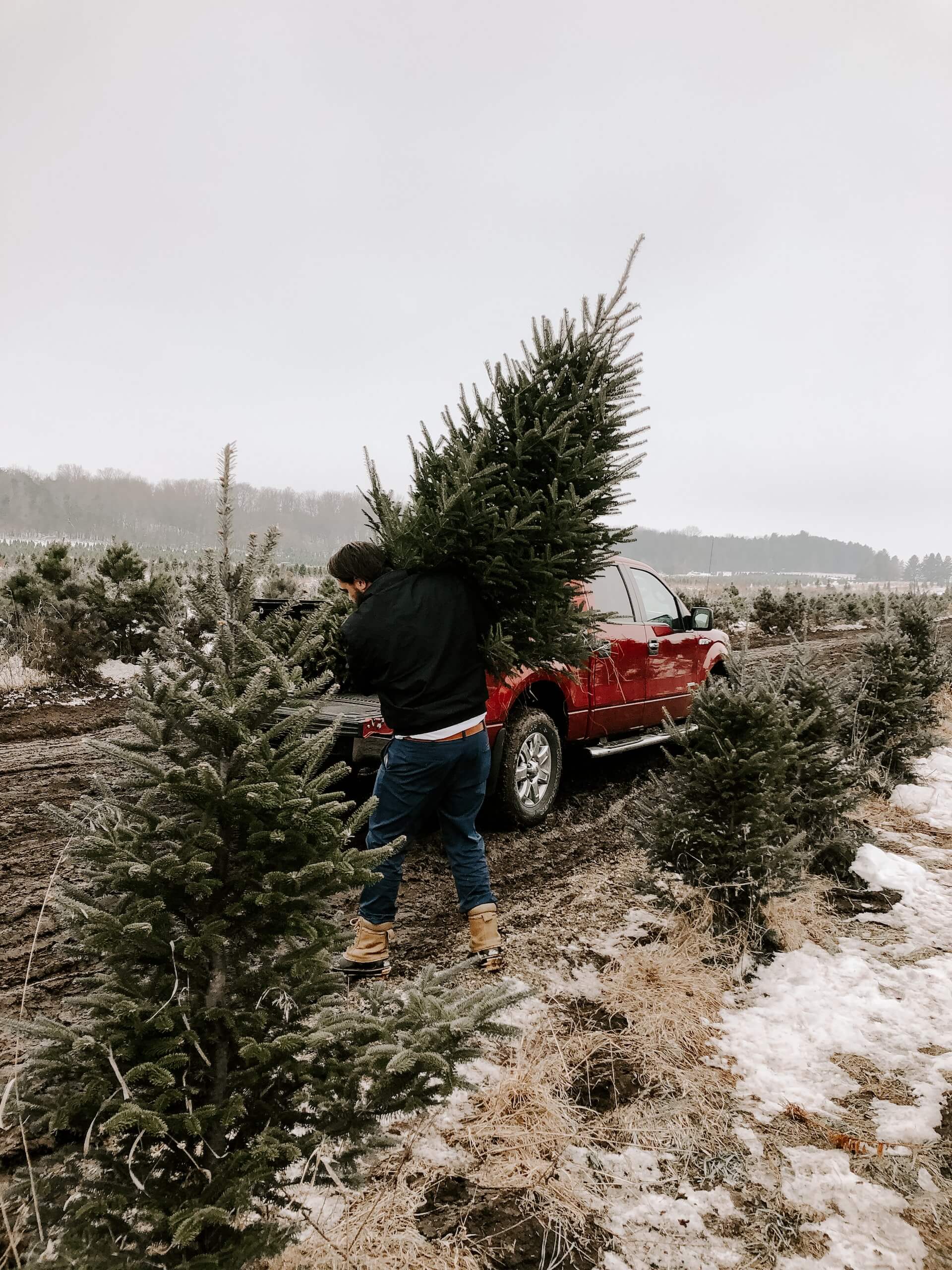 Because of high demand and low supply, Christmas trees that are grown in an organic way sell quickly once they hit the market. There are just 47 organic Christmas tree farms in the United States as of 2020, but with the increasing popularity of organic produce, this number is likely to rise.
If you're looking for some local organic trees to make your Christmas holiday special, check out these four Christmas tree farming spots!
Billy's Farm
is the only certified sustainable Christmas tree farm based in California. The Farm has expanded each year to meet the increasing demand for its fresh, choose-and-cut Christmas trees and the unforgettable holiday atmosphere they create.
Today, the area is home to more than just 18,000 Christmas trees; persimmons, pomegranates, pears, and apples are all flourishing there.
2.     Ben's Christmas tree Farm
Ben's Tree Farm
is one of the most renowned organic Christmas tree farms in the Chicago area; that is certified organic and can deliver an organic Christmas tree near me for up to 50 miles.
The Farm has been offering hand pruned Firs and Pines since 1982 and has now expanded to over eight unique varieties of organic Christmas trees, including Scotch Pine, Norway Spruce, and White Pine.
3.     Celebration Tree Farm
Celebration Tree Farm
is the only certified sustainable Christmas tree farm in Southern Maine where you can buy trees for your events. Their trees have grown in harmony with the forest for 30 years.
They take great pride in their commitment to sustainable forestry at their Farm near Durham, where they forgo the use of chemical fertilizers and herbicides to ensure that their trees are free of any harmful residues, making them one of the best organic Christmas tree farms in Maine!
4.     The Northeastern Christmas tree Association
The
Northeastern Christmas Tree Association
offers some of the rarest Nova Scotian Balsam
Fir Christmas trees
and ships them worldwide. All of their goods are made of Balsam Fir, which is regarded as the most aromatic of all Christmas tree species.
Northeastern Nova Scotia is the best place in the world to grow balsam fir, and Northeastern Christmas Tree Association takes great care to make sure they grow the best trees on the market! If you're looking for the best organic Christmas tree near you, you know where to find it!
Where to Find an Organic Christmas Tree?
It's that time of year again when families look for a Christmas tree to decorate with. This can be a real challenge, especially if you live in an area and have limited access to quality trees. The good news is that there are still plenty of organic trees available online, as well as some great places to shop around town.
Tree farms provide the freshest eco-friendly Christmas trees that are grown in soil and not treated with pesticides or chemicals. They also offer unique varieties of trees that may not be available elsewhere or at a reasonable price. Here are three places to find organic Christmas trees online!
  Green Promise features a directory of 22 different states' worth of organic Christmas tree suppliers. An eco-friendly gift guide is included for those looking to fill their stockings with environmentally-conscious presents!
Local Harvest not only helps you locate locally grown organic Christmas tree farming, but also local farmers' markets, family farms, and other sources of sustainably grown food.
If you're looking for a non-toxic Christmas tree for your family, Natural Baby Mama has a 2017 list of organic Christmas tree farms by state.
If you're planning on getting a Christmas tree this year, it's important to think about the environment and how you can help. An environmentally friendly Christmas tree is the perfect way to add a touch of holiday spirit to your home!
This post contains affiliate links, which means we may receive a small commission, at no additional cost to you, if you make a purchase through these links.