When you travel, the odds are that you will be interested in working your way through some nifty gadgets that might not have much utility for you while you are at home but may well prove valuable while backpacking. And this holds true, in a place where you are 'roughing it out' without the amenities that you are used to.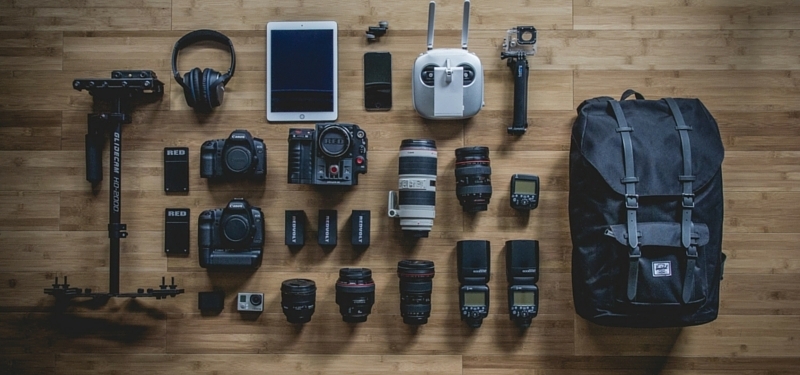 One exciting aspect of a trip abroad (or even a different place within the country) is the chance that you will get to buy all those new, exciting and innovative gadgets besides the usual backpacking basics that you would never otherwise purchase, or wear in everyday real life.
Let us check out a few such wearable gadgets.
The Glow in the Dark Rope
If you are going camping with the family while maintaining a minimalist wardrobe, then you can use a strong piece of stout nylon 'glow in the dark' rope for a variety of purposes. Not least of which is its utility as a small braided band on your wrist that will show everyone where you are. (Different colored ropes for the various members of your family, will be ideal). Such ropes can be fun at the campsite while trading ghost stories around the dying embers of a campfire.
This practical tool gear gift is made to replace your traditional hand-held flashlights, will become a third helping hand when fishing, night running, camping, hiking, dog walking, hunting, patrolling, cycling, etc.
With the gloves, you can guide the light to whatever you're working on with your hands!
Fit Right and other Activity Trackers
One of the primary benefits of camping is that you can exercise and at the same time enjoy the great outdoors. Such trackers will keep track of the amount of exercise you get during the day and some of the more advanced ones will also be able to monitor your emotional routine as well. So this can be considered as a best wearable gadgets.
There are many smart hiking boots available in the market that can collect data about your extended nature hikes and walks. Many such newly invented and remarkable boots can easily monitor and store data about your daily excursions regarding your runs, hikes, and rambles. They will also monitor both your pace and cadence too. And what is more, they can also be attached to a smartphone app to make tracking your daily exercise routine, easier than ever.
Unlike a handheld device such as your phone, or a wristband like Fitbit, you can wear them on your feet so that your hands remain 'free'.  Putting on such boots that are both stylish and comfortable is sure to raise a few appreciative eyebrows at the campsite.
Yes, such bags exist, and they are equipped with multiple theft-proof technologies that range from iron chains present inside the straps of the bag, all the way to heavy duty Kevlar inserts so that you cannot be the victim of the by now ubiquitous 'slash and grab' tactic.
Often the robber slashes at the bag's straps with a large knife, cuts them free and runs away with the bag, before the stunned backpacker even has time to react, at all. However, it is pertinent to note here that should you be threatened by armed criminals at any time, in an isolated spot it is prudent that hand over your stuff without making a fuss, lest your life be endangered in any way.
While the humble smartphone takes precedence as a portable alarm clock, but it is entirely possible that you might need to take an actual digital alarm watch as well with you, since the odds are that you may have to go to places where you might not have time to charge your mobile phone. Such a watch can be a useful item indeed. And much the same applies to wearable flashlights as well that can either be worn strapped to the wrist or more commonly via a hand band around the head. When you get one, always make sure that it is a fantastic and reputable brand and light and portable, as well.
Secret Compartments Equipped Belts
These are often referred to as belly belts, and they can also be used not only as a place for stowing away important documents such as your passport, airplane and train tickets, and your other important documents. Apart from that, such a belt is an ideal place for secreting your emergency liquid cash reserves in case your primary reserves get lost or stolen and you end up being stranded, miles in the middle of nowhere without food or shelter.
Reusable bottle holds about 20 oz. and fits in car cup holders and backpack pockets. 
BPA-free Water Bottle: Food-safe and made from sustainable and socially responsible materials
This is the cool stuff that you – a digital nomad might find useful while planning your first outdoor trip or even if you are a veteran camper with dozens of trips under your belt. Here's a friendly reminder. Make sure your laptop and phone have antivirus protection so you can travel stress-free without the risk of losing information.
So what are you waiting for? Now is the time to head to your favourite campsite.
Judy Robinson is a passionate health and lifestyle blogger. She loves to write on healthy lifestyle, fitness 101 and DIY related topics. Currently, she is associated with White Duck Outdoors, an online camping tent shop that offers top quality bell tents, canvas tents, outfitters tents and other outdoor camping gears.

This post contains affiliate links, which means we may receive a small commission, at no additional cost to you, if you make a purchase through these links.
Did we miss anything, Please let us know through comments below. Let us know your needs, we would be happy to review and list it for you.
Image by Valéria Rodrigues Valéria from Pixabay