Christmas is the season of celebration. Let us spread love and joy in this Christmas by making it
eco-friendly. From decorations to food, you can have green Christmas. As a responsible humans, we can reduce environmental impact in this Christmas season by selecting only eco-friendly products. Celebrate this festive season with mindfulness with the below mentioned best tips for an eco friendly Christmas.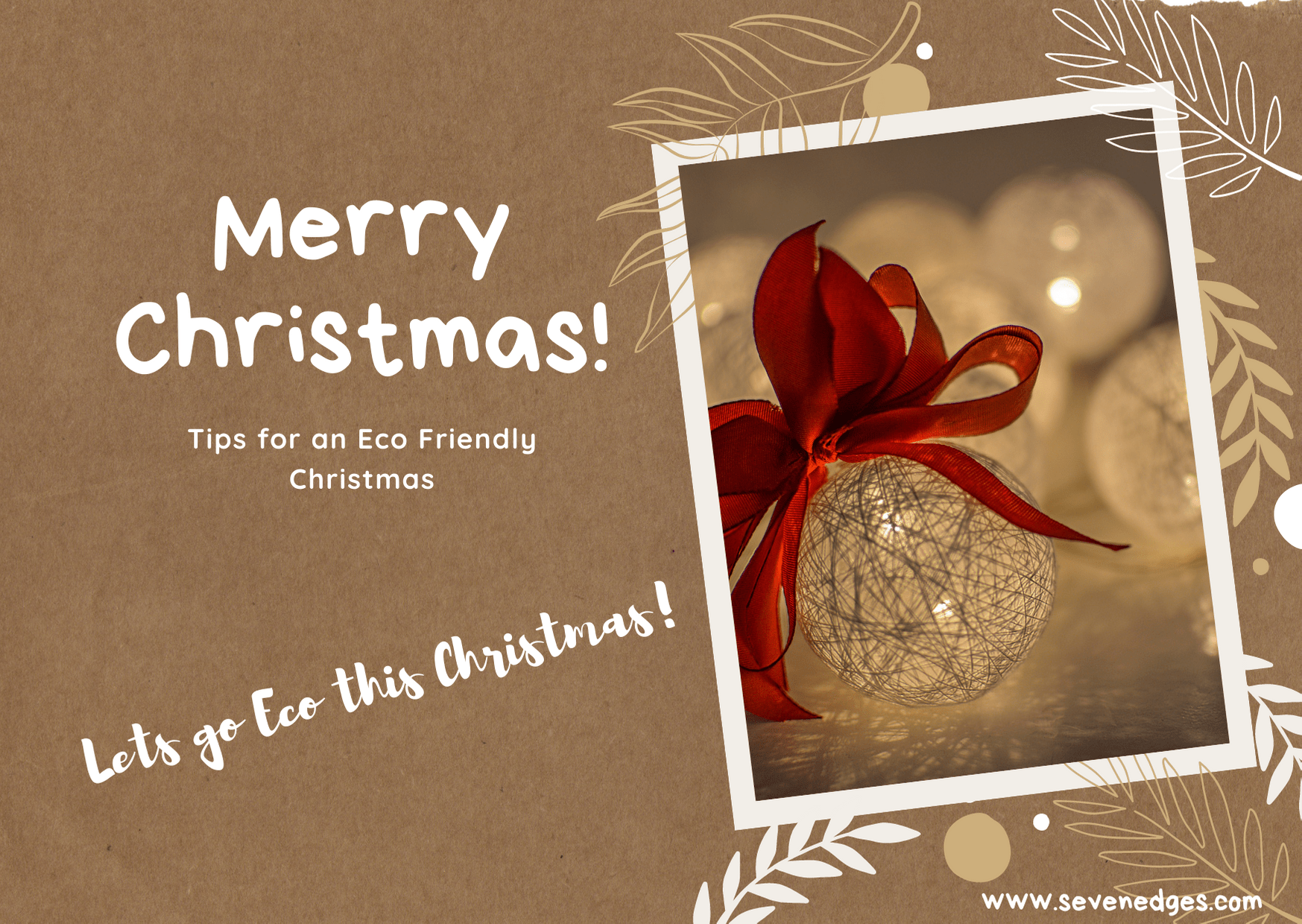 Eco Friendly Christmas Tree
Tree is a centerpiece of Christmas celebration. To have a plastic free and eco-friendly Christmas, it is a best idea to use live tree instead of an artificial plastic tree. Visit your nearby tree farm and select a live potted tree which reduces both carbon footprint and transportation cost. You can also re-pot the tree into a larger pot for longer use. These Eco Christmas Tree can be used for several years and when the tree becomes large, you can plant this tree in your garden.
Renting a Christmas tree is also the best option to have an eco-friendly Christmas. There are many rental companies which deliver a eco friendly Christmas tree to your door. Once the Christmas is over, they collect it and looks after it until next year. You can even opt for the same Christmas tree every year. Here are some Christmas tree rental companies:
It is not always necessary to get a live Christmas tree, you can bring your creativity and make your own tree using old newspapers, books, twigs and many more with beautiful decorations to make it look festive.
For more ideas on creating a unique Christmas tree and decorating it, visit Ideas for Decorating an Eco Christmas Tree.
The traditional Christmas cards are wasteful as people throw away the cards and it ends up generating lot of waste. The best eco-friendly Christmas card option is e-card. E cards are now-a-days increasing as they cut carbon foot print and saves both tree and money.
If you still like physical cards, then always go for recyclable cards. You can even get plantable cards which comes with sapling. When you put this card in a pot and water it, the paper eventually decomposes and a seed will grow. Etsy has many options for plantable Christmas cards.    
Gifts play a major role in Christmas. Not all gifts have to be store bought, give a thoughtful and reusable gift. Gifting a sapling is the best idea to have an eco-friendly Christmas. It is the best thoughtful gift that saves the planet.
Many local shops have gifts manufactured from recycled materials. Go for such local shops to reduce carbon foot print. This in turn helps them to run their business. You can also go for battery free toys and save the planet from hazardous batteries.
Raising fund for the needy people is the best gift that you can give on Christmas. You can even donate for the organizations that support the environment. Gifting mindfully and eco-friendly will save the environment.
Eco Friendly Wrapping Paper
Gift wrapping paper contributes a lot of waste. Therefore, to have an eco-friendly Christmas, you need to choose the wrapping paper wisely. Buy gift wraps made from recycled materials.
You can use old newspapers or calendars to wrap the gift. Avoid using tape and instead tie it with a beautiful fabric ribbon. This makes you more creative and in turn save the earth and celebrate
eco-friendly Christmas. Here are some eco-friendly wrapping papers:
When it comes to dining, people usually prefer disposable plastic crockery. This leads to negative impact on environment and they are very hazardous. Therefore, to save the earth, go for biodegradable crockery. These crockeries are not only good for your health, but are also equally stunning. By using biodegradable crockeries, it encourage others to celebrate eco friendly Christmas. Here are few stunning biodegradable crockeries for your eco friendly Christmas:
Huge amount of food get wasted during Christmas. Therefore, always plan wisely and shop only what is required. To save the environment, you can go for organic meat. If there is any leftovers, try to freeze it and create best recipes out of it. There are many people starving. Instead of throwing leftovers, you can give them through many organizations. These organizations collect surplus food and give them to the needy.  Some of the organizations for collecting surplus food in UK are:
Eco Friendly Christmas Decorations
Say good bye to plastic decorations and go for eco-friendly decorations like natural wreath which is good for earth.
Light plays a significant role in Christmas decorations. Always try to use solar powered LED lights as they use natural source of energy and are more efficient than fluorescent and incandescent lights. 
Instead of buying decorative items, you can create your own decorations. You will get many ideas for decorating your house using household or used items. For example, use pine cones, dried oranges, berries and foliage from garden and create your own wreath. This is not only sustainable, but also equally attractive.
For more information on eco-friendly Christmas decorations, visit Ideas for Decorating an Eco Christmas tree.   

This post contains affiliate links, which means we may receive a small commission, at no additional cost to you, if you make a purchase through these links.