Recently, sustainable interior brands and Eco-friendly interior design ideas are gaining popularity. Now if you're wondering how sustainable interior design materials and products reduce your ecological footprint while adding an exciting new vibe to your house, you might be surprised by what the modern, stylish, and contemporary aesthetic sustainable materials can offer to a place.
In this blog, we will tell you all about sustainable interior design materials and how to utilize them.
Let's start with one of the most commonly known sustainable interior design materials, Bamboo. The eco-friendly interior designers at Tine K Home have created a beautiful bamboo sunbed as seen in the image above. They provide a wide range of bamboo furniture for both indoor and outdoor use.
Bamboo is a beautiful and incredibly durable material for interior design, and it is arguably the most commonly used in eco-friendly interior design. Bamboo is extremely renewable, and its rate of growth is so fast that it does not require fertilizers and requires significantly less energy than wood, plus it thrives in practically all weather conditions. Another amazing feature of bamboo is that it does not require replanting once harvested. It regenerates on its own and fast, making it a fantastic green choice for all eco-friendly interior design ideas.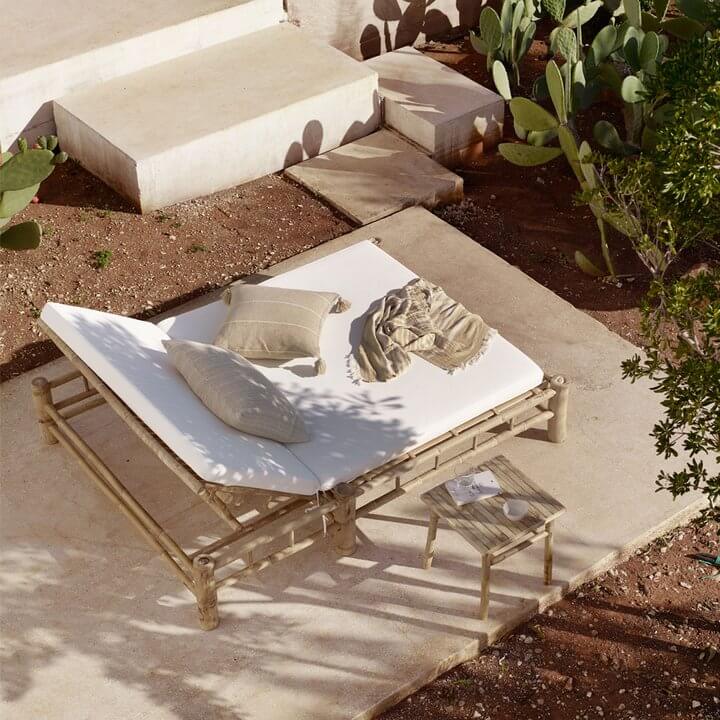 Since Bamboo wood is stronger than any other type of wood available on the market, it is one of the most durable flooring materials. It is inexpensive and easy to install, maintain, and clean.
Crushed bamboo can be converted into durable and sturdy panels that can be used as an eco-friendly alternative to plywood or wood. Crushed bamboo wood composites in the fabrication of water-resistant or earthquake-resistant wall paneling or the creation of tropical-style furniture. Bamboo is often utilized for interior decoration, you can find many designs for beds, chairs, and even tables. Bamboo is also often used as an indoor garden material and there are numerous sustainable interior brands offering bamboo garden chairs, tables, etc.
Reclaimed wood is wood that has been naturally upcycled from homes, warehouses, companies, stores, and old barns. The wood is taken out of these settings, polished, and given a new lease of life. Reclaimed wood is an environmentally beneficial and long-lasting interior design resource. It is, without a doubt, one of the most popular materials that sustainable interior design brands use.
Reclaimed wood is one of the most adaptable sustainable resources since it can be used in a variety of ways. It offers a lot of eco-friendly interior design ideas; reclaimed wood may be used to build doors, wall panels, flooring, ceiling panels, shelves, furniture, and even interior décor elements. It gives your home depth, warmth, and individuality.
One of the best eco-friendly interior design ideas is to use natural stones. Natural stones such as marble, limestone, slate, granite, and terrazzo, among others, are our planet's original sustainable materials that do not require the inclusion of other materials or resources. For thousands of years, these natural stones have been employed in architectural and interior design.
Natural stones provide several advantages, including durability, low maintenance, recyclability, and energy efficiency.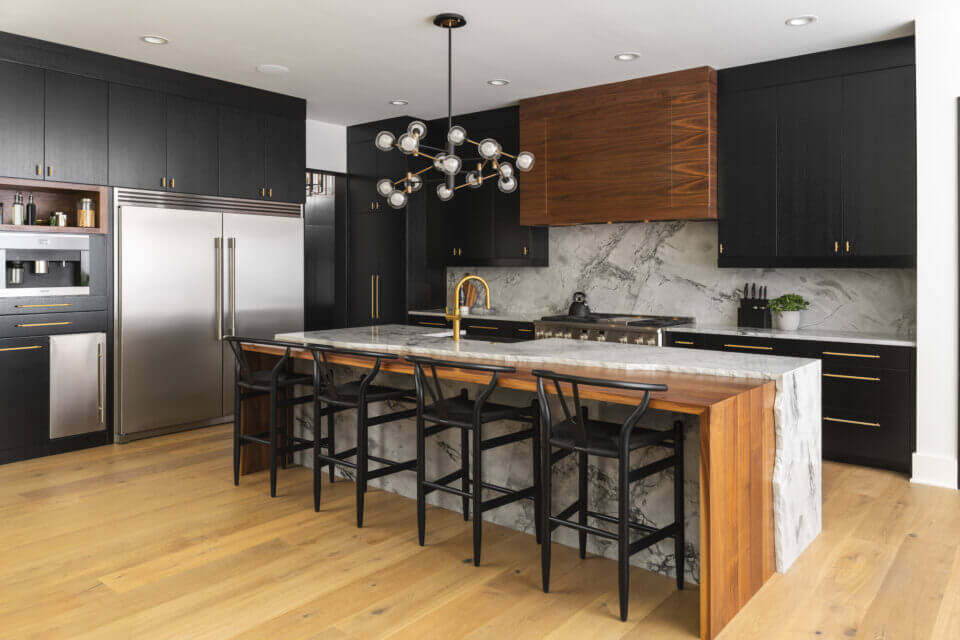 The beauty of stones like marble is that no two pieces are similar. It's one of the best sustainable interior design ideas. They are often used in eco-friendly interior design concept-based homes. Every cut and pattern is unique, so no two rooms will look the same. Because these stones come in a variety of hues, textures, and patterns, they can be perfect to reflect your style. Natural stones are commonly utilized as worktops or backsplashes in bathrooms, kitchens, and as wall paneling. Marble is utilized for flooring and instantly adds character to your home.
Rocktops specializes in quartz, marble, granite, and other sustainable materials that may be used for kitchen countertops, wall paneling, bathroom flooring, and so much more.
Natural materials, such as linen, jute, organic cotton, wool, bamboo, and silk, have a lower environmental effect than conventional fabrics that use more chemicals during the manufacturing process. Natural materials are ideal for any eco-friendly interior design concept and sustainable interior design ideas.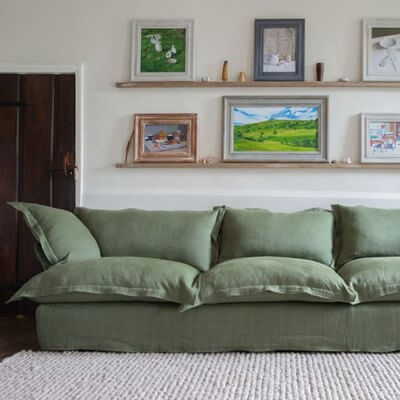 You may construct curtains, bedding, chair coverings, couch fabric, cushion covers, table runners, and even towels out of the natural fabric of your choice. You can choose printed fabric to match the rest of the décor of your home.
Clay brick is an all-natural product manufactured from water and earthen clay. It is entirely recyclable and biodegradable. Clay brick is energy efficient so it absorbs and emits thermal energy. It works wonderfully all through the summer as it absorbs heat and keeps the house cool. Whereas in the winter, it retains the interior heat for a longer period, providing warmth.
In contrast to polished walls, clay bricks are commonly used as wall accents in interior design.
Decorating your home using eco-friendly materials benefits both you and the environment. By incorporating them into your décor, you get cleaner air, making the environment healthy. They also make it distinctive by means of sustainable materials for the interiors. Reduce the environmental impact of your home by including as many eco-friendly, sustainable materials as you can.
Hire the best eco-friendly interior designers today to start your eco-friendly journey!
This post contains affiliate links, which means we may receive a small commission, at no additional cost to you, if you make a purchase through these links.