Basel is the unique city of Switzerland which is nestled on the River Rhine. This vibrant city is the must see destination on your Switzerland trip. It is the Switzerland's cultural capital and well known for its rich heritage. Here are 15 reasons which tell you that why you should visit Basel in your Switzerland vacation, and about Basel tourist attraction and the places to visit in Basel Switzerland.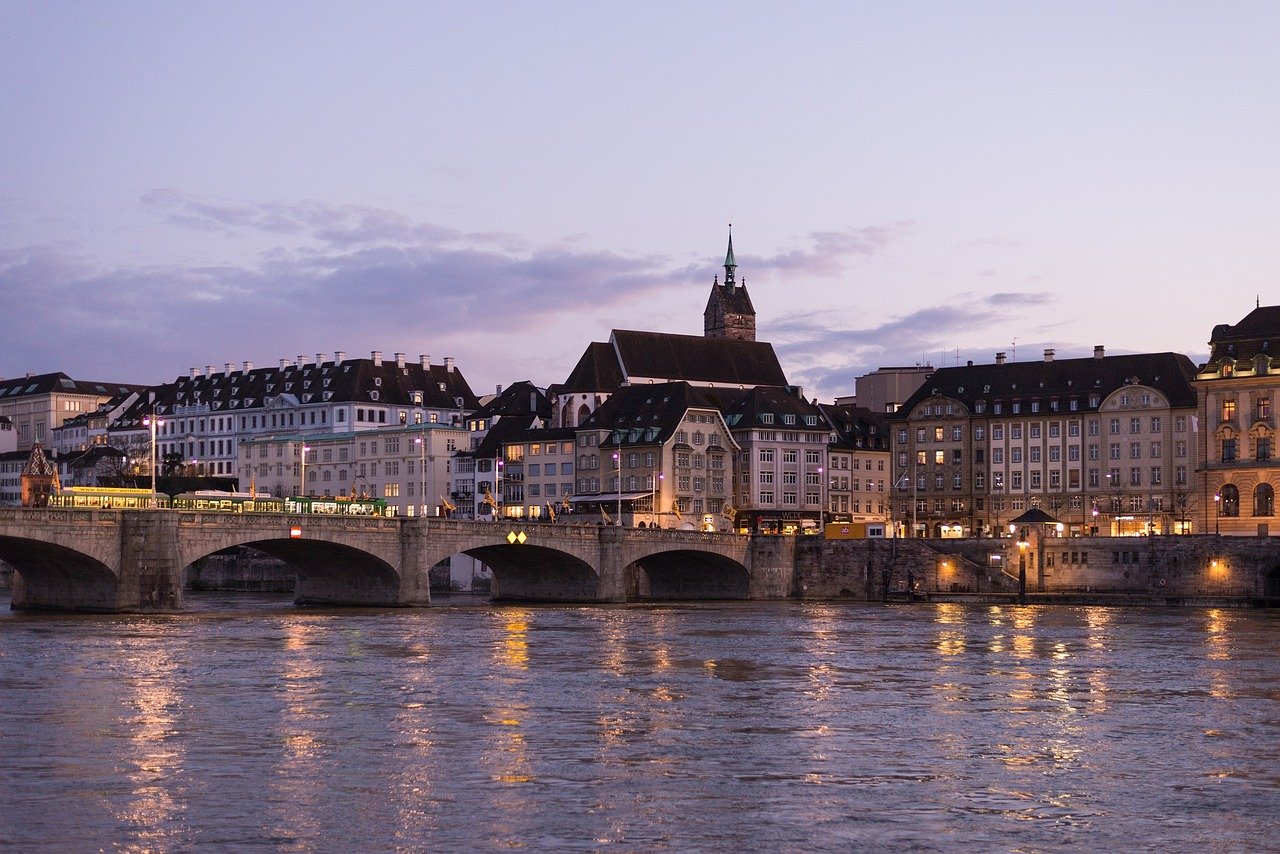 1. Fasnacht Spring Festival
Fasnacht spring festival is the Switzerland's biggest and famous festival which attracts a huge crowd. Faschnacht basel festival is held for three days every year during Easter and is featured with colorful masked parade, drummers and dancers on the streets. Fasnacht carnival a colorful festival is a must to watch.
Basel Carnival 2021 falls on 22-25 Feb, this creative and energetic 3 days has got a place in the UNESCO intangible cultural heritage list.
Know more about Spring Carnival, visit Basel Culture Unlimited
Basel has around 40 museums which includes art museums, historic museums, science museums, medical museums and many more. Among these, not to be missed are, Spielzeug Welten Museum, which is a toy museum and has largest collection of stuffed teddy bears which will take back to your childhood days. Kunst Museum is a historic and modern museum, where you can witness art collections of 15th century to 1950 and modern art collections. Pharmazie Hostorisches Museum, which is a pharmaceutical museum is a home for world's biggest pharmaceutical companies.
To know about the timing and importance of each museum you can visit Basel Culture Unlimited
If you are not able to cover all the museum, you can choose according to your preference and schedule the days accordingly.
3. A City with 3 Countries
Basel lies on international borders of Switzerland, Germany and France. You can have an opportunity to visit 3 countries in a day. At the monument meeting point, you can witness 3 flags of each country. You must visit Basel for this unique experience.
Most of the Basel attraction falls in this area.
4. Oldest Zoo of Switzerland
The Basel Zoo started in the year 1874 and is the oldest zoo in Switzerland. It has huge collection of flora and fauna from all over the world including endangered species. This zoo is the most popular excursion destination for animal lovers and is worth to visit.
If you are looking for basel zoo tickets  and zoo hours to schedule your trip please get more information from Zoobasel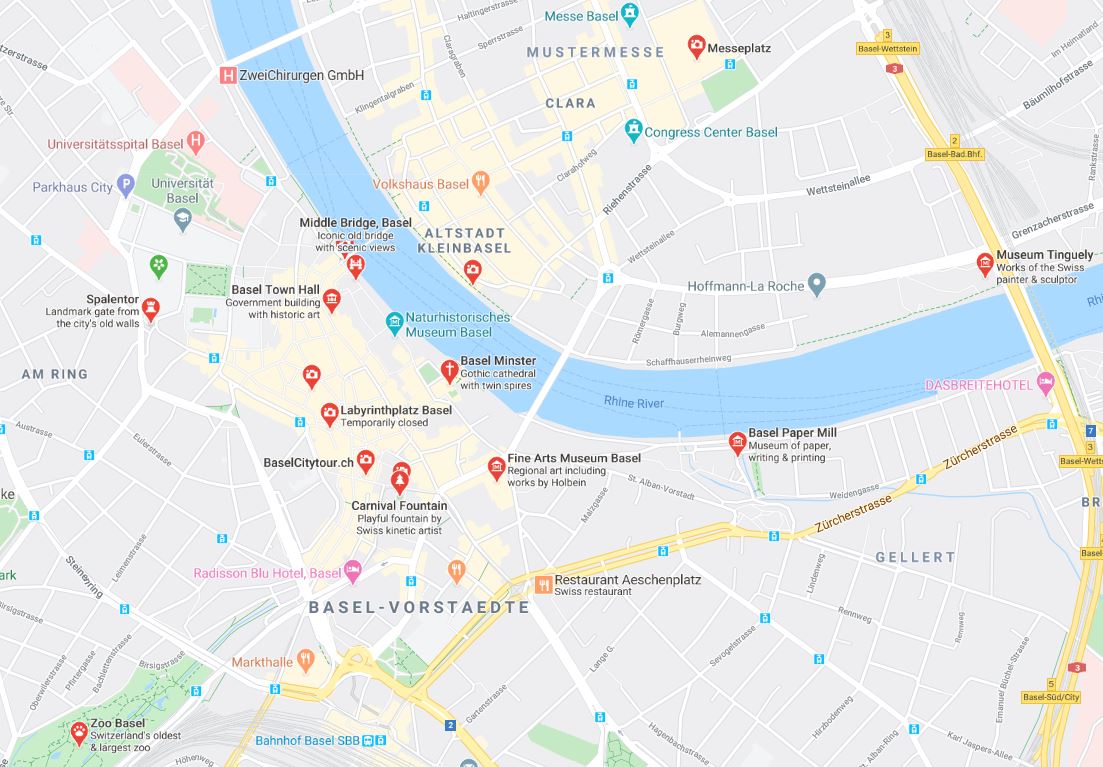 Most of the attraction falls in this area.
5. Cruise on the Rhine River
Rhine River is the longest river of Europe and cruising along this river is a beautiful experience. There are many tours which arrange multiday cruise to France from Basel and boat tours around the place. You can relax in the cruise and watch the beautiful Rhine River.
Rhine river Cruise is one of an experience, Check the prices and Book a ride. Schedule the time and ride according to your convenience. You can choose from Large Lock Trip to Small Lock trip, Lunch Trip and many more to select from.
6. A City Having 300 Days of Sunshine
Basel has temperate climate and has 300 days of sunshine every year. This place is best to visit during summer. You can witness huge crowd swimming in the Rhine River and relaxing at the banks of the river. Locals make their own barbeque along the riverbank and enjoy their picnic with their family and friends.
Get to know about the Basel weather information and stay updated during your travel.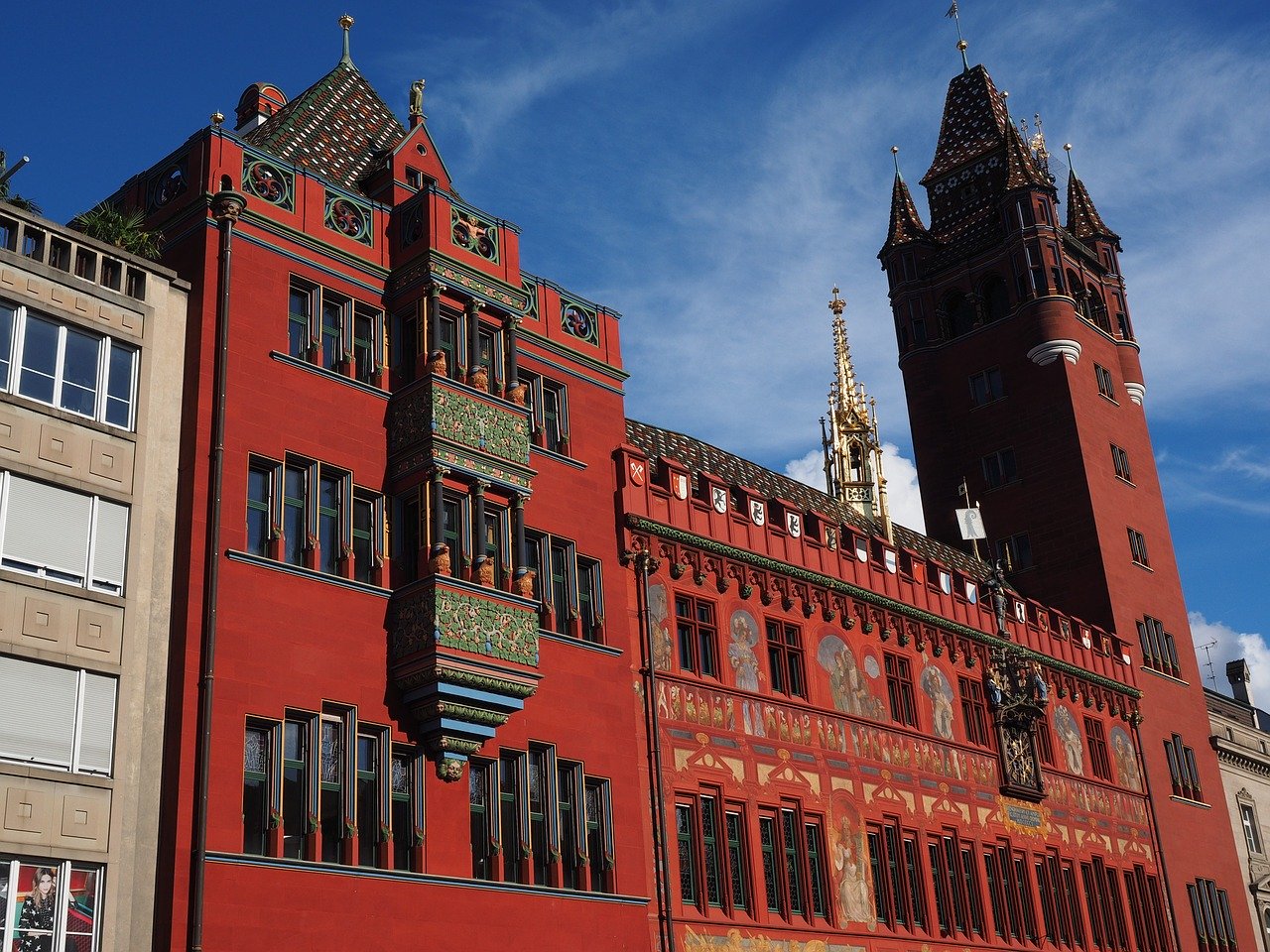 When you walk around Basel, you will find historic buildings of medieval times. The red painted Rathaus, which is the Basel Town Hall has beautifully decorated courtyard. You will be astonished by its architecture. Visit Munsterplatz to have a panoramic view of historic buildings and the beautiful Rhine River.
8. World's Largest International Art Fair
As Basel has numerous art museums, it is the best place for art lovers. It hosts world's largest international art fair, which is held every year in the month of June and has huge collections of arts. Many industry events and parties take place and around 2500 artists from all over the world participate in this fair.
Art Basel is a privately owned and managed, international art fair staged annually in Basel, Switzerland; Miami Beach, Florida; and Hong Kong.
Art Basel for 2021 is from 17 to 20 June and Art 2020 was scheduled on September and later cancelled due to COVID travel restrictions.
Get to know more about the fair if you are interested in attending the world's biggest fair.
9. Best Theaters in Europe
Basel is a home for many theaters and has finest and eclectic theaters. Some of the most famous Basel theaters are, The Theatre Basel, The Musical Theatre Basel, Roxy and Basler Kinder Theatre. These theatres offers drama, ballet, opera and many more which owes the audiences.
Experience Basel Theater and get to know all the details about the theater 
10. Popular Christmas Destination
Basel is the best place to spend during Christmas. The streets are lit up with dazzling light with more than 100 Christmas trees. It one of the popular and longest market of Europe. You can find huge varieties of shops at the street and can have the best late night shopping experience. Basel should never be missed to visit during Christmas.
Visit the largest Christmas market of Switzerland at Basel, Know more about the events, highlights and attractions deals and enjoy the beautiful celebration moment.
11. Food Markets to Taste Delicacies
Basel has many food markets which sell fresh and organic foods directly from farmers. In Marktplatz (means market square), you will find many home grown fresh delicacies to fill your stomach. Markthalle (means market hall) is a place where you will find various foods from all over the world under a single doomed roof.
Know more details about markets like flea market, Christmas city market & Farmers Market.
12. Perfect Place to Learn Different Languages
Basel is multi lingual city. As it is near to France and Germany, you can find people talking in German in one street and can find French speaking people in other street. It is the best place to learn all the three languages.
13. Best Place to End Your Swiss Vacation
As Basel lies on the international borders of Switzerland, Germany and France, you can easily reach the central Europe through train or bus or can easily reach Paris, Frankfurt or Milan through train in just 4 hours.
14. The Modern Art, Messeplatz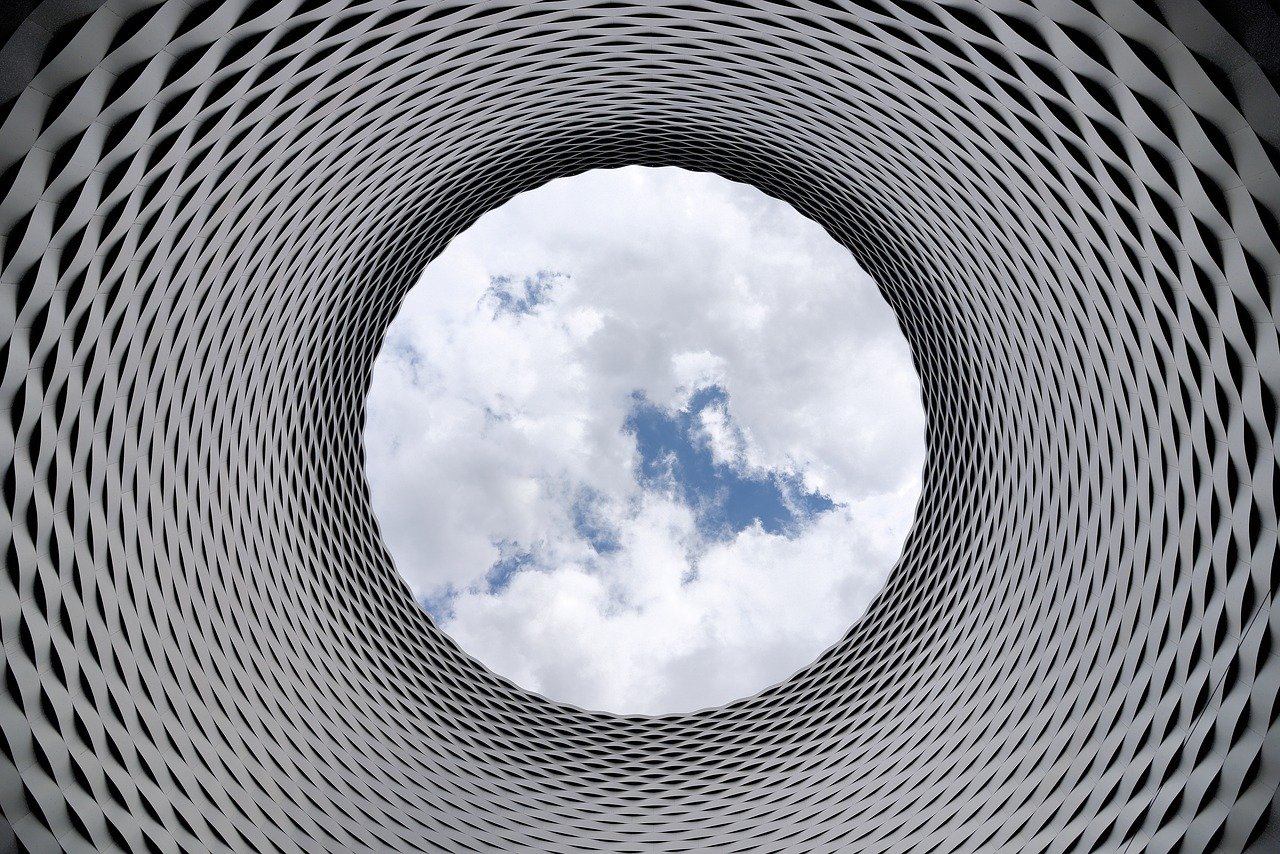 Messeplatz is an exhibition space where large scale exhibition takes place. This spacious area is surrounded by picture perfect architecture. The Morger and Degelo tower 105 sky meter high and modern Herzog and de Meuron construction is worth to watch. Many food festivals and art exhibitions are hosted at this place.
Read and get inspired on why you should take a time to Messeplatz exhibition space even a big exhibition doesn't takes place.
15. Guests Travel For Free
As soon as you check in to hotel, you will be given a guest card known as, Basel Card. You can travel free in public transport by using this card. Free Wi-Fi access is also provided with this card and 50% discount is provided on admission to museums, zoo, theatre and many more.
These 15 reason is enough for you to extend your stay and make the most out of your Switzerland trip and explore Basel.
2 Unique Stay in Basel Switzerland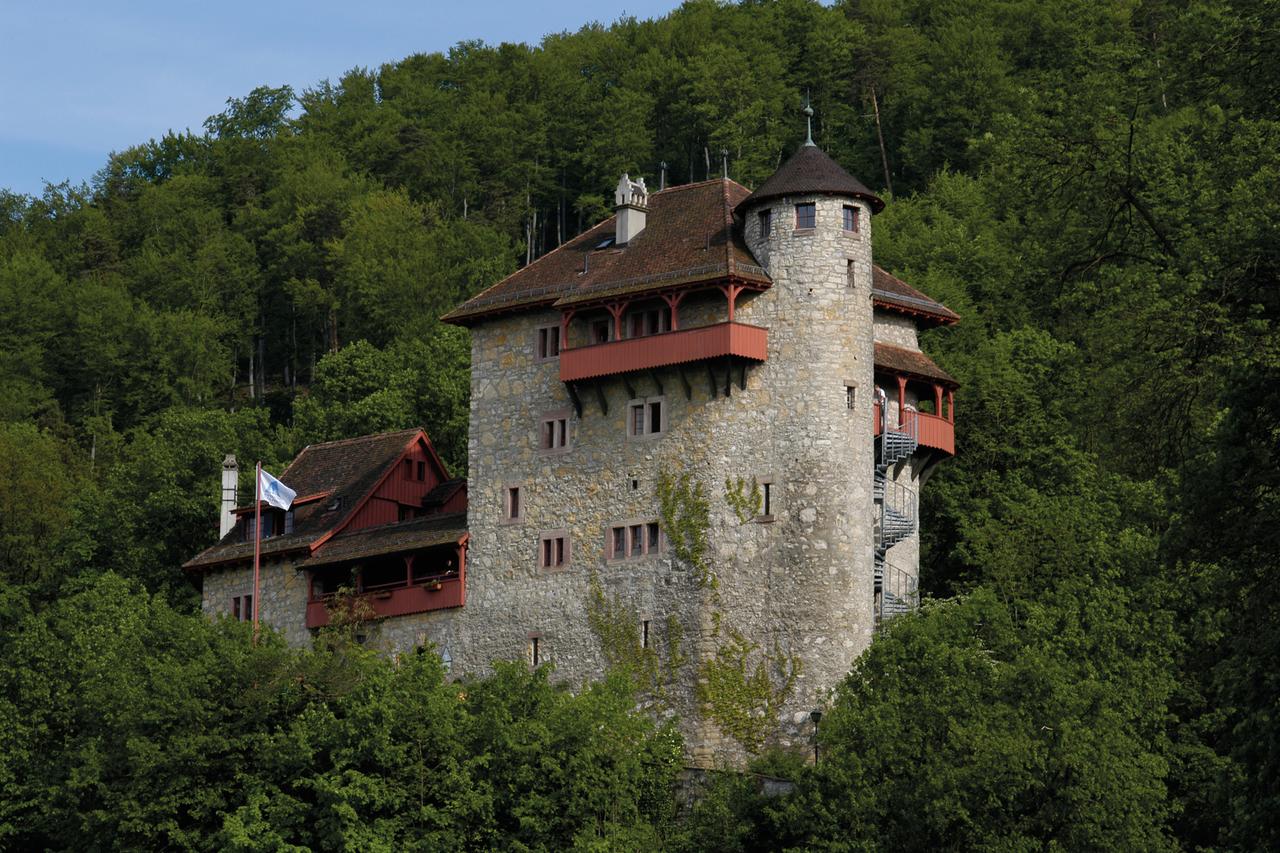 Mariastein-Rotberg Youth Hostel
Address: Burg Rotberg, 4115 Mariastein, Switzerland
Situated in a castle dating back to around 1200, Youth Hostel Mariastein-Rotberg offers accommodation in a unique setting.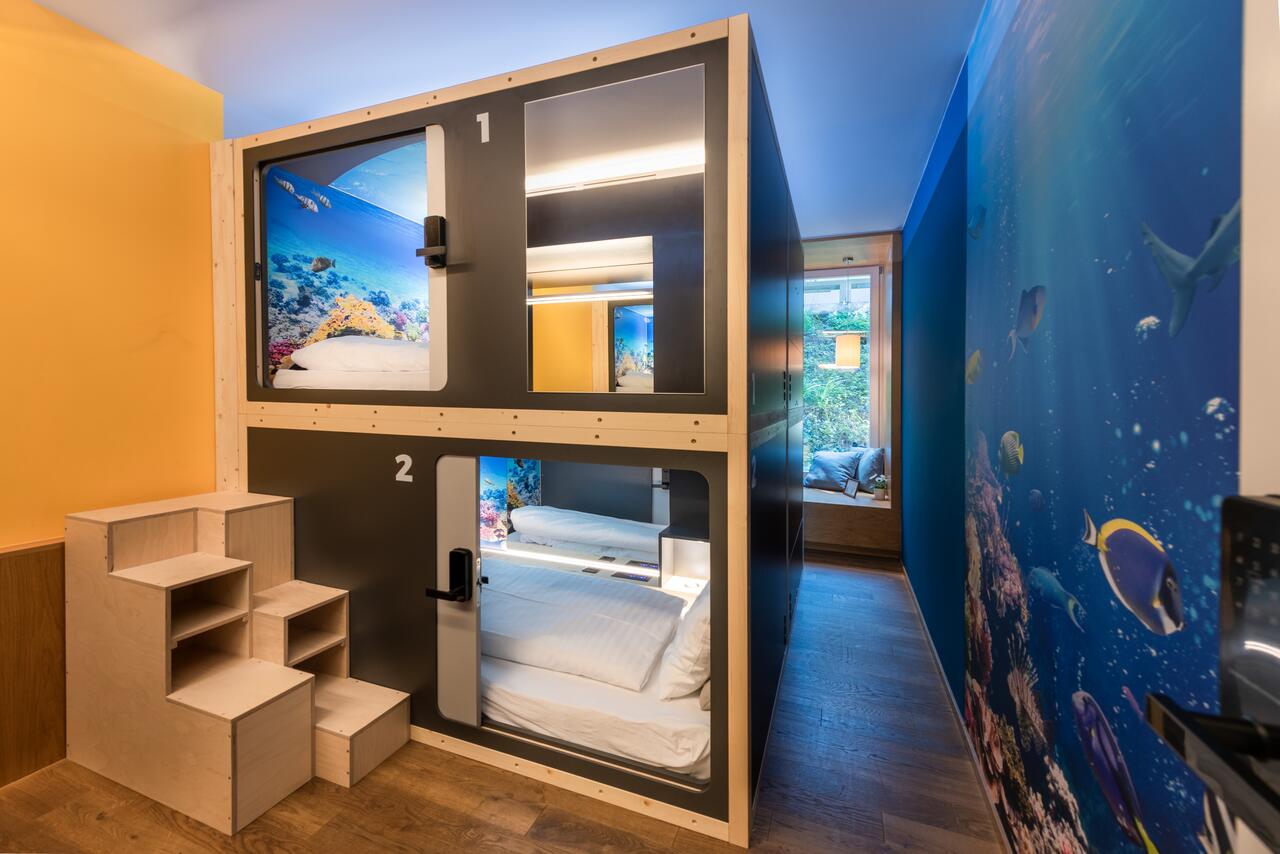 Capsule Hotel by Hyve Basel City
Address: 60 Gempenstrasse, 4053 Basel, Switzerland
Capsule Hotel by Hyve Basel City is located in Basel, 600 m from Zoological Garden. 1.2 km from Architectural Museum, the capsule hotel offers a restaurant and a bar.
2 unique Stays in Basel, where in one you get a living in a castle experience and other one is a capsule, no worries you have 2 bed capsule options too if you want to accommodate kids.
Please leave a comment below, if you enjoyed or find the information helpful. If you are looking for a beautiful stay in any other location, please let us know in the comments below. We would be happy to help you out in that, by listing few after reviewing.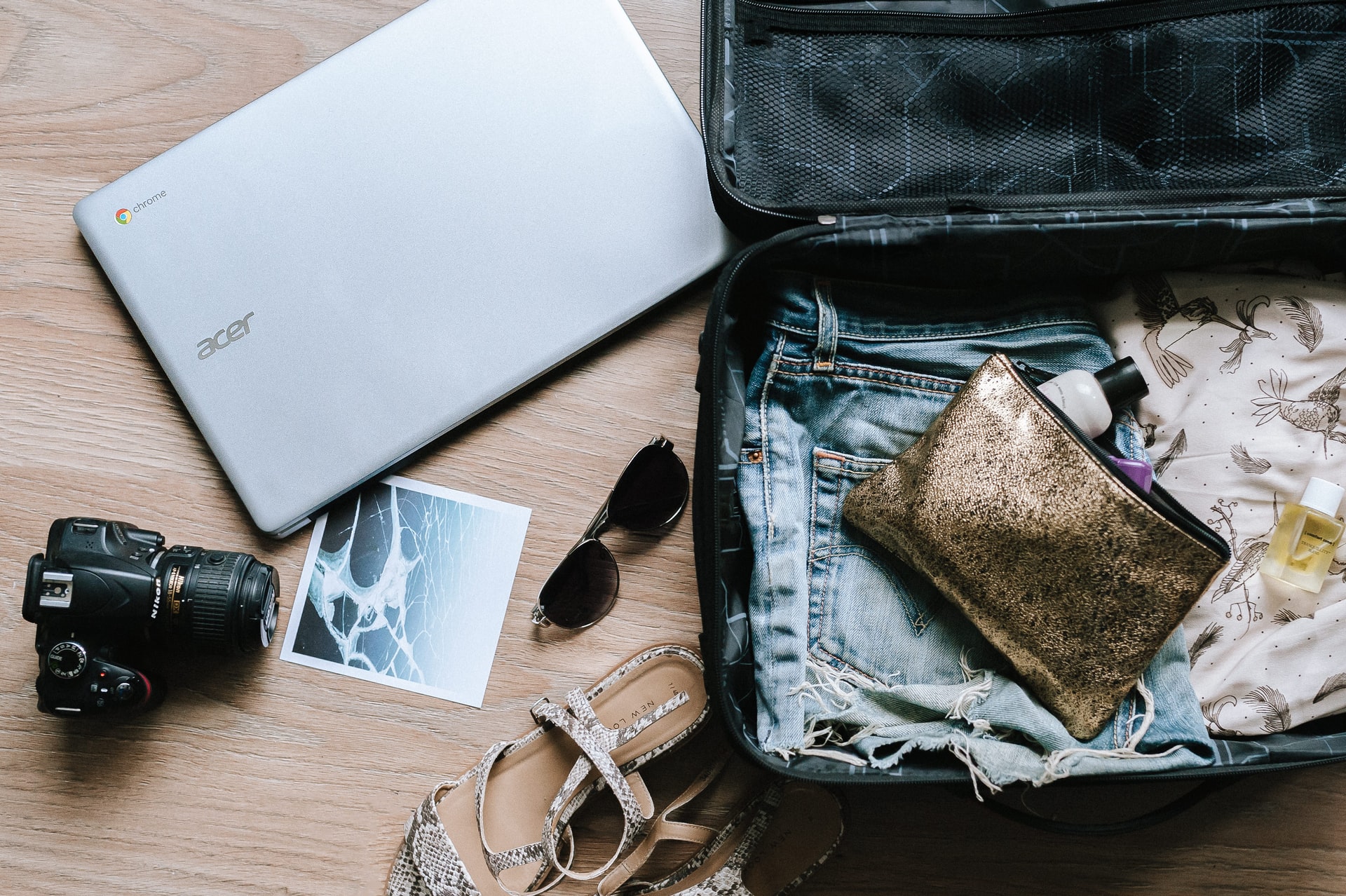 Get these travel gadgets and accessories according to your needs, and select the gear items suitable for the location you visit.