With Christmas holidays around the corner, the urge to decorate every corner of your home is impossible to fight. The sparkling lights, the tinkling bells, the reds and greens, and the signature Christmas tree are all holiday traditions that play an important part in lifting the spirits on this joyous holiday season.
We believe that the holiday and seasonal decorations doesn't have to be too expensive and time-consuming when you can improve things with much better alternatives. There's no limit to what you can do with tiny, affordable props, great crafty finds, and a real dose of holiday spirit. The truth is that the excitement of the Christmas season stands out way more than that of any other holiday. And we say, so should your décor.
So if you are thinking of upgrading your holiday décoration, then this article has got you all covered. Keep reading because here we are, presenting you with a list of our favorite Christmas decor ideas that you will want to recreate this season.
The Stunning Christmas Tree
Everyone loves a beautifully decorated Christmas tree. It is a time for the family to come together and put on lights, ornaments and all sorts of decorations both personalized and others. Placing a majestic-looking star on the top completes it.
Christmas trees are usually the focal point of your entire holiday and christmas seasonal decor. You can stick with the traditional color scheme of green and red, or you can experiment with non-conventional colors till you find the one you love.
Given below is a list of distinctive ideas for Christmas trees you can choose from: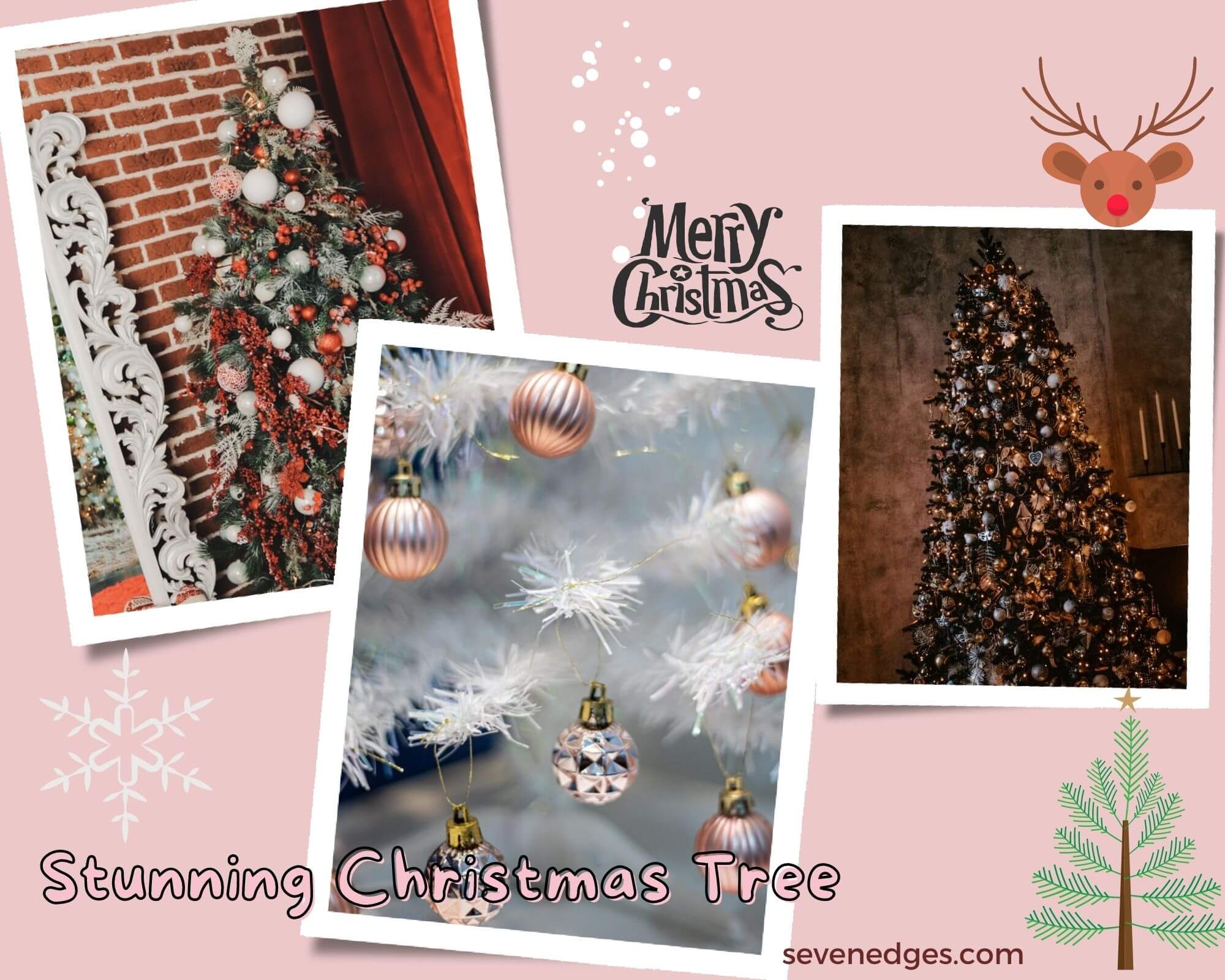 Let the vibrant green color of the tree do its magic while you decorate it with the elegant flair of golden ornaments like shown in the picture above by
ElleDecor
. Occasionally, darker tones give more depth. Pair it with gift wrapping of nude-colored packing material, making it all minimalistic yet elegant.
Playing With Red and White
A red and white Christmas tree is a great modern approach while keeping it traditional at the same time. This unique combination will attract attention and will surely complement the rest of your decor.
Sticking up to the traditions can never go wrong. Along with the regular red, green, and golden ornaments; level up your game by adding a hint of innovation. Create your winter-land-inspired tree by dressing it up with an icy flair of frosted branches – a perfect accessory to match the theme of the holidays.
Other Decorations around The House
Christmas is all about decking up your entire home with the holiday & seasonal decor, from doors to wall hangings and from stair railings to ceilings. So to make it easier for you, we have compiled a list of ideas for your holiday decorations, which are simple, charming, and cost-friendly.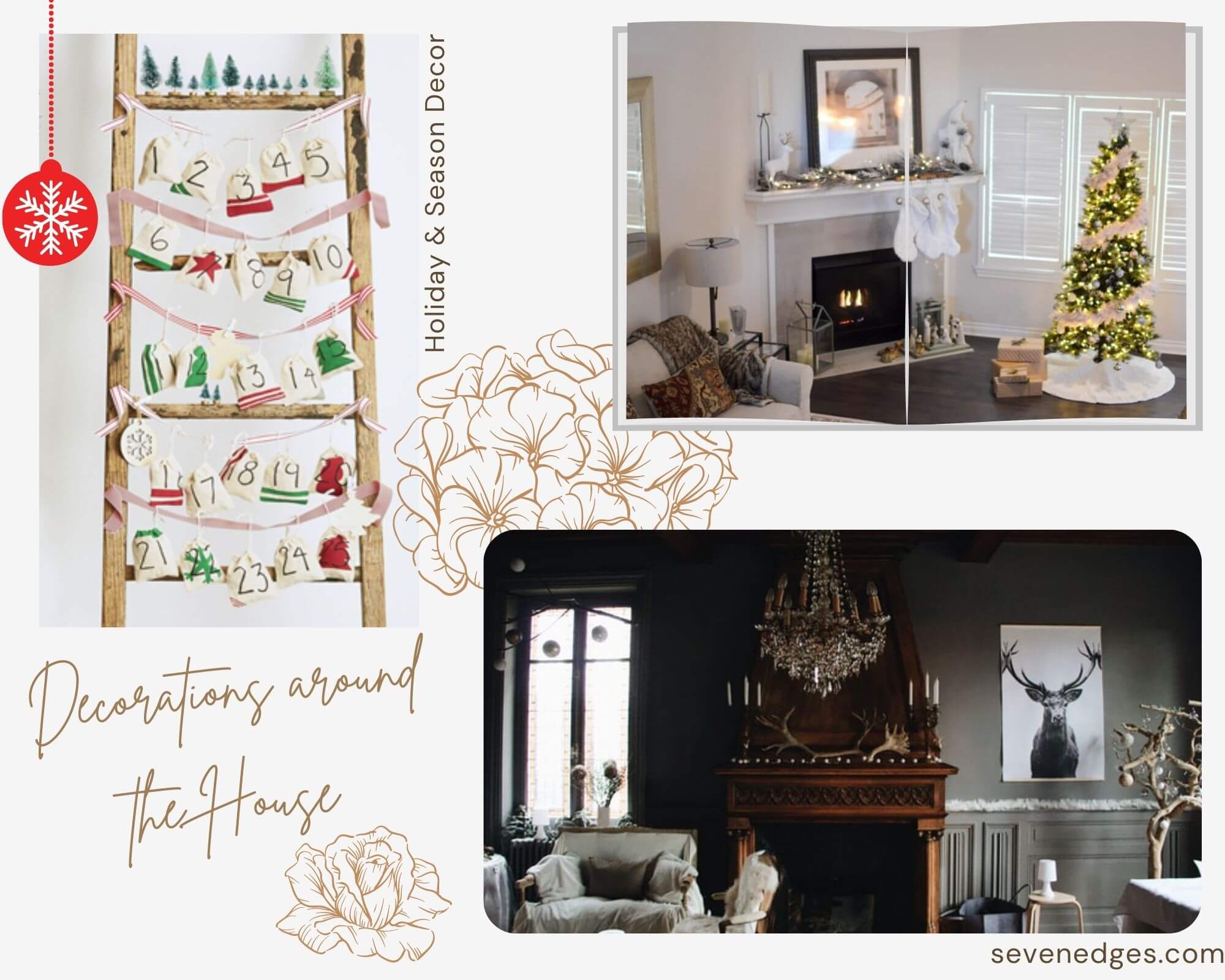 Talking about Scandinavian-inspired decor, all you need is some scrap wood laying around in your home. You can get them cut in triangular shapes of multiple sizes, throw on some pastel Christmas paint, and set them up on shelves and counters to give a perfectly chic look.
Twinkle Twinkle Little Lights
The most effortless way to spice up your holiday and seasonal decor is by adding twinkling lights all around the house. Add them along your stairway, mirrors, vases, frames and, even garlands to create an entire space of Christmas-inspired décor.
Printing some free Christmas-themed quotes and vintage signs, and swapping them into your pre-existing frames is the most affordable way of adding the perfect holiday atmosphere to your home. This is the easiest way to infuse the positive vibes in your home this Christmas season.
This year, skip the same old Advent Calendar styles. Make your own using a vintage ladder by housebeautiful. By hanging craft bags on its bars, number the dates on it using the classic Christmas patterns. Use this opportunity to fill them with treats, toys, and notes from Santa to turn this to be the most popular holiday and seasonal décor which is also a interchangeable seasonal decor.
Last but not the least; wonder wrapping is one of the best ways to make your gifts extra special. Make sure you wrap your gifts with materials and colors that go unexceptionally well with your theme this season. This tiny, hassle-free detailing will give an illusion of a well-organized space that will add charm to all of your decor efforts.
Gift wrapping can be a challenge! Using the traditional and outdated method of cutting with scissors anyways leaves the paper either jagged, ripped, or crooked.
Get Little Elf and make cutting easier than ever!
Regardless of what ideas you select to incorporate in this year's holiday and season décor for Christmas, the important part is to have fun while decorating your home in a way that corresponds with the joy, positivity, and warmth of the holidays.
This post contains affiliate links, which means we may receive a small commission, at no additional cost to you, if you make a purchase through these links.