Escape the hustle and bustle of Bangkok for a rejuvenating weekend getaway to the stunning destinations that lie just beyond the city limits. Thailand is not only famous for its vibrant capital but also for its diverse landscapes, rich cultural heritage, and tranquil retreats. Introducing you to 10 captivating places near Bangkok that are perfect for a memorable weekend trip, complete with delicious food, vibrant street shopping, unique souvenirs, and top-notch resorts.
Ayutthaya: Historical Haven
Just a short drive from Bangkok, Ayutthaya boasts UNESCO-listed ancient ruins and temples. Explore the fascinating history of Thailand's former capital while wandering among impressive archaeological sites and majestic temples.
   Food to Try: Savor traditional Thai dishes by the riverside, including boat noodles and grilled river prawns.
   Street Shopping: Visit Ayutthaya Floating Market for local handicrafts and delicious street food.
   Things to Buy: Handmade pottery, silk products, and intricate handicrafts.
   Best Resort: Kantary Hotel Ayutthaya offers comfortable accommodations near major attractions.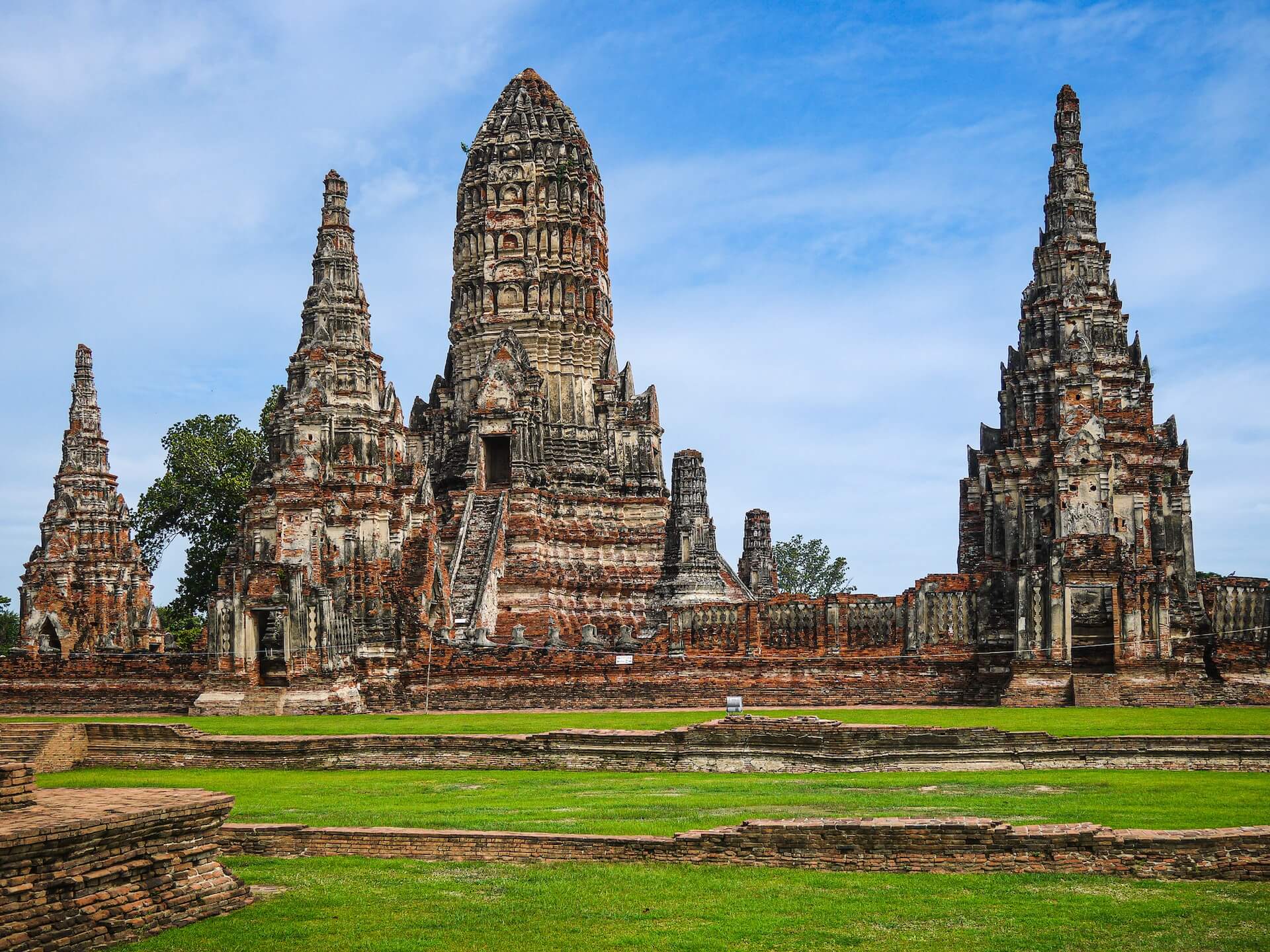 Ayutthaya, Phra Nakhon Si Ayutthaya District, Phra Nakhon Si Ayutthaya, Thailand
Kanchanaburi: Nature and History Blend
Known for the Death Railway and the Erawan National Park, Kanchanaburi offers a mix of history and natural beauty. Visit the Bridge Over the River Kwai and take a dip in the Erawan Waterfalls.
 Food to Try: Sample delicious river fish dishes and hearty Thai curries.
 Street Shopping: Check out the River Kwai Floating Market for local snacks and souvenirs.
 Things to Buy: Unique bamboo crafts, woodcarvings, and traditional textiles.
 Best Resort: The FloatHouse River Kwai Resort offers luxurious floating villas with stunning river views.
Hua Hin is a popular seaside town known for its long sandy beaches and relaxed atmosphere. Enjoy water sports, explore the night market, and experience the luxurious spa resorts the town is renowned for.
 Food to Try: Indulge in fresh seafood at the night market and try Hua Hin's famous "Hoi Thod" (Thai-style oyster omelette).
 Street Shopping: Visit the Cicada Market for handmade crafts, art, and trendy fashion items.
 Things to Buy: Local textiles, silk products, and stylish beachwear.
 Best Resort: Let's Sea Hua Hin Al Fresco Resort offers beachfront accommodations and a relaxing atmosphere.
Pattaya: Vibrant Coastal Gem
Pattaya is a vibrant coastal city with a mix of nightlife, shopping, and family-friendly attractions. Relax on its beaches, visit amusement parks, or explore the nearby Coral Islands.
 Food to Try: Explore the seafood buffets and try the local "Som Tum" (papaya salad).
 Street Shopping: Thepprasit Night Market offers a wide range of clothing, accessories, and souvenirs.
 Things to Buy: Thai silk, gemstones, and traditional Thai spa products.
 Best Resort: InterContinental Pattaya Resort offers luxurious rooms and panoramic ocean views.
Khao Yai National Park: Nature Retreat
Nature enthusiasts will adore Khao Yai National Park, filled with lush landscapes, waterfalls, and diverse wildlife. Hike through its trails, and don't miss the chance to visit the bat caves.
 Food to Try: Enjoy farm-to-table experiences with organic produce and Thai fusion cuisine.
 Street Shopping: Palio Village is a Tuscan-themed shopping complex with unique shops.
 Things to Buy: Local wines, organic jams, and aromatic essential oils.
 Best Resort: Kirimaya Golf Resort & Spa provides a tranquil setting amidst nature.
Bang Saen: Secluded Seashore
For a quieter beach experience, head to Bang Saen. Enjoy the tranquility of its coastline, indulge in fresh seafood, and unwind at the local resorts.
 Food to Try: Savor fresh seafood by the sea, including grilled squid and fish.
 Street Shopping: Bang Saen Walking Street offers beach-themed souvenirs and clothing.
 Things to Buy: Seashell crafts, beach accessories, and coastal-inspired home decor.
 Best Resort: Bangsaen Heritage Hotel offers a beachfront location and modern comforts.
Koh Samet: Island Paradise
Koh Samet offers pristine beaches, crystal-clear waters, and a laid-back vibe. Just a few hours from Bangkok, it's an idyllic destination for beach lovers.
 Food to Try: Taste Thai-style barbecues on the beach and enjoy tropical fruits.
 Street Shopping: Explore the local markets for handmade jewelry, sarongs, and beachwear.
 Things to Buy: Handcrafted jewelry, sea-inspired souvenirs, and hammocks.
 Best Resort: Sai Kaew Beach Resort offers beachfront bungalows and a vibrant atmosphere.
Nakhon Nayok: Adventure Escape
Get your adrenaline pumping in Nakhon Nayok with activities like river rafting, trekking, and exploring the Nang Rong Waterfall. It's an ideal spot for adventure seekers.
 Food to Try: Try the regional specialties, including "Larb Nakhon Nayok" and "Pla Ra" (fermented fish).
 Street Shopping: Local markets offer farm-fresh produce, local snacks, and crafts.
 Things to Buy: Handwoven textiles, local honey, and traditional Thai spices.
 Best Resort: Baan Suan Khun Yaiy offers a peaceful retreat surrounded by nature.
Ratchaburi: Arts and Crafts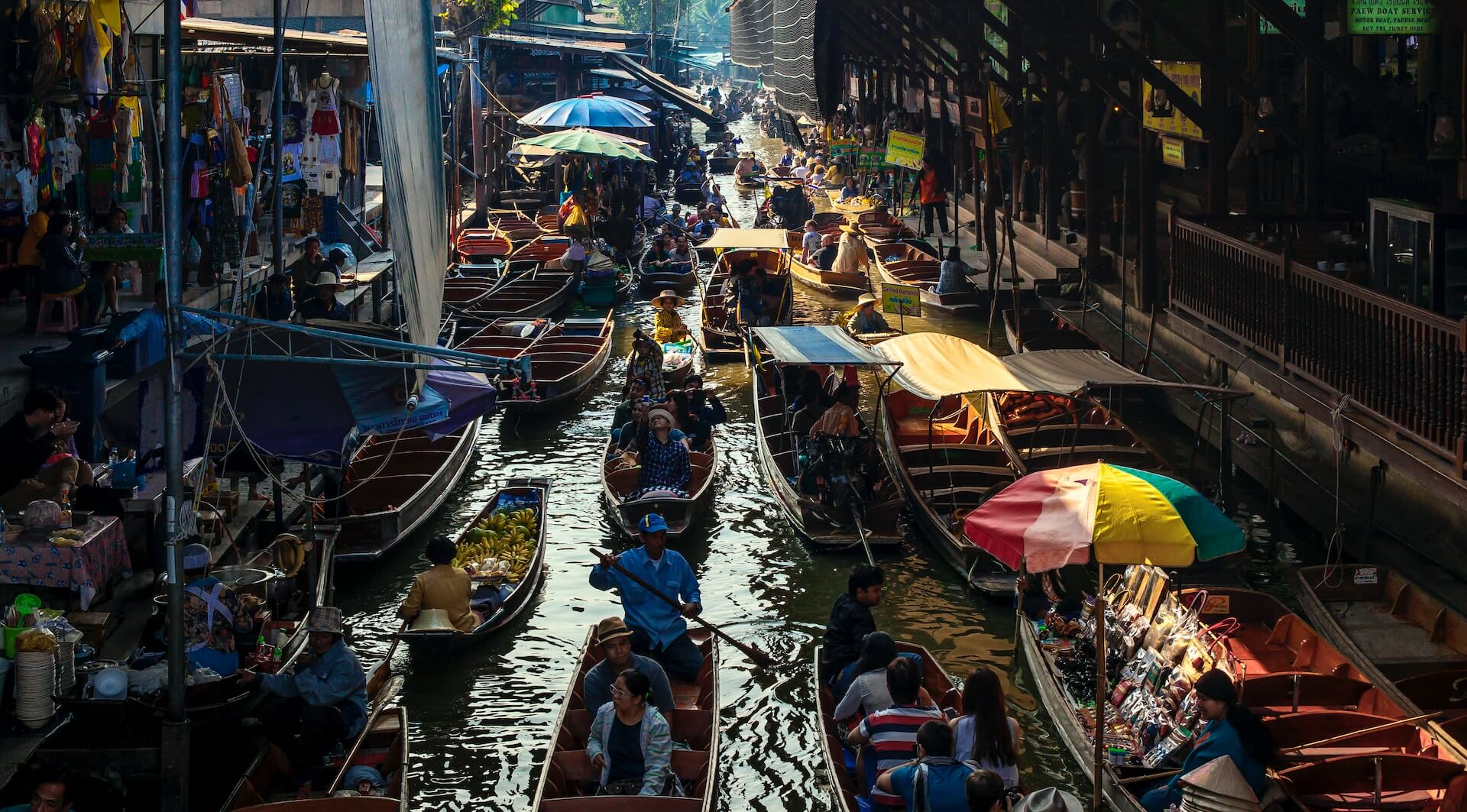 Damnoen Floating Market, Tha Nat, Damnoen Saduak District, Ratchaburi, Thailand
Known for its traditional Thai pottery and charming floating markets, Ratchaburi offers a glimpse into local arts and culture. Take a boat ride through the colorful Damnoen Saduak Floating Market.
Food to Try: Enjoy the renowned "Khao Chae" (rice soaked in jasmine-scented water) during the hot season.
Street Shopping: Explore Damnoen Saduak Floating Market for unique souvenirs and handicrafts.
Things to Buy: Traditional Thai pottery, ceramics, and woven baskets.
Best Resort: Maikaew Damnoen Resort offers a serene stay with stunning canal views.
Chachoengsao: Riverside Charm
This quaint province is known for its riverside temples, including the impressive Wat Sothon Wararam Worawihan. Experience the serene beauty of this lesser-known gem.
 Food to Try: Relish local delicacies like "Khao Lam" (sticky rice in bamboo) and grilled river fish.
 Street Shopping: Chachoengsao Old Market offers antiques, local snacks, and crafts.
 Things to Buy: Handmade wooden crafts, traditional sweets, and locally woven fabrics.
 Best Resort: River Breeze Resort provides a peaceful riverside retreat.
From historical marvels and serene nature escapes to vibrant coastal cities and relaxing beaches, Bangkok's surroundings are brimming with diverse weekend getaway options. Whether you're a history buff, a nature lover, an adventure seeker, or simply in search of relaxation, these 10 places near Bangkok promise unforgettable experiences, making your weekend trips truly memorable. So, pack your bags, escape the city's hustle, and embark on a journey to discover the hidden treasures that await just a stone's throw away.

Please let us know if you found this post useful and what you are looking for through comments, we would love to help you out in that..
This post contains affiliate links, which means we may receive a small commission, at no additional cost to you, if you make a purchase through these links.