When embarking on a journey to explore new countries, the excitement of discovering diverse cultures, traditions, and cuisine is unmatched. Dining during travels isn't just about satisfying your appetite; it's a chance to immerse in local culture.
From the fine dining elegance of Paris to cities like Atlantic City, where coastal charm meets a vibrant food scene, the culinary adventure takes a unique turn. This article explores six restaurant types to consider while touring a new country, ensuring stylish dining and lasting memories.
Fine dining establishments are the epitome of elegance and sophistication in the culinary world. These restaurants often boast exquisite decor, impeccable service, and meticulously crafted dishes.
When visiting a new country, dining in a fine dining restaurant can be an enchanting experience that allows you to savor the flavors of the region while immersing yourself in its culture.
These restaurants frequently feature a curated menu with locally sourced ingredients, highlighting the best the country has to offer. There are several fine dining restaurants in Atlantic City that offer stunning views and an impressive menu.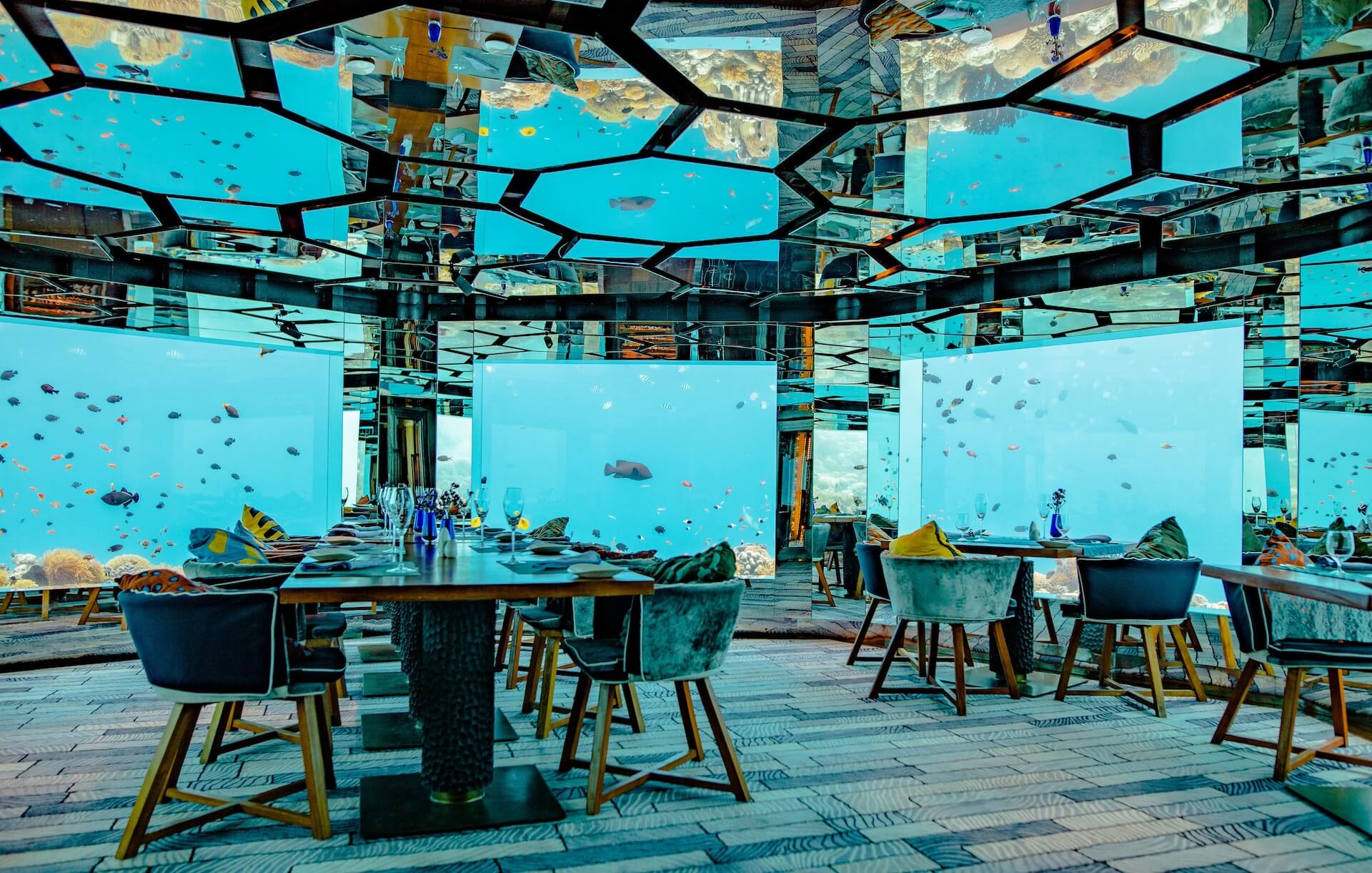 @Anantara Kihavah Maldives Villas, Maldives. Located in Baa Atoll.
While fine dining restaurants offer a high-end experience, street food vendors provide a unique and authentic taste of a country's local cuisine. Exploring the local street food scene is a must for any traveler looking to truly connect with the culture.
These vendors offer a wide variety of affordable and delicious options, from traditional dishes to creative street food innovations. For example, when visiting Thailand, sampling dishes from street food vendors is a culinary adventure in itself.
You can try dishes like pad thai, green curry, and mango sticky rice from bustling food stalls, immersing yourself in the vibrant street food culture that defines the country.
Rooftop restaurants offer a combination of culinary delight and stunning views, making them a top choice for travelers looking to dine in style while enjoying the panoramic vistas of a new city.
These establishments are often situated atop high-rise buildings or hillside locations, providing a unique perspective of the local scenery. One such example is the Ozone Bar in Hong Kong, located on the 118th floor of the Ritz-Carlton.
This rooftop bar and restaurant offers breathtaking views of the city's skyline and Victoria Harbour, paired with a diverse menu of Asian-inspired cocktails and cuisine.
Whether it's sunset or under the starry night sky, rooftop restaurants add a touch of glamor to your dining experience.
Teahouses are an integral part of the culinary and cultural landscape in many countries, especially in Asia. These serene and historic establishments offer a glimpse into the region's traditions and are perfect for those seeking a more tranquil dining experience.
While you won't find elaborate multi-course meals in teahouses, the focus here is on the art of tea preparation and the serving of small, delectable snacks.
In Japan, for instance, a visit to a traditional teahouse, or "chashitsu," is a chance to immerse yourself in the world of the Japanese tea ceremony. The experience typically includes a variety of matcha (green tea) preparations, along with sweet treats such as wagashi.
Traditional tea houses are not only about food and drink but also about embracing the cultural rituals that surround them.
For a dining experience that is truly out of the ordinary, consider visiting an underwater restaurant. These establishments, usually located in coastal regions or near coral reefs, provide an otherworldly dining experience with a view of marine life through large windows or glass panels.
Dining in an underwater restaurant allows you to dine among the sea creatures while enjoying an exquisite meal. One of the most famous underwater restaurants is Ithaa Undersea Restaurant in the Maldives.
Situated 5 meters below sea level, it offers a unique setting for enjoying a gourmet meal surrounded by the vibrant aquatic world.
Whether it's a special celebration or just an opportunity to witness the beauty of the ocean, underwater restaurants offer an extraordinary dining experience.
Farm-to-Table Restaurants
Farm-to-table restaurants have gained immense popularity in recent years, emphasizing the use of locally sourced, seasonal ingredients in their dishes.
These restaurants provide a connection between diners and the agricultural community of the region. They offer a unique opportunity to taste fresh, farm-fresh flavors while supporting local farmers and producers.
When touring a new country, consider dining at a farm-to-table restaurant to experience the heart of its culinary scene. These restaurants prioritize sustainability and often feature ever-changing menus that reflect the changing seasons.
You'll not only enjoy a delightful meal but also learn more about the country's agricultural traditions and the importance of locally sourced ingredients.
Dining in style while touring a new country is an essential part of the travel experience. These six types of restaurants offer a range of dining experiences. Each of these types of restaurants provides a unique opportunity to connect with the local culture and savor the flavors of the region.
So, whether you're a culinary enthusiast or simply a traveler seeking to explore the world one plate at a time, these restaurant types are sure to elevate your dining experience and leave you with unforgettable memories of your travels.

Please let us know if you found this post useful and what you are looking for through comments, we would love to help you out in that..
This post contains affiliate links, which means we may receive a small commission, at no additional cost to you, if you make a purchase through these links.