Who has the time now a days to be with your kids in between your work rush? Whenever your kids ask you something most of them have an instant answer "No I am busy I have lot of work to complete". I wonder when do we actually complete these work and be with our kids!! Who are not interested in sharing some leisure time with kids like watching their favorite cartoon with them, may be kids movies they are interested in, to share a story or to answer their doubts which never ends. But we really don't get such a fantasy time.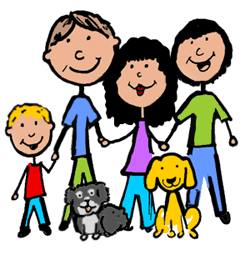 It's true that we often engage our kids online with any of the games or in front of some cartoon channels so that we can happily do our work without any disturbances. But we are just wasting their time and their childhood too. We are engaging them in an unhealthy way which doesn't do any good to them. Here are some tips to spend some quality time with your kids. Try to give importance to their small doubts and questions. When you are at home with your kids please try to switch off all the electronic entertainments like TV, Computer, Laptop, Mobile etc… If you are in between these, you'll never find time for your kids.
Be a Partner in their Hobby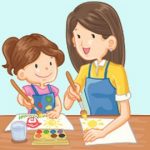 You can join them to enjoy the hobby you have or share with them if they have any. When you enjoy a song, movie or videos, include them. When they draw something, sit along with them and encourage them. When you do exercise let them too join with you. Let children's practice basic yoga with you, even a breath exercise which do something good for them than playing a video game. During this time you can make them learn something about fitness.
Spend some time for Prayer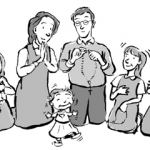 Everyone at home should have a prayer time and that too jointly. You can make children to learn some of the prayer song which you chant some other if you find easy for them. At this time, you can share a lot of things with kids related to God. If they have a faith, fear and belief in God then your child will never go in a wrong way. You can also plan a trip to worship places occasionally, so you can easily relate your answers to their questions during their prayer time. They will surely have lot of small doubts at prayer time like "Who is God? Where is God? Why do we pray? What do we get by praying?" You can give them an answer in simple words so that it helps them to understand these things easily.
Learn some tricks from Kitchen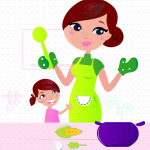 Now a days, most of the children have a relationship with food only when they are at the dining table. They don't even know how it is prepared and reached their in that form, that is really not a good sign. During their vacation we can allow kids too at the kitchen, it helps them learn and identify quickly each vegetable and fruits than we show when them in a book or paper. Let them learn small things like how do we make tea, or an omelette. You can make them familiar about the utensils too. This can be the place where we can teach how to stay safe in the kitchen while using a stove or mixer. They learn these things quickly when they are small. Because these are the places where we never allow kids to enter, but when we allow once they'll feel very serious about it and listen carefully.
Enjoy the Bed time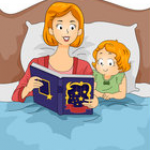 Most of us rush our kid to bed with a thought that let them fall asleep quickly so that they can get up early in the morning. That is right, but everybody have to get up early in the morning so why don't you go to bed too along with your kid and have some time with them there. Whatever cartoons, movies and games they watch still they are eager to hear a story from us. You can hear them some fairy tales, bed time toy stories or folk stories during bedtime. You can always make them to tell what they think about the story, or you can also ask them how they think it will end. It will help to increase their thinking/imagination power to an extent. Always keep some story book below the below. Story books with moral lessons will also do some good to them.
What about the Travel Plan?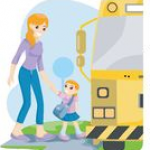 We travel both to short distance and also to the long distance. But wherever we go, to the school or to any of our relatives ask the child to read small boards at the roadside, name of the shops, show her the signals, and tell him/her to watch how vehicles abide to the signal rules. Even we taking him/her to school by walk or leaving her near the school bus, instead of rushing to the place show them anything that you find interesting and talk about that. It helps in sharing a lot of thing with your kids each day.
Never miss your Bath Time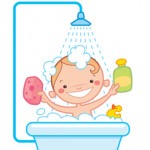 It's Morning. It's really a war by the time we leave our kid in the School Van. Everything will get complete in 30 to 45 minutes. But why this hurry? We really can have a very good quality time with our kid during this short time span. But How? Let's just make them wake up little early than their usual time. Let them play in water while they have their bath. Why don't you try some water toys, kids will love that like you can have a larger size baby pool and let them have their bath in that, or a super soaker blaster and a bath toy duck, they will surely have real fun. You can also teach some hygiene lesson during this time as how to use the soap, about drying their hair, need of brushing teeth and also to handle water with care without entering into their ear or nose.
Join at the Dining Table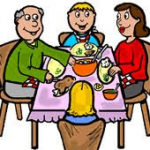 You can share a lot of daily activities and can give them many tips while having food. At least once I everyday all the members of the house should join together for food. You can have a good relation with your child by asking them about their day in the school, their friends as such. Parents are there who are interested only in educational matters please feel free to talk other matters too with them. Can have a talk about their friends, their birthday, gifts they are interested in exchanging. Children will eagerly share those matters with us because all these are very much important to them. Even you can tell some interesting things happened to you, they'll enjoy it for sure. Take this time to teach them more about good eating habits, healthy food and diet they should follow. Also tell them the importance of chewing. They will remember all these things happily as you all had a good quality time while having food.
Take them to Library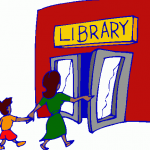 Find time to take your child to the library get a membership. Improve the reading skill and give them the guidance to choose the right book. Let kids have a good relationship with books and reading rather than the computer which leads quickly in diverting to other topics.
End your vacation with a picnic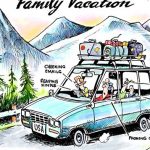 Don't let your fast life miss some of the short trips with your family. Trips will help you to get rid of your routine boring life. Please do not take your laptops along with you when you are starting for a trip. Get a good time to relax yourself from your work/stress life you lead. Choose places with scenic beauty ant your children enjoy the beauty of nature. Take some snaps and allow your child too to take photos, take videos of the happiest moments. Catch these good memories often, create an album and gift your child once which they will cherish forever.
Give importance to all the small things kids do even if it is a drawing. Plan a trip at least once in a month, one to a picnic spot, also to a worship place. Can try new restaurants evenly. Whenever you talk together involve emotionally. Talk to them about some important people and also about those people who have done some good deeds. Teach them to be brave, honest, confident and kind. Even in your busy schedule, find some time to be with your child so that they will surely have a sense of security.