PINK PINK PINK…… anything in pink color is accepted and loved universally by girls. This color is very attractive and cute for babies and grownups. There is no age bar for the craze towards this color. It reveals the girlish sweetness and beauty about you. If you want to be surrounded with this pretty color, Hello Kitty would be the best choice.
Hello kitty is a fictional character produced by the Japanese company Sanrio, created by Yuko Shimizu and currently designed by Yuko Yamaguchi. Kids love these ideas to be implemented for their most loving space. Try the famous bobtail cat Hello Kitty decors and convert your home into a pretty candy castle.
Plush toys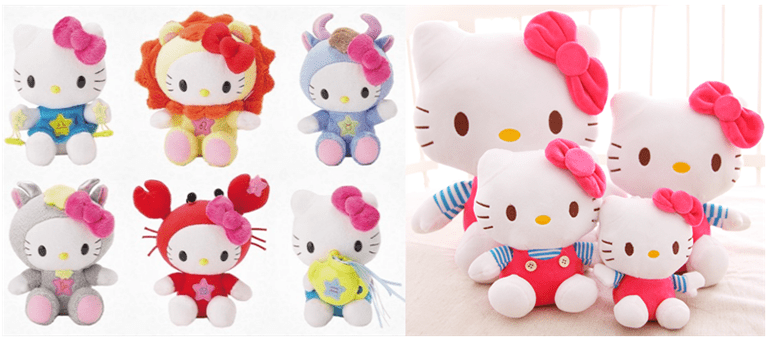 Plushies are all time favorite for girls, they love to cuddle with these comfortable stuffies. These hello kitty multicolor plush toys along with the latest zodiac toy set is extremely adorable. Place these cuddly toys anywhere at home and feel young always.
Cushions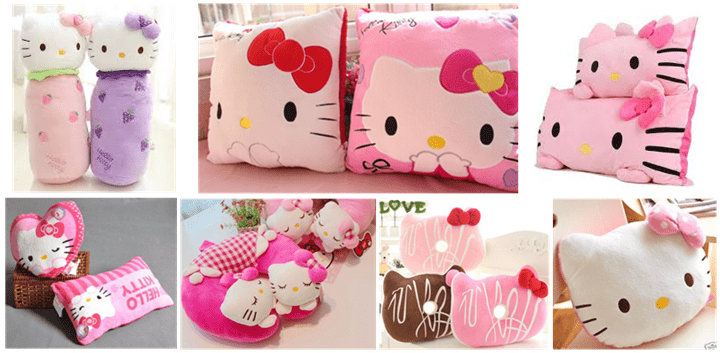 The attractive pink neck relax cushion can be a big support for your neck both at home and during travelling. The stylish donut fashion cushion and cotton fruit cylindrical ones gives a trendy look to your sofa. Kitty face, heart shaped and rectangular, square pattern cushions gives comfort in bed. These awesome cushions help bring about contrast and spunk in your home décor.
Dinning sets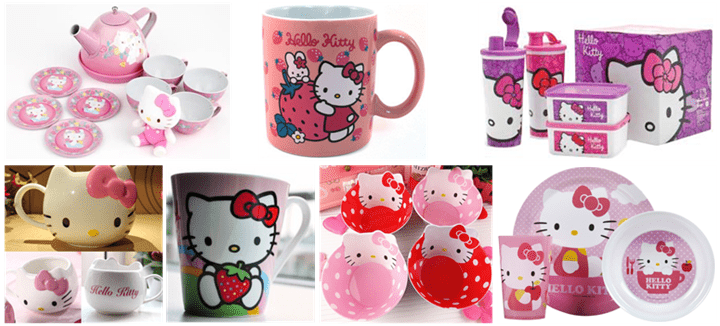 You might get struck and confused to select because, each set is cute and sure to attract everybody. Take home these ceramic tea cups, tea party tin set, Tupperware break time sets, melamine baby dinner ware and bowls for colorful dining experience. The pink and red mugs can be a good choice for your gifting ideas.
Bed room decors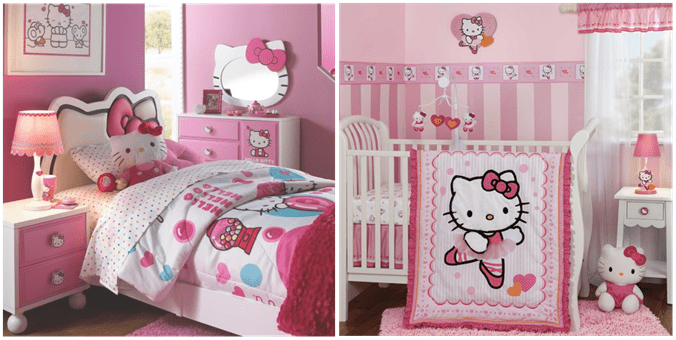 Create a soft and caring touch for your new born bundle of joy and for your little toddler with this hello kitty baby room decor. The cute bunk bed with side table and dressing table looks strikingly attractive.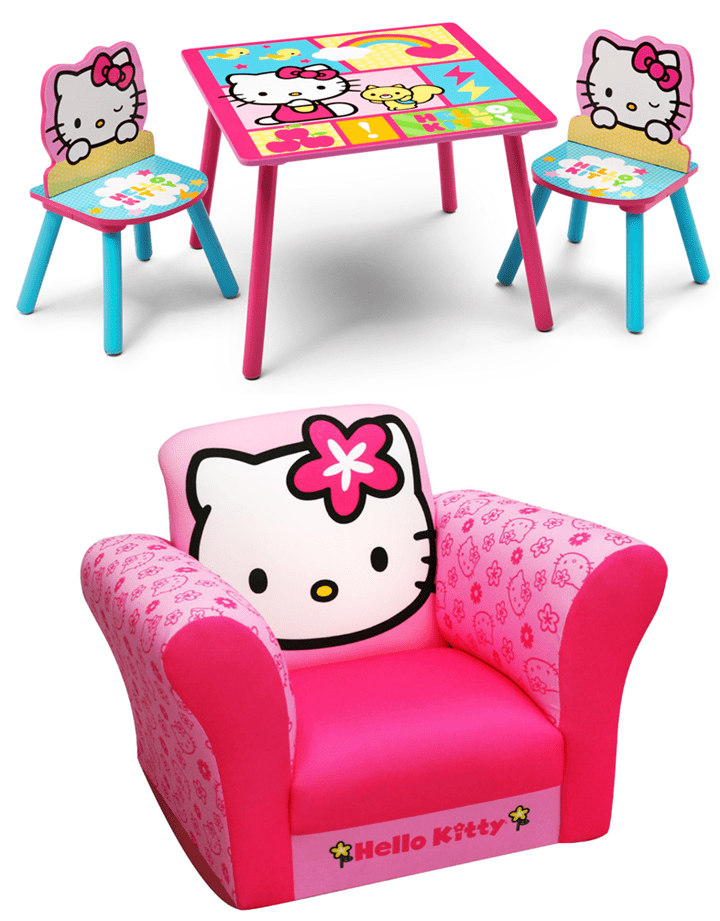 Add the amusing chic pink kitty couch and the study cum snack table with chairs in your toddler's room for added fun.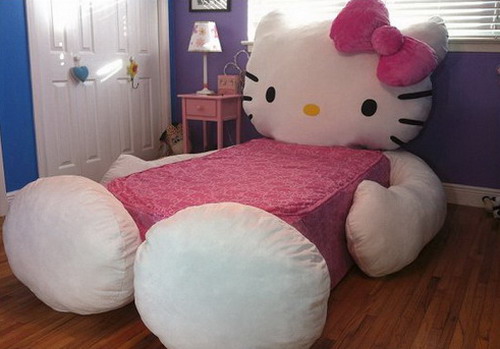 Surprise your cute girl with this princess kitty room decor with fixed kitty designer show case where she can display all her crazy hello kitty collections. Take a look at this huge kitty bed for your pretty ones. Let them enjoy, jump, roll or do whatever they would love to.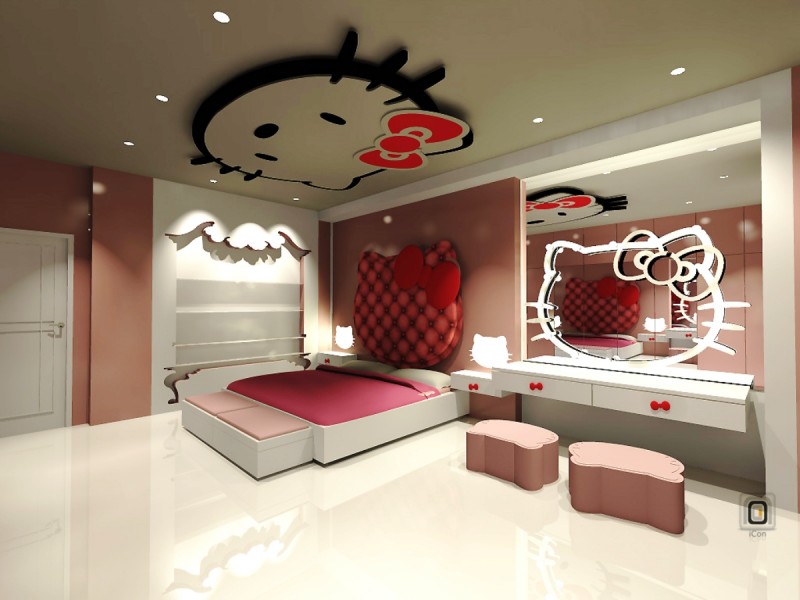 Create a magical atmosphere for your teen princess with this cool modern kitty décor. The LED kitty ceiling light and the gorgeous kitty mirror makes her feel the real princess inside her. It is modern and stylish and can be customized as desired from the design pool of hello kitty bedroom decors.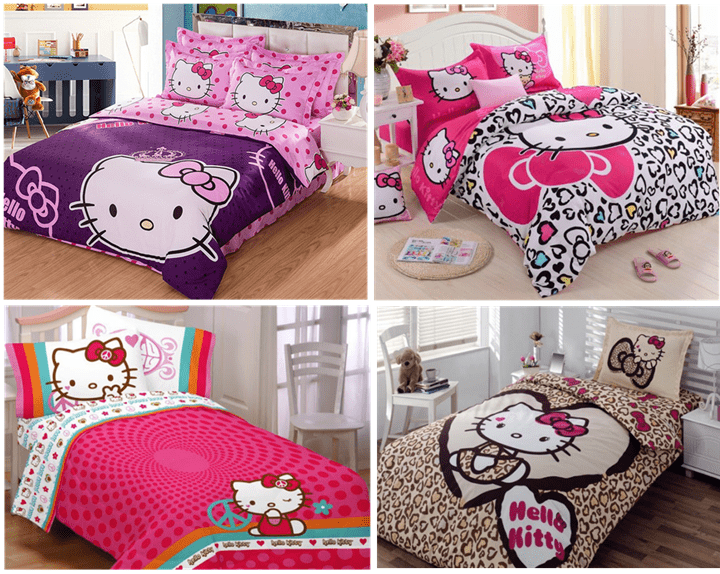 The multilayered colorful quilts will give a bright look to your room and give you a tight warm sleep.
Rugs and Carpet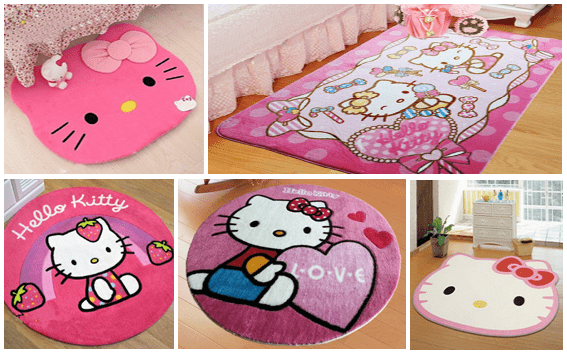 Colorful rugs and carpets would be focal point of the room. The kitty rugs and carpet will become a piece of art in your room and make you feel soft and warm on the feet.
Bathroom sets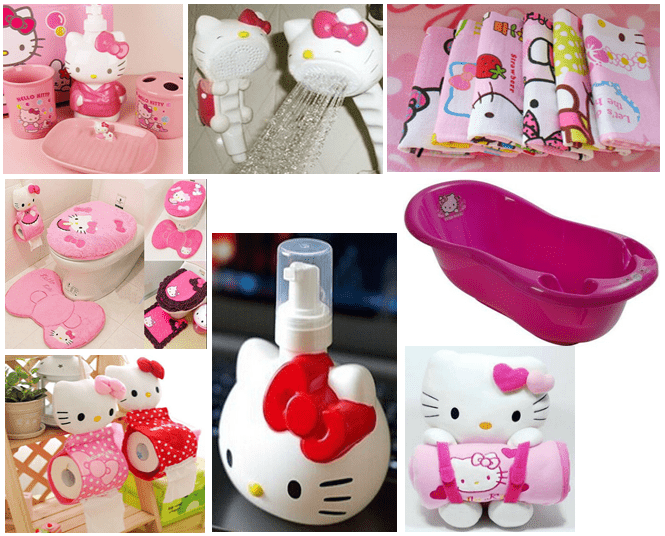 Sure to spend more time in your bathroom with these cute kitty bathroom sets. Never miss any of these pretty ones, the soft towel holder, Hawaii hello kitty tissue case, liquid soap container, sanitary seat covers, pinky tub and hand shower. Wrap yourself with these superior soft bathroom towels and enjoy your bath.
Washing Machine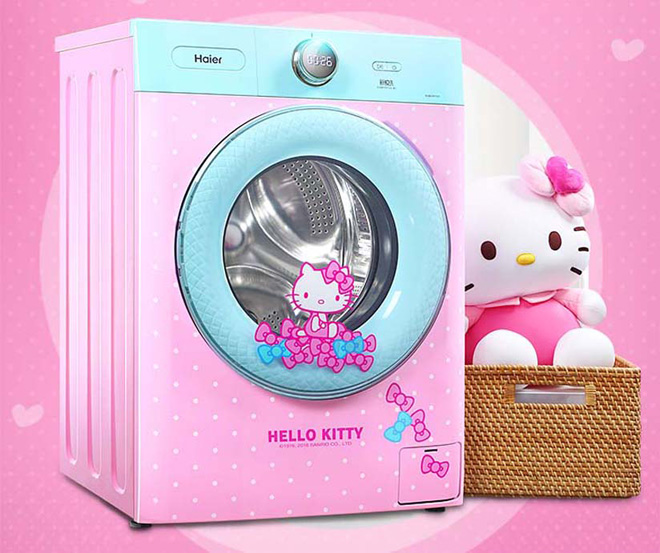 This is a limited edition washing machine from Haier for the hello kitty lovers. Hurry to get your own customized machine and even enjoy washing.
Electronic Gadgets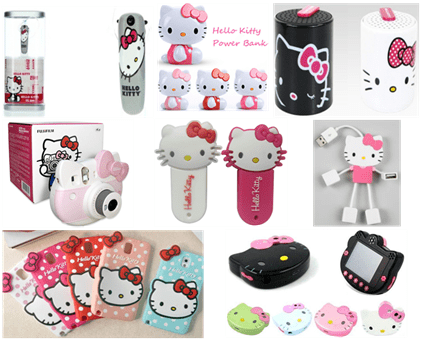 Make life simple, easy, fast and cool with your bestie kitty electronic gadgets. Collect the amethyst hello kitty portable mini speakers, 4 port USB hub, kitty power bank, pen drives, Bluetooth set, hot mini hand phones, Fujifilm instax mini 8 hello kitty boxset instant camera and high quality silicon polka dot hello kitty colorful cellphone covers to update your trend.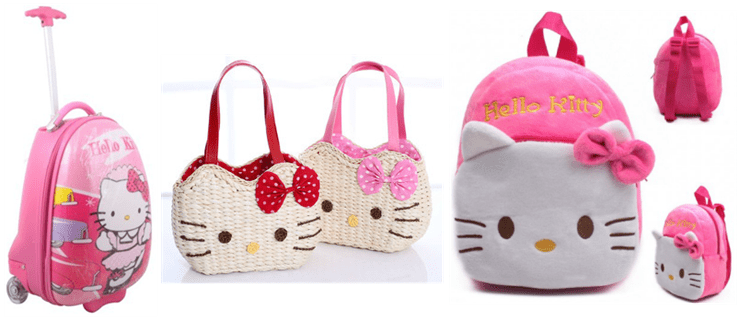 You may also love other useful and decorative products like hello kitty trolley and soft backpack, kitty watches, hand woven shoulder bags, fruit perfume from Avon, toaster, trash bin, hello kitty crystal idol and lots more to collect.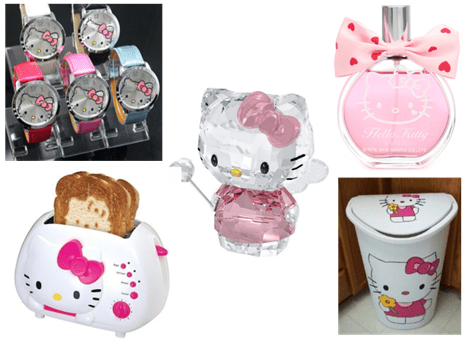 Colors depict your personality, if pink is your favorite then you are loving, kind and generous, you give unconditional love to others. You stay happy when surrounded with your favorite color, it gives a youthful fell even if you grow old. If you love to decorate with hello kitty there is no limit, you have more decorative ideas to try.
If you come across any unique décor with hello kitty please send it to us, so we can add it to our list. Try these pretty décor ideas and enjoy every moment at home.
ENJOY DECORATING…….