When it comes to decorating your home, bathrooms are places that are the most neglected. Not only do they make for hours of relaxing shower time, but they are also important when it comes to bringing together a stylish, well-rounded home. But there are thousands of tile ideas for the bathroom out there, how can you figure out which one will be suitable for you?
To help you out, we've combined some of the finest tile bathroom ideas that will get the wheels turning in your brain!
Bathroom tiles are mostly practical, but that doesn't mean they can't look stunning! Whether you want a dramatic bathroom straight out of a magazine, or a simple, comfy, well-lit space, tiles can make or break your bathroom theme.
1. Mockery Never Works- Until It Does!
Modern-day décor calls for loads of hardwood floors, but they aren't ideal for your bathroom floor as they can absorb moisture and warp over time. But that doesn't mean you can't have hardwood floors in your dream bathroom!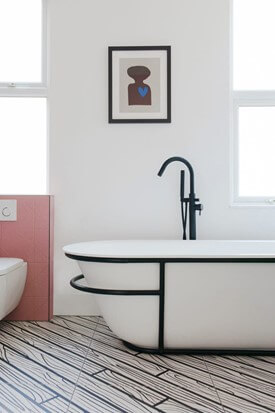 Designers such as 2LG Studio have found a way around this little problem, inserting chic mock-hardwood floor tiles that add a modern, cheeky edge to the bathroom. You can adopt this contemporary bathroom tile idea for your home, adding a tub with a black accent to complement the black-lined tiles, and add a framed simplistic art piece in the center.
Shop Bathroom Essentials for Cleaning. Take care of your family and let them less tired from cleaning.
2. Geometry for Your Walls
Geometry and shapes are horrible in the classroom, but absolutely breathtaking on a wall! When searching for bathroom tile ideas for your home, don't shy away from playing with colors, patterns, and shapes. This bathroom, designed by Studio Life/Style, takes futuristic to the next level, with its vivid green and white contrasts, stunning patterned tiles, and an incredible bathtub.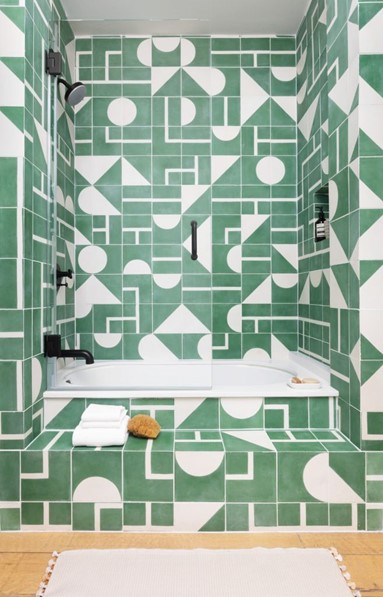 Did you notice the storage sections built into the wall? You can also incorporate this idea in your bathroom and keep your bathroom neat and organized while it stays modern and innovative!
3. Did Someone Say Wallpaper?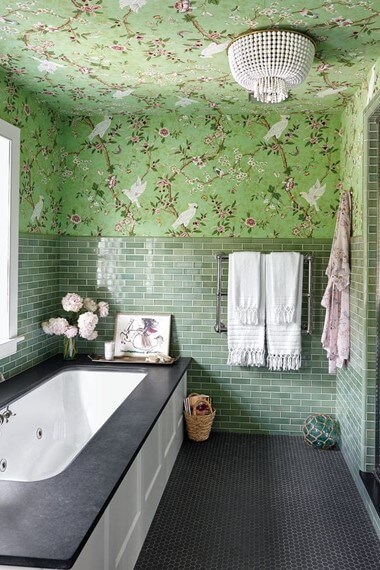 Building upon our previous ideas, the following bathroom tile idea incorporates both color and design. The unconventional ceiling light fixture and coupled with the flowers lining the bathtub, make this bathroom design unique, fun, and absolutely glorious. With a vibrant, vintage green chinoiserie parrot print wallpaper, paired with mossy green subway tiles. This design by GregoryShano makes a bold attempt to combine modern, elegant, classy, and vintage all in one. And needless to say, it looks perfect!
4. A Statement Wall Never Goes Wrong!
One of the most epic elements of modern décor, a statement wall. It helps take your bathroom design to the next level. And what better way to create a statement piece than with a bunch of vibrant tiles? This design by Brio InteriorDesign illustrates how to pull off this concept perfectly. Pair a deep blue and white tile statement wall, with a simplistic white bathtub and background.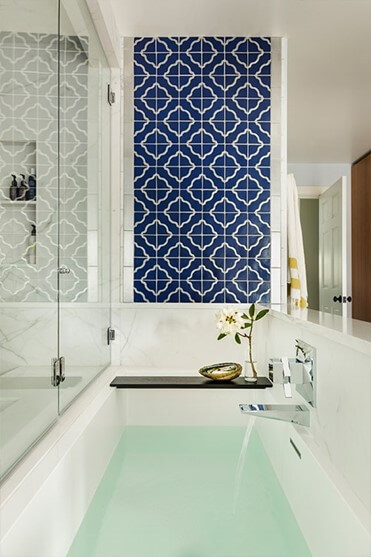 You can create a similar bathroom tile idea for your home by harmonizing rich, bold colors with neutral tones to make a picture-perfect pairing.
So what are you waiting for? Get inspired by these bathroom ideas and create your own picturesque bathroom!
This post contains affiliate links, which means we may receive a small commission, at no additional cost to you, if you make a purchase through these links.