Jodhpur is the second-largest city in the Indian state of Rajasthan and the state's official second metropolitan city. It was the capital of the princely kingdom of Jodhpur. The medieval capital of the Kingdom of Marwar, which is now part of Rajasthan, was Jodhpur. Jodhpur is a major tourist attraction with numerous palaces, forts, and temples nestled amid the Thar Desert setting. It is known as the "Blue City" by residents of Rajasthan and other parts of India.
The ancient city is encircled by a wall with multiple gates and surrounds the Mehrangarh Fort. However, over the last couple of decades, the city has grown significantly outside of the wall. Jodhpur is located at the state's geographic center, making it an ideal starting point for exploring a popular tourist destination. The city was named one of the "52 Places to Go in 2020" by The New York Times.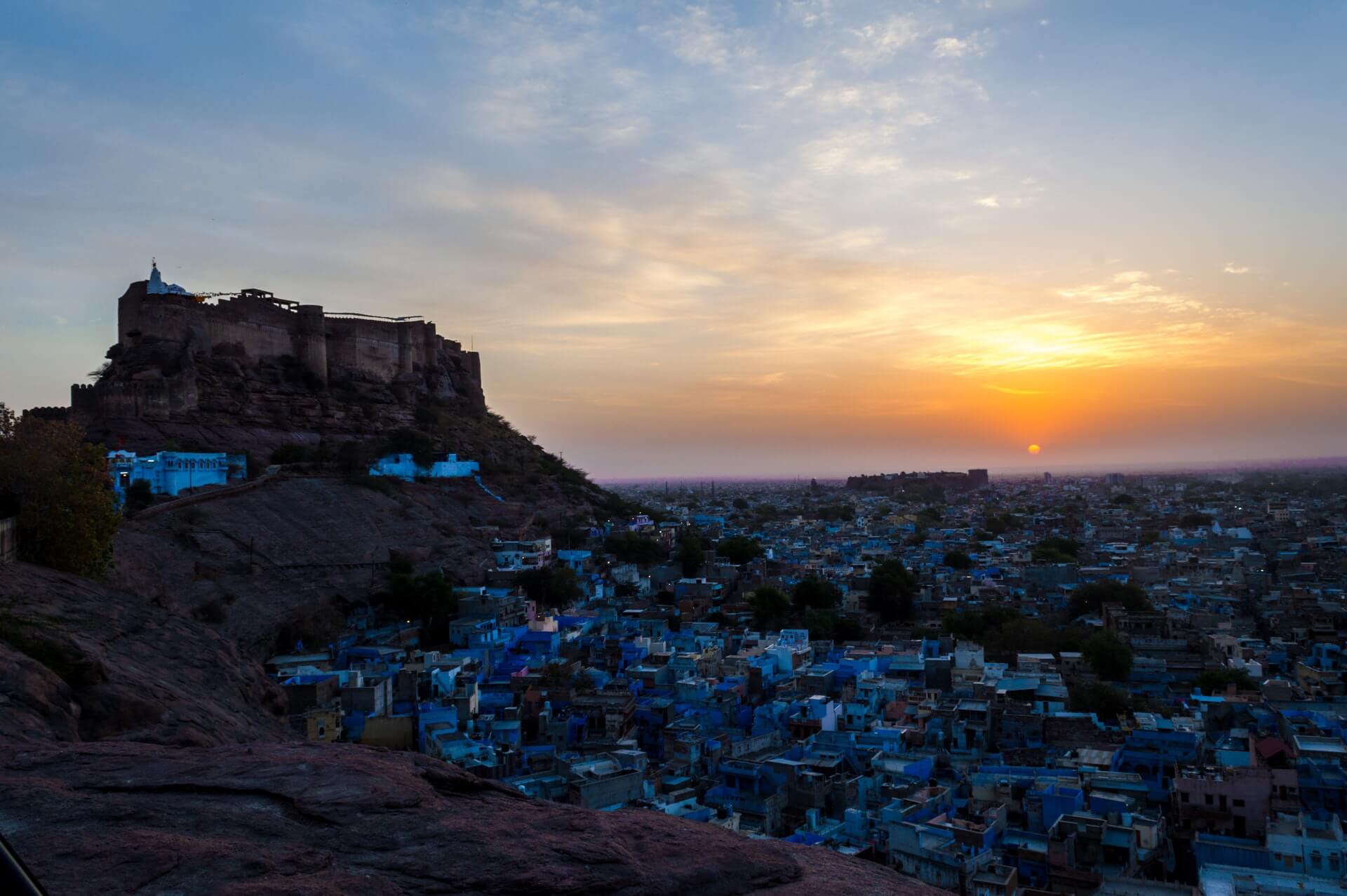 Jodhpur, located on the outskirts of the Thar Desert, is known as the "Sun City" because of the abundance of bright and sunny days it receives. It is a tourist hotspot because of its famous forts, palaces, mausoleums, gardens, lakes, and towers. The city has gained recognition for its textile industry, elegant furniture shops, wonderful cuisine, and bustling bazaars, among many other attractions, since its establishment more than 500 years ago. Following are the best things you can do while you're in Jodhpur.
Watch the Blue Houses of Jodhpur
There's much to sightsee in Jodhpur and if you're genuinely curious about the city, its history, its people, and especially the blue houses, start your journey in Jodhpur's "Old City," where you can speak with the residents and learn about some of the city's hidden stories and mysteries concerning the topic "Why are the houses of Jodhpur blue?"
Because of Lord Shiva's blue neck, blue is thought to be a divine color, and Brahmins painted their houses blue in devotion to him. Another answer, which seems more logical, is that summers are hot, so the blue color is calming to the eyes as it appears cooler.
Shop Rajasthan trip Essentials:
Take A Stroll Through The Rao Jodha Desert Rock Park
Strolling around Rao Jodha Desert Rock Park, located in an area near the grand Mehrangarh Fort, is one of the most famous things to do in Jodhpur. The park is an "Ecologically Restored Area," aiming to restore the desert ecology that once existed in the area but died out over time. So, if you're interested in studying collections of rock-loving vegetation, please visit this park at different times of the year to see how the vegetation changes with the seasons.
Don't forget to take a leisurely stroll through its walking track, which is home to a diverse range of flora and fauna. Rao Jodha Desert Rock Park is definitely the place to be.
Zip Line or Paraglide – At Mehrangarh Fort
Is your body craving for a jolt of adrenaline? Try Ziplining and Paragliding at Mehrangarh Fort, which provides a 360-degree birds-eye perspective of the city and includes views of the royal countryside, architecture, and spectacular chances for aerial photography.
Mandore Garden is located 7 kilometers outside of the city. Before Jodhpur was founded, this was Marwar's ancient capital. It is free and available to the general public. Small temples and garden grounds, including a river, make up the lower half. The ruins of the aforementioned fort can be found on a higher level. There is no fee, but it is closed from 7 p.m. to 7 a.m.
The museum's entrance fee of 20 INR for Indians and 100 INR for foreigners allows you to see the old capital's structures and its stunning architecture.
The Umaid Bhawan Palace, visible from the south of the city and finished in 1944, is India's last major palace. Even though the Maharaja of Jodhpur still lives here, part of the structure has been turned into a 5-star hotel. Inside the hotel, only paying guests are permitted. On the premises, there is also a small museum which costs Rs.100 for foreign tourists, Rs.30 for Indians, Rs.10 for kids 5 to 11 years and is open from 9 AM to 5 PM.
Things to Carry for Rajasthan Tour
Sustainability in Travel
Eco-Tourism is defined as a type of sustainable tourism that incorporates community engagement, natural resource conservation and management, culture, indigenous knowledge and practices, environmental education and ethics, as well as economic benefits, according to Rajasthan Eco-tourism Policy 2021.
The Rajasthan government has placed a strong emphasis on community-based ecotourism, public-private sector collaboration, and infrastructure development.
Sunda Mata temple in Jalore district, Bassi in Chittorgarh district, Kumbhalgarh in Rajsamand district, Hamirgarh and Menal in Bhilwara district, and Sunda Mata temple in Jalore district have all been developed according to eco-tourism criteria.
You may help reduce pollution and make a difference by establishing good environmental tourism examples by traveling in hybrid cars or bicycles, carrying your water bottles, and limiting plastic use.

This post contains affiliate links, which means we may receive a small commission, at no additional cost to you, if you make a purchase through these links.