The Royal state of India, Rajasthan, is famous worldwide for its splendid heritage, rich culture and glorious past. This state offers various options for forts, monuments, and other architectures from the Era of different kings and kingdoms. Old stories from the glorious past and the royal Ness of these kingdoms are packed in every corner of Rajasthan. Therefore, a tourist from all over the world visits all the famous places every year to witness the glorious history. If you are fond of royal culture and historical architecture, then Rajasthan is your ideal tourist spot. However, you can only cover some of the royal places of Rajasthan if you are planning a short tour.
Therefore, you must choose the best Rajasthan Tour Packages that covers all the best royal location. Here are a few royal places you must visit if you are planning a short Rajasthan trip:
Amber palace is located near Jaipur and is considered one of the top royal and prestigious tourists stops of Rajasthan that comes under Rajasthan Tour Packages. Raja Man Singh built this in 1592, reflecting the glory days of the Rajput Era. You can see many Rajput elements in this palace, and the stunning architecture will amaze you. From Jaipur's breath-taking views to gorgeous rooms of place and beautiful temples to the fantastic courtyard, this palace has many attractions that will leave you speechless.
Sukh Mahal, Sheesh Mahal, Diwan-e-Khaas, and Diwan-e-Aam are the main highlights of this place. The entry fee for this palace is 100 per person for Indians and 500 per person for foreigners. Its ones at 8:00 am and closes at 5:30 pm.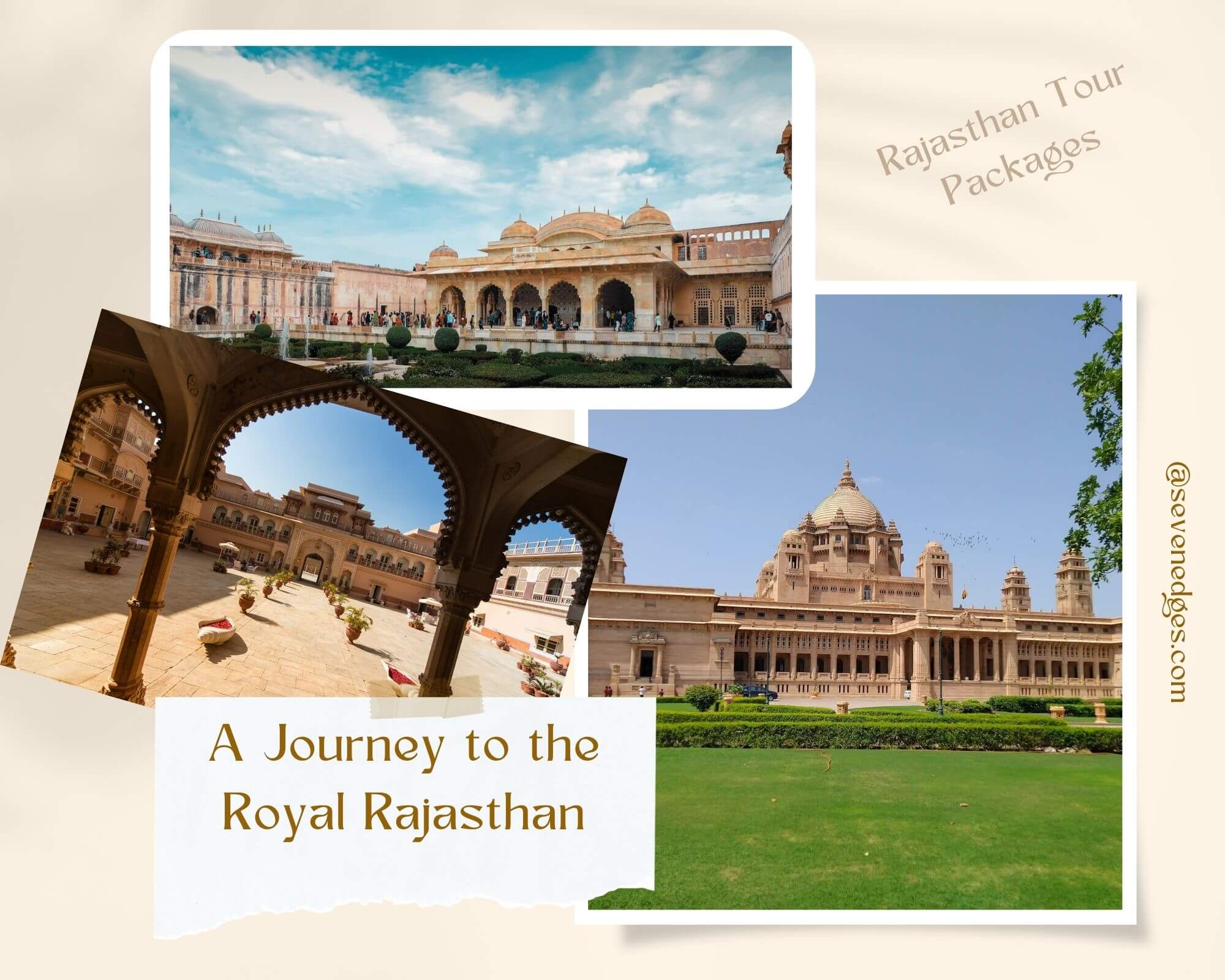 This palace is one of the oldest mansions, over 400 years old. Now, authorities converted this palace into a luxurious heritage hotel. You can see intrinsic and attractive paintings and artwork in every corner of this palace.
Marble floors, mosaic walls, floral motifs, and murals of this place create a classy and royal look. This palace or hotel is considered the most luxurious place for a destination wedding. You can book the rooms of this place via Rajasthan Tour Packages to get the royal and exquisite vibe. Samode Fort, Durbar Mahal, Samode Bagh, and Sultan Mahal are the main highlights of this place.
A Garden of pomegranate and lime plants is the top attraction of Bal Samad Lake Place. This palace was a vacation spot for Jodhpur's royal family in the Rajput Era. Hence, it is one of the top holiday places in Jodhpur.
This palace offers beautiful dining bays, traditional décor, a Jacuzzi bath, spacious lounges, and other aristocratic features. Private rose gardens and terraced lawns of garden rooms are the main highlights of this place.
This iconic structure is the home of Jodhpur's royal family erstwhile and is located in the center of Jodhpur. This palace is filled with architecture of the Indo-Saracenic Era, and the appealing foundation of sandstone makes sit more attractive to tourists.
The royal music of Umaid Bhawan Palace is the main attraction of this palace. In this museum, you can see regal vehicles, astonishing furniture, clocks and vases, and other royal items. This is also used as a hotel nowadays, and it is one of the top luxurious heritage hotels in Rajasthan that comes under Rajasthan Tour Packages.
This palace is located on top of the hill of Udaipur. Mewar rulers used to visit this palace for the Vatican and to enjoy the monsoon season in Rajput Era. You want a mind-blowing view of Udaipur city, the famous lake, and the stunning view of the sunset. 10:00 am-6:00 pm is the opening hour. The entry fee for this palace is 10 per person for Indians and 80 per person for foreigners.
If you are obsessed with royal and historical places, Rajasthan is the best tourist destination. Rajasthan Tour Packages covers all the top royal areas that will surely be worth your trip.

This post contains affiliate links, which means we may receive a small commission, at no additional cost to you, if you make a purchase through these links.