Peacock is a magnificent bird. Peacocks are a symbol of beauty, reminding us to take pleasure in life.  It is a symbol of beauty, prosperity, royalty, love, compassion, soul and peace.
A peacock's feathers are renewed each year so this is considered a symbol for renewal. So with all these qualities it has, one should not have to be unsure of having a peacock sculpture, vases or canvases to decorate your home.
Peacock Wall Mirror – This mirror, with this impressively sized peacock is sure to reflect well on your taste! These adorable mirror have a beautiful finish and right accents.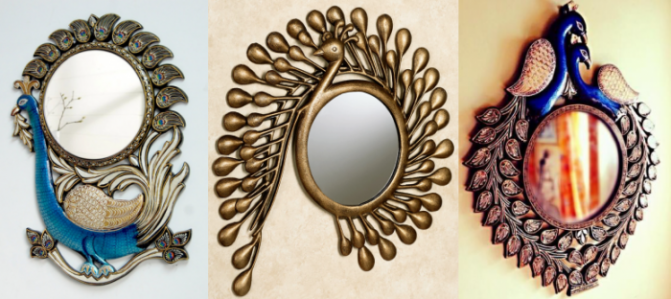 Peacock Wall Art – These peacocks are hand-painted with gorgeous shades of blue and green. The wings feature a detailed, textured design with the distinctive peacock "eye" at the top. This stunning wall art features an elegant peacock accented with sparkling acrylic stones on its swirling tail. The beautiful peacock is painted in shades of blue and green and has scrolling feathers.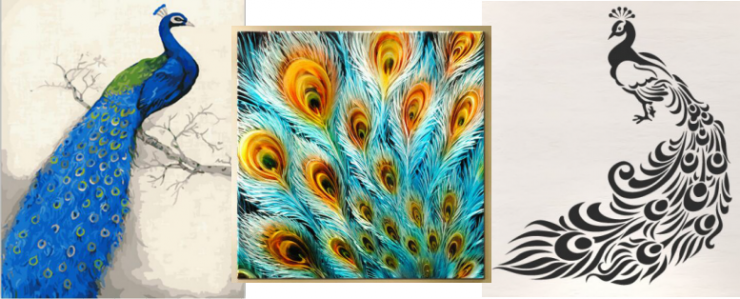 Peacock Feathered Splendor Bowl – The beautiful peacock bowls with peacock center pieces make complete natural beauty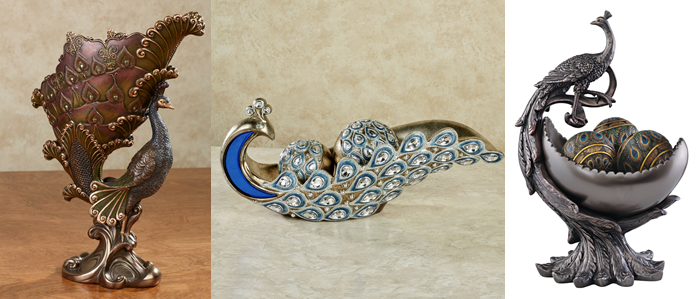 Peacock Candle Holder Set – These Peacock Candles will add more light to the flames. Let your candle melt on a royal holder by attracting your guest.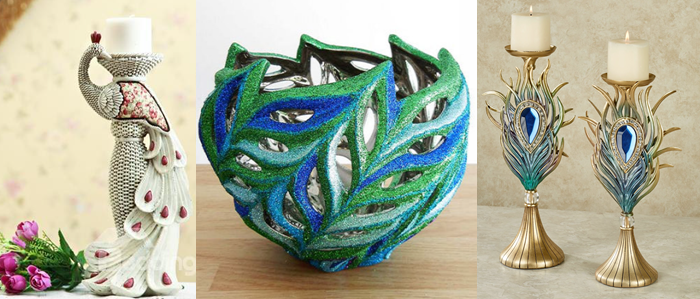 Peacock Table Top Clock – Sculpted and handcrafted to the finest detail in cold cast metal, the bronze Tabletop Clock features a beautiful, regal peacock perched on top. Your family and guests will cherish the playful, fanciful design of this table top clock.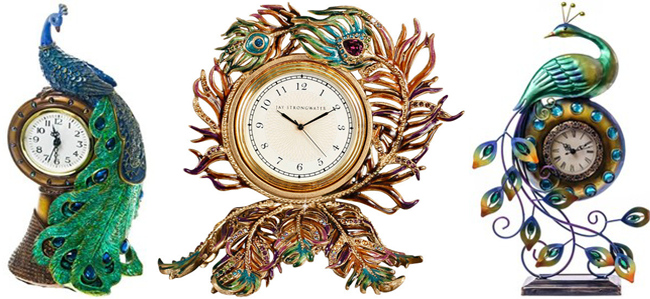 Peacock Wall Clock – Our Metal Peacock Clock is a unique statement piece … Symbolic of design excellence and superior craftsmanship, this Peacock wall clock comes with a ravishing mixture of several colors.


Decorative Peacock Vase – Display your dried or faux floral arrangements among the Feathered Splendor of the peacock. This decorative resin vase is accented with silver and bronze…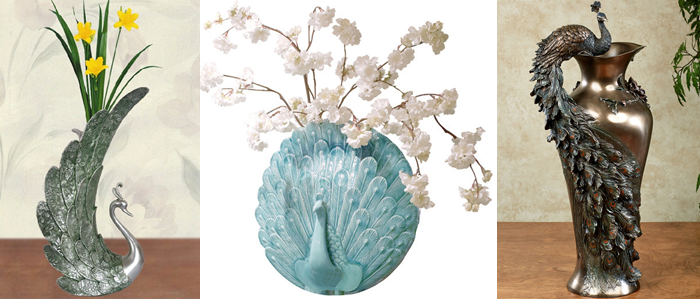 Peacock Table Sculpture – Crafted with quality designs these sculptures are perfect for your home and garden. These sculptures are beautifully designed, elegant in appearance and durable to ensure years of use.


Peacock Decorative Tray – These trays will stand out on any table. You cannot take your eyes from this royal white and red tray. Glitter and crystal accents add sparkle to these trays.


Peacock Jeweled Wall Shelf – You will love to have these decorative wall shelves to add to your favorite living spaces. These hand painted wall shelves are ready to hold your books and favorite accessories.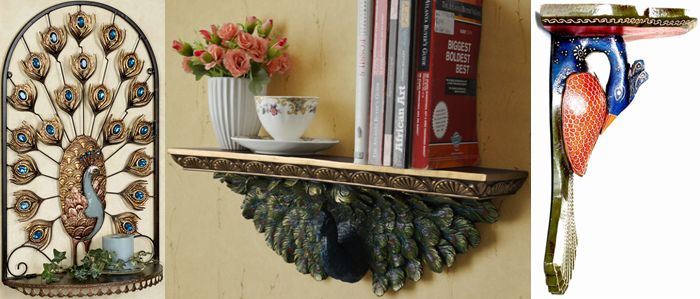 Peacock Pillow Cover – This item can be gift wrapped. A modern take on the natural trend, these fancy peacock pillows are a great accent to any decor. These Pillow cover will add elegance to your home along with comfort and style.


Peacock Jewelry Box – These Regal Peacock figurine is an exquisitely detailed box. Opens to reveal a storage compartment that's been completely finished in a glossy enamel. These trinket box can be used to keep your rings and other jewels.


Decorate your home with these peacock home decor collections if you are a deep lover of this beauty. Also If you have a modern peacock item at your home, please take a click and send it to us so that we can include it here.
Happy Decorating!