Why put up a boring first impression when you can turn up the game of your house's main entrance with striking new ideas? As they say, nothing hits harder than the first impression – here we are with our top 5 wooden main door designs Indian style that will make your home stand out from the neighborhood!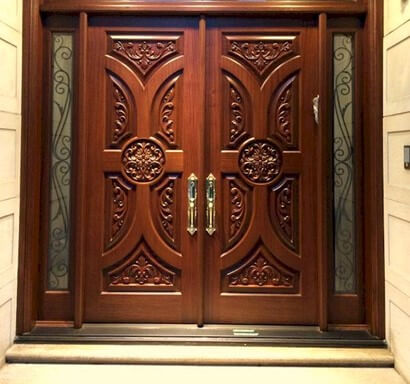 Making a statement about the bygone era and the cultural heritage is a good way to add rich elements to your main entrance. The south Indian style of intricately carved doors with heavy woodwork might just be what you're looking for.
Together with glass panels as offered by the Amberwood Doors, your main entrance's south Indian elegant features will attract the home's residents and guests alike.
Who knew that all you needed to spice up the plain, boring wooden door was an aesthetic and dramatically unique door handle?
With a huge variety of themes to choose from, you can enhance the look of your main door with a dramatic door-handle; while keeping the look minimalistic yet spectacular.
From timber to plywood to oak to mahogany, pick your favorite kind of wood, pair it with the door-handle of your choice and your end product will be the perfect blend of modern and Indian main door that is sure to make a luxurious statement.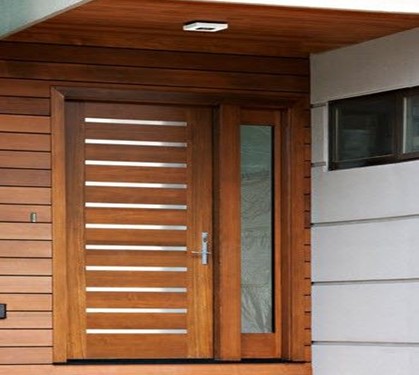 Paring brass inlays with the wooden doors can never go wrong. This is one of the great wooden main door designs Indian style if you are looking for a much more classy and elegant approach. You can customize it with meshwork inlay for a more traditional look or can go for light, geometrical designs to give it a more modern vibe.
Shop these beautiful, Front Door Accessorize to add more to the beauty of your entryway as well as make it useful.
The Indians believe that the tinkling of the bells brings a promising fortune and drives away the negative energy. To blend this belief with their main entrance, brass bells embedded on them are quite popular wooden main door designs in Indian style. The door can bring a classical or a modern vibe depending on its woodwork and the bells bring out a religious aspect in the décor theme.
The jingle-jangle of the bells on your main door might also bring positivity, in addition to Indian style and charm.
The Warli-Art Inspiration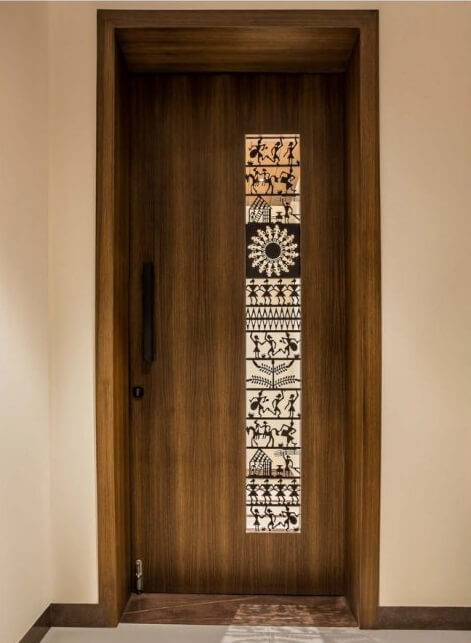 If you want people to turn their heads with admiration, this
Warli-Art inspired door
will do the job. This is a great way to blend your artistic interests with the interior of your home and balance the traditional and modern styles at the same time. It is a great way of showcasing the overall theme of your home by bringing a little of it outside; to your main entrance.
This artwork on your wooden main door will catch the eye of art enthusiasts as this style holds a distinctive attraction that not many other styles can offer.
There is much diversity in wooden main door designs in Indian style. As you make your final choice, the only rule you need to follow is to make the main entrance of your home one of a kind!  
This post contains affiliate links, which means we may receive a small commission, at no additional cost to you, if you make a purchase through these links.