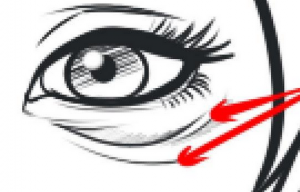 Girls are always the sufferers of dark Circle to a great extent. There are a lot of reason which leads to these black shades under our eyes. Some of them are Insomnia, less nutrition in our body, stress can cause dark circles. Include lot of vegetables, fruits, pulses and green leafy vegetables in your diet.
Go to bed on time and wake up early on time. By having a routine cycle you can get rid of Dark circles which is caused by stress. You can also practice breathing exercise along with that. Here are some tips we can try at home to get rid of dark circles.
Close your eyes and apply cold water or cold milk for 20 minutes and wash it off.
Wash your eyes with warm water then with cold water that will helps to get rid of the tiredness.
Applying tomato juice will also help in this case.
Apply Cucumber juice under the eyes for 15 minutes and wash it away.
Take a thick cotton and dip it in rose water and keep it on your eyes while going to bed. This will give your eyes freshness and also helps to get rid of dark circles.
Mix cucumber juice with potato juice/lemon juice in equal ratio and apply it on your eyes for 20 minutes and clean it, this will help in removing the circles quickly.
Take a piece of cotton, dip it in cold black tea and keep it on your eyes for 10 minutes and then wash it with cold water. It will remove the black color and will gives you glowing eyes.
Apply coconut oil for two to three weeks and you can find the difference.
Instead of trying these remedies you can also take some preventive measures from emerging dark circle.
Be sure that you have adequate time to sleep for yourself after all your day's busy work schedule.
Most of us have an unhealthy diet so next time when you plan it include salad too with lot of fruits, vegetables and Pulses. Let your body stay healthy.
Do not rub, itch or squint your eyes, try to avoid eye makeup if any of the eye problem persist you a lot. Optimistic studies reveal that drinking too much water helps to reduce dark circles and puffiness around the eyes. Don't fret; you can readily get rid of dark circles by taking a balanced diet and drink lots of water. Try this best water calculator to know about your ideal daily water intake requirements. Also, use the hydrated calculator to stay hydrated according to your hydration needs!
Drink an adequate amount of water that helps your body to stay hydrated.
While watching TV and working on your laptop don't forget to adjust its brightness. Do all these in a well-lit rooms.
Last but not the least, wear dark sunglasses when you are roaming on a sunny day that helps your eyes keep away from dust, fumes, wind and sun.
Check out these if you are a continuous sufferer of dark circle and let us know what is the response you gets from these tips. And let us know your suggestions too.
Related articles across the web